I have heard so much about Puppet Monsters from seeing them at my local stores and watching all the commercials on television. If you ever never heard of Puppet Monsters, they are adorable puppets that encourage your kids to be creative and encourage imagination for playtime. Puppet Monsters are new, adorable, wearable, stuffed toys with interchangeable parts. With these Puppet Monsters, your kids can have their own puppet show right before your eyes.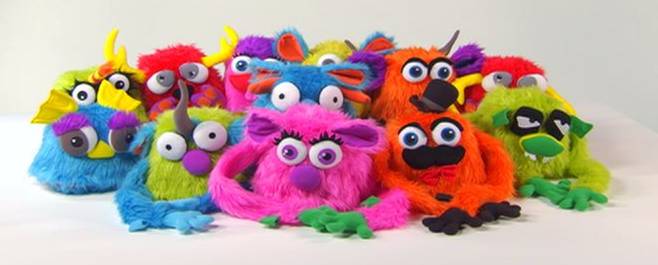 The way it works is you go to the Puppet Monster website and select what Puppet Monster you like from the following choices: Big Beak, Dizzy Antlers, Silly Dragon, Twinkley Eyes, Mr. Mustache, and Jumbo Eyes. This is your basic puppet and then you can purchase your choice of accessory kit to go with the puppet including: Furry Octopus, Funny Duck, Funky Mohawk, Wacky Bear, 3 Eyed Monsters, and Hot Lips. Once you have the basic puppet, you can interchange all the parts, so your kids have different puppets each time they play with them. Even better, it comes with a handy carrying case so you can readily keep of all the parts.  Each wearable Puppet Monster has dozens of tiny holes on the inside for attaching parts, similar to fastening buttons and easy for children to do on their own.
Hayley received the  Twinkley Eyes Puppet Monster, which she does not stop playing with. Every night, she has me and her daddy, sit so she could play puppet show with us. The Puppet Monster has a slot where your kids put their fingers in, so it is easy to have them move the puppet. Hayley likes to wear the Puppet Monster by putting it on her head and her finger inside the puppets hands, and she plays for hours! When she is not playing with her Puppet Monster, she wears it as her fancy hat all day long!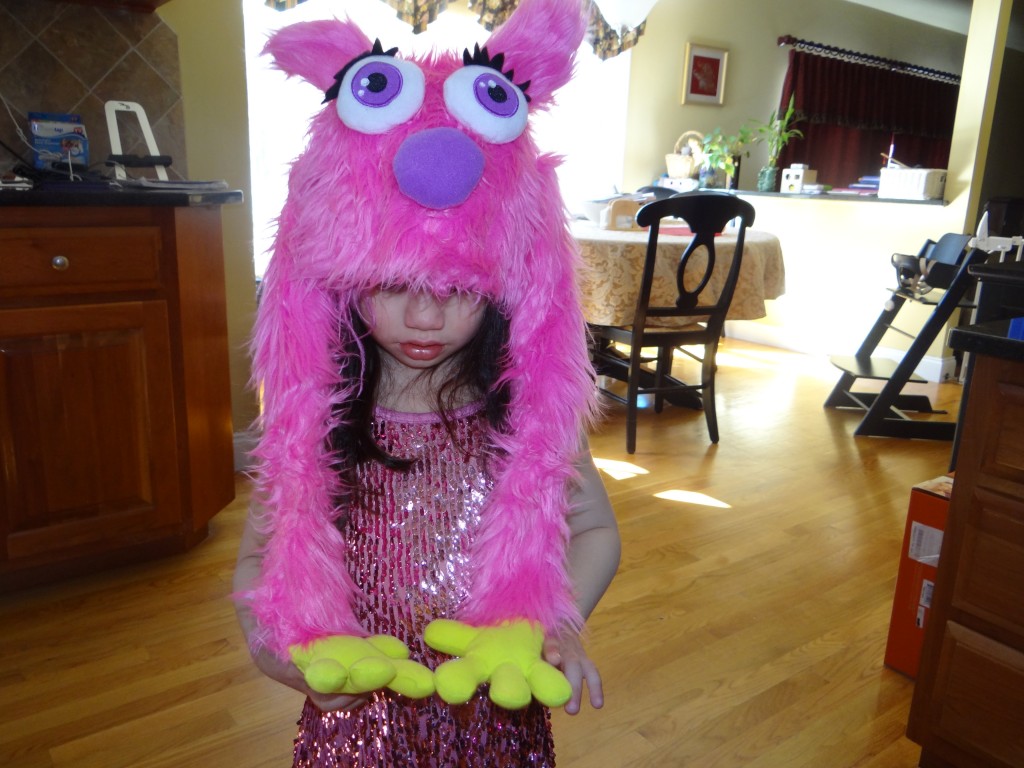 Puppet Monsters offer entertainment that's interactive without adding to the hours of "screen time" children accrue by watching television or using computers. It is a great break to play with Puppet Monsters as they promote creative play.  Hayley has an absolute blast playing with her Puppet Monster! It is such a great idea for children who love to play!
Puppet Monsters are available in the following wearable models, each at the affordable price of just $19.95 (plus $6.95 shipping and handling): Silly Dragon, Dizzy Antlers, Big Beak, Twinkley Eyes, Jumbo Eyes and Mr. Mustache. One additional accessory kit is available FREE with each Puppet Monster purchased – pay only an additional $6.95 processing and handling fee. Choose from the following accessory kits: Funny Duck, Furry Octopus, Funky Mohawk, Wacky Bear, 3 Eyed Monster and Hot Lips. A 60-day money-back guarantee backs up the quality and value of every Puppet Monster sold. Orders can be placed online at http://www.buypuppetmonsters.com. For my readers, please  Use PROMO code PUPPET for $5 off! 
*We received the above products for review purposes.  As always, all my opinions are my own and not swayed by outside sources.