Here is a crazy statistic for all of you- 7 in 10 Americans say they want to be actively involved in all decisions regarding their finances, yet less than 20 percent of these people say they are satisfied with their current financial situation. Are you one in the 7/10?
Truth be told, I am definitely in this statistic.  About two months back when we were planning the financing for our basement, my husband was telling me that we needed to take a step back and see if we could afford the basement. I looked at him with two heads and said, "Of course, we could afford it." Turns out the doing our basement project is a big expense that we could afford, but we need to do major budgeting in other areas of our lives to make this happen.
I then proceeded to call my parents to tell them that I can't believe I know really nothing about our finances. It is my own fault, as I never showed an interest before. Being the mom of two kids with working part time, I have only a few minutes of the day that I call my own. However, in those few minutes, I should set aside time to go over the finances with my husband. He has asked before to do it but I was always too tired or too busy with the children. Knowing though that I have very little knowledge of our financial statements, I told my husband that this needs to change.
That is why I am very excited because this coming Wednesday after we drop the children off at school, my husband and I are actually meeting with Mass Mutual to go over our finances so I know exactly the money we have and where everything is allocated. I no longer will be in the dark about our finances. I am anxiously awaiting this meeting so I could have a fresh start to my finances. In the meantime, I was able to speak to a wonderful rep from Mass Mutual who spent a good amount of time with me so I can have some important knowledge before my meeting. He was saying that the two main important insurances to make sure one gets is life insurance and disability insurance. Most people don't think about this until it is too late, but it is vital one makes sure they have these insurances. He also told me the importance of finding out about long term care and how later on in life, one will be grateful to have long term care. You can find some tips we talked about over the phone here: Mass Mutual.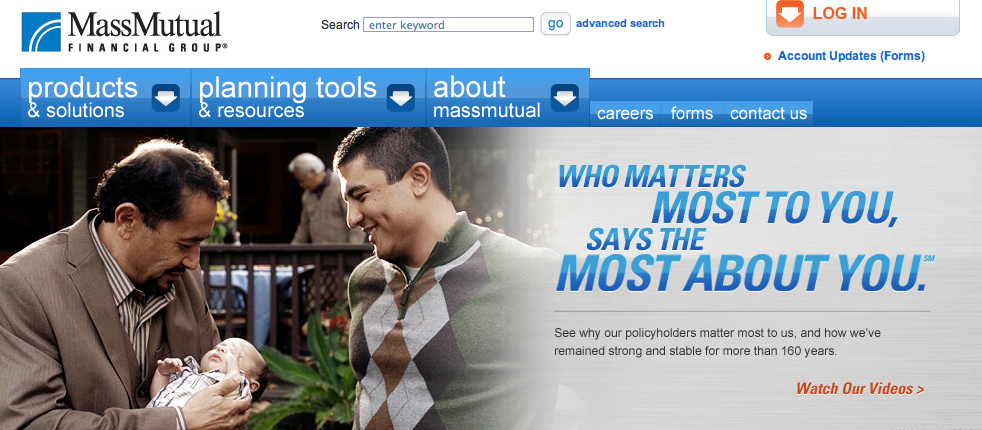 In the whole realm of things, finances are such a big part of our daily lives. Think about all the savings you need to do including saving for retirement, planning for your kids' college education expenses, and ensuring the mortgage and other household bills are paid. Thankfully, my husband has gotten us on track with saving for retirement and our kids college education expenses. Both of us have set up retirement plans and we opened a college savings plan for our children. Usually for the holidays we ask our parents that instead of buying us gifts, we would love if they contribute to the kids college savings fund. Ever since the kids have been born, both have done a wonderful job of adding to the fund. We are so very grateful! Both my husband and I were lucky enough to have our parents support us for a good part of our schooling, but I will tell you that I will have loans to be paid off for the next 20 years. It is very hard and we want to make life for our children easier.
Savings has been ingrained in both of us since we have been children. Our parents showed us the meaning of money and we are now teaching our children the same. We show them that in order to survive in this world, they have to appreciate savings.
We are lucky that we have this meeting set up with Mass Mutual in a few days. At Mass Mutual, they want families to feel less overwhelmed and more confident about their personal finances and they are committed to educating both parents and children about money making decisions. Their team at Mass Mutual is there to help you create a fully comprehensive plan in a way that is custom fit to your schedule. They have so many wonderful tools and resources to help your family with your financial needs. There are so many options out there for protecting your family, saving for retirement, saving for college, and educating your children about money. Mass Mutual will help you out with these options and get you on your way to a sound fresh financial start!  No more feeling overwhelmed about ways to start being financially sound!
Mass Mutual also has created a cool quiz to help Moms start thinking about their attitudes towards finances and how they can take small steps forward in the process of planning for your financial future. I took the quiz and I am a Knowledge Craver. It is definitely me! It says I should take 30-60 minutes a month to go over my financial goals. I am going to be doing this each and every month from this point forward. Take the quiz for yourself and see how you fit in!
Take the Quiz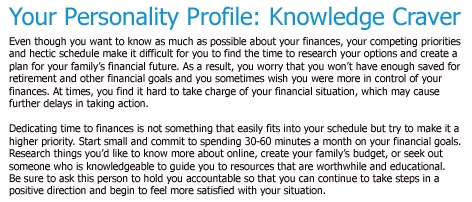 Be sure to check out the Mass Mutual website to learn more and find a financial professional near your home today. You can also follow Mass Mutual on Facebook and Twitter.
*I wrote this post as participation in in a blog tour for Mom Central on behalf of MassMutual and received compensation in the form of an Amazon gift code to thank me for taking the time to participate.