Zane is totally OBSESSED with cars. If we are driving and we see cars passing, he will yell out "Beep Beep". It is funny because Hayley had no interest in cars until Zane started to show interest. Now both of them have car collections and one of their favorite things to do, is race their cars. They love cars so much that we have been known to go to the local car events so they could see all the cars with the drivers.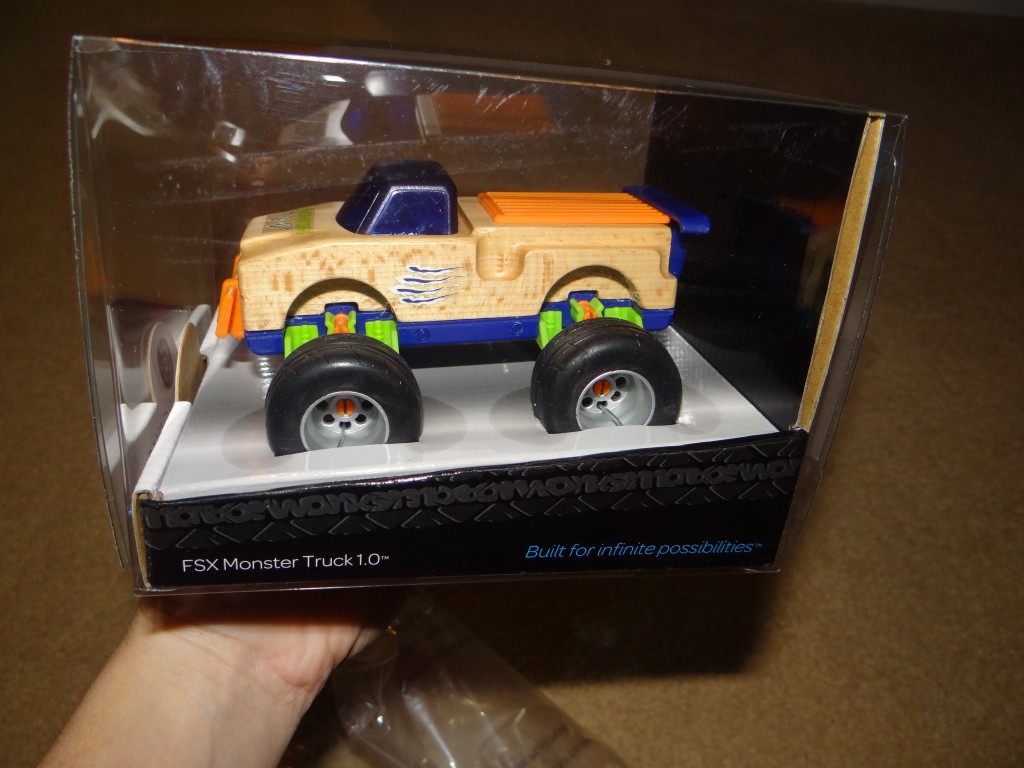 Now, both of my kids can have fun with the Manhattan Toy new line, MotorWorks. This is a brand new line of toy vehicles for ages 3 and up! I know you might be asking, "Well, we have so many toy cars in our household?" This line is different in that Manhattan Toys makes these cars interchangeable with their parts. Each series of cars comes with the body of the car plus interchangeable wheels, rims, and other parts that can be used on several different cars, for various customizations.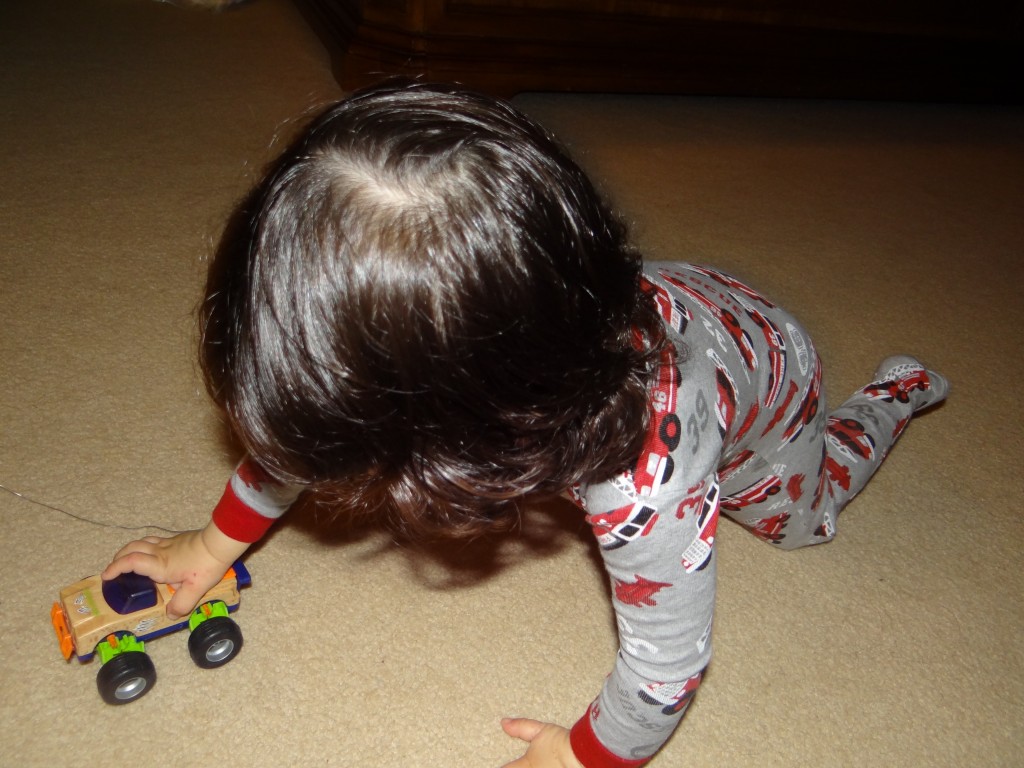 The look of the MotorWorks cars is sleek and fun. They are wooden cars that are beautifully crafted to look just like a real car. The MotorWorks Collection includes three different trim levels; the Street Series, Speed Series and Extreme Series so whatever style a child is into, it's covered.  Each series starts with a beautiful and detailed European beech wood body before the customization begins.  Interchangeable pieces across all three series snap easily into place. Accessories kits, sold separately, allow young builders pleasing possibilities like custom car decals, side pipes and spoilers.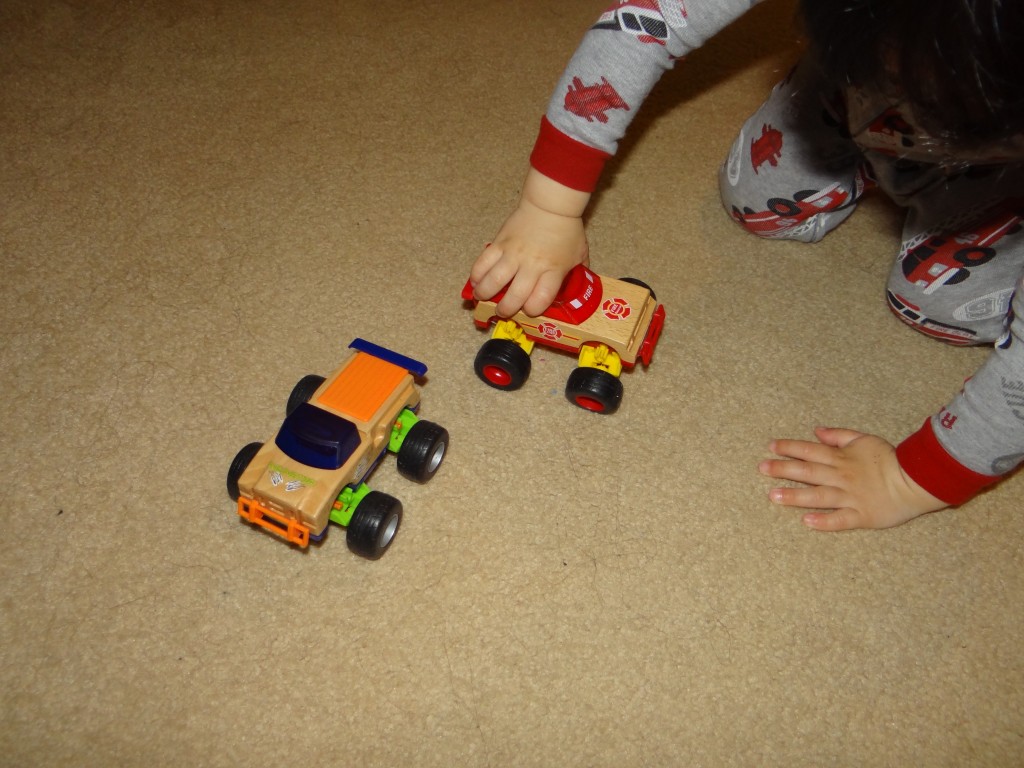 Zane received the police cruiser and truck, that he seriously plays with for hours! Hayley likes to take one of the cars and "race" him to see if her car is better. When they are done, they could take off the parts and trade. It is a really neat concept to get your kids to have fun, while allowing them to use their imaginations to get their cars set up.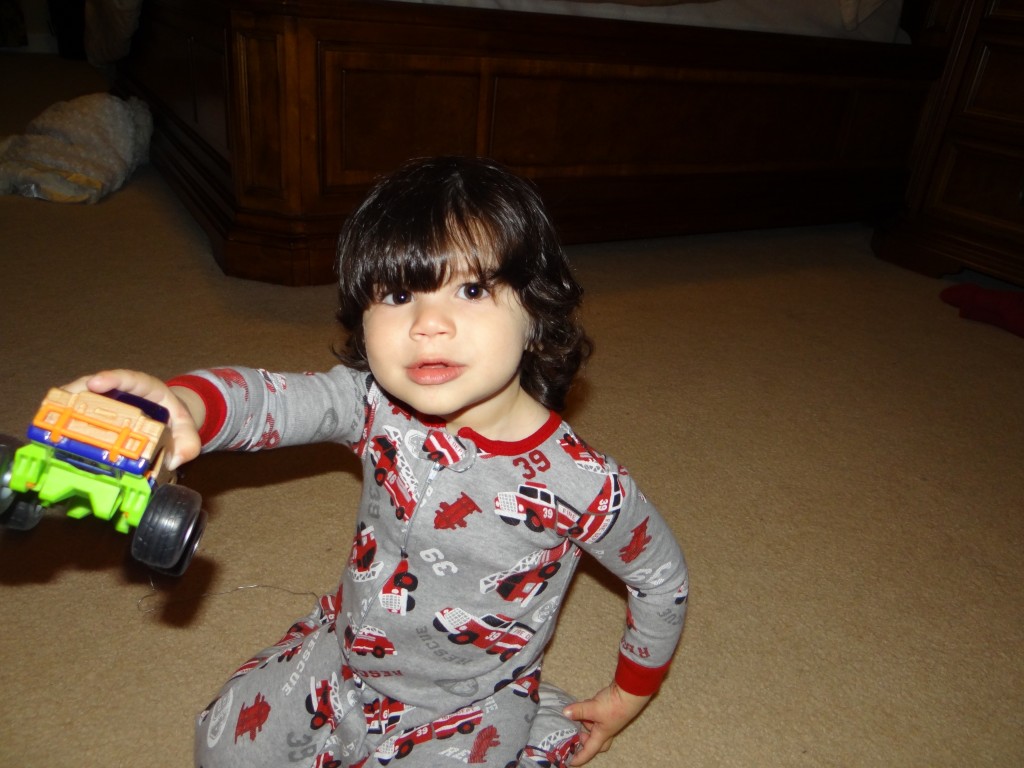 There are so many customization options based on what your kids want. Best of all, besides being a fun toy, the price is fantastic! The initial vehicles are priced from $13.99 to $29.99 (two-pack vehicle sets) while the accessories — from custom car decals to monster wheels — start at $4.99. Be sure to check out the MotorWorks car series today and learn more about them on their site!
Win it: One winner will receive their choice of one vehicle package plus one accessory pack (total retail value $18.98 to $31.98).
Here are your choices:
                      Street Series pick GT Road Racer, FX Tuner Wagon or XT Sport
·        Speed Series: pick EXS Ground Effects Roadster, FSS Flareside Truck or STS Stealth Police Cruiser
·        Extreme Series: pick FSX Monster Truck, STX Patriot Dragster or FX Fire Chief
Accessory Pack
·        Custom Car Decals
·        Ground Effects wheels and trim
·        Street Drifter wheels and trim
·        Police Pursuit wheels and trim
·        Racing Wheels and trim
·        Monster Wheels and trim
·        Downforce Dragster wheels and trim
This giveaway is run via rafflecopter so click read more to see the actual giveaway. The only mandatory entry is to tell me which series and which accessory pack you would like to receive in the comment section proceeding this post. While the other entries are optional, I highly suggest you fill them out to increase your chances of winning. US only. Good luck!
*I received the above products for review purposes. As always, all my opinions are my own and not swayed by outside sources.