I will be the first to admit that I need to wear socks to bed. No matter how hot it is, my feet are always freezing!! I can put blankets on my feet but to no avail, I am still cold.
Thankfully for me, there is a new product on the market that will warm up my tooties called Heat Holders! Heat Holders are very thick socks but are seven times warmer than socks, and will keep your feet warm all night. I tried them the first night and was so excited because my feet were so nice and cozy, while not being overly heated. I woke up with with no blankets on my feet, which is a huge improvement from the layering I needed to do in the past.
THE WARMEST THERMAL SOCKS: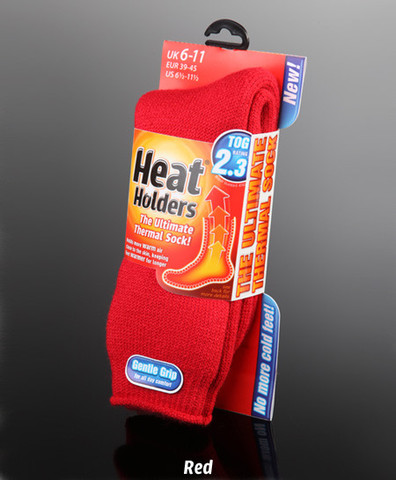 With a tog rating of 2.34, Heat Holders provide a practical and economical alternative to layering socks. Long gone are the days, where you have to layer and put your feet under tons of blankets. The innovative knitting technology locks in warm air, holding this closer to the skin, keeping feet warmer for longer. The soft brushed inner adds comfort and softness where feet need it the most. Their gentle grip prevents rubbing or discomfort that may be experienced from a sock with a lower tog rating. Furthermore the advanced insulating yarn created for Heat Holders provides high performance insulation and superior moisture wicking abilities.
Struggling to drift off to sleep is now a thing of the past for the entire family with Heat Holders ultimate thermal socks. To find out more information on Heat Holders product range and to read more about the benefits of warm feet visit www.heatholders.com. I can promise you my feet have never felt warmer and more comfortable! I am a huge fan!
*I received the above product for review purposes. As always, all my opinions are my own and not swayed by outside sources.