There is absolutely nothing worse than having a cold. The countless hours you lose trying to get a good night sleep is absolutely horrible. While I usually live on various cold medicines when I am sick, I need a have a good humidifier going all night to get myself comfortable.
I have tried various humidifiers in the past and none I liked as much as the Honeywell Germ Free Humidification System. I have had issues in the past with humidifiers being way too loud (that is ultimately kept me up) or it ended up leaking all over, which is a pure mess to clean up.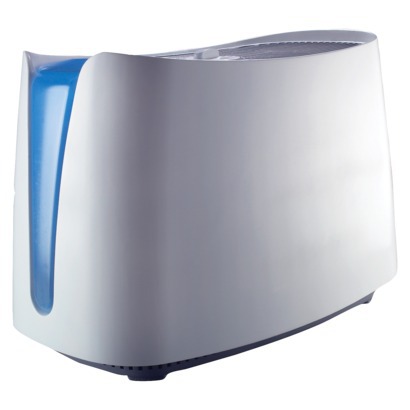 However, after using the Honeywell Humidifier, I can rest peacefully at night with a humidifier that does it's job! During my nasty colds, I always have my Honeywell Humidifier on! The Honeywell Humidifier requires no set up- simply lift it out of the box, add water to the compartment, plug in, and turn on! Very easy to do and I love that there is no extra instructions that you need to adhere to.
The Honeywell Humidifier continuously kills up to 99.9 percent of bacteria, mold, fungus, and virus that could accumulate. It is the ideal patented germ killing process to get rid of those nasty bugs that ultimately get you sick. When I plug in my humidifier at night, it helps me breathe better and sleep more comfortably. I can put it on the low or high setting, depending on how much relief I need at night. I usually end up putting it on high because I get the most moisture control on this setting.
It comes with a durable break resistant water tank and tray, that is dishwasher safe. It features a self regulating evaporating system to maximize moisture, and help to temporarily relieve dry air discomforts that might be in your room. When I use the Honeywell Humidifier at night, I can sleep more peacefully even during the world's worst cold. It is up to 25 percent quieter than other evaporative humidifiers which is a huge feature for me. The noise never keeps me awake at night.
The Honeywell Humidifier is a fantastic humidifier to use to kill bacteria, mold, fungus, and virus that is in the unit's water after 2 hours of continous use on high. It provides assurance that the moisture the humidifier emits is virtually free of germs. It is very easy to fill the tank and easy to carry from the sink to the humidifier unit. Best of all, it runs up to 24 hours per filling and uses less energy than a 60 Watt light bulb.
The Honeywell Humidifier can be purchased at various retailers nationwide including Target for $75.
Win it: One winner will receive the Honeywell Humidifier. This giveaway is run via rafflecopter so click read more to see the actual rafflecopter. The  only mandatory entry is to tell me if you ever used a humidifier before in the comment section proceeding this post. While the other entries are optional, I highly suggest you fill it out to increase your chances of winning. US only. Good luck!!
*I received the above product for review purposes. As always, all my opinions are my own and not swayed by outside sources.