If you read my blog, you know that I am a shopper! If I had unlimited funds, I would shop all day. Unfortunately, that is not realistic, but one of my favorite pastimes is to shop. When I shop, I tend to go to multiple stores and compare the best prices. One store may carry an item I want at a lower price and the next store might not even carry the item I am looking for. As a shopper, it could get mighty frustrating.
One local store I have been known to shop at is Sears, since they make products from all over the Internet available in one convenient place. Sears makes me have a totally complete shopping experience. I no longer have to search the Internet for different items I need-Sears has me covered for all the essentials and so much more!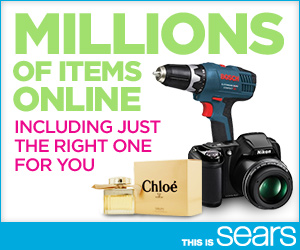 I can't even begin to tell you how many products are for sale at Sears. Anything and everything from mowers, gardening tools, electric grills, bikes, pool toys, outdoor toys, skateboards, washer/dryer, carpet, cookware, blenders, bedding, clothes, shoes, and so much more! Basically Sears has any item you are probably shopping for at other places across the Internet, all in one!
This past holiday season, I did most of my shopping at Sears, since I was able to find gifts for everyone in my family all at once. My daughter got a new bike, my son got some baby toys, my husband got a new mower, and I got myself a great bedroom comforter set. It was a one stop shopping for great quality items, at very reasonable costs. Nothing can beat that!
Sears also carries some great name brands for those looking for those special and selective items, such as Tory Burch, Ray Bans, Nike & more.  If you have not checked out Sears recently, I highly suggest you do, as they have so many various items in one place. It is truly your one stop shopping! Be sure to check out Sears.com (#MoreatSears) today and follow Sears on Twitter.
*This is a sponsored post. I am a Sears blogger, though all my opinions, are my own.