I am going to bring you back to 2008. I was a sleep deprived mom who, one day, was showering with Hayley in the room.  When I looked away for two seconds, I noticed that she found a pill that I accidentally dropped from taking my morning iron pill that day. It was the tiniest pill but she managed to find it. I ran out of the shower and ran to take it out of her mouth. Had I not been there, I could have ended up in the ER with her. This is just once instance I could recall but I am sure through my years of parenting, I unfortunately might run into other circumstances similar to the one stated above.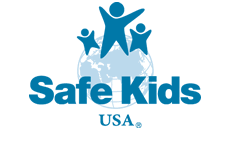 As I was reading up about Safe Kids Worldwide and their initiatives, I saw that many children are getting into medicine cabinets at alarming rates. Every minute of every day, a poison control center receives a call about potential medicine poisoning for a child age five and under. And 67,000 times each year, or every eight minutes, a young child goes to the emergency room for medicine poisoning. This needs to be changed! This number has seen a 30 percent increase over the last 10 years! It is truly disturbing to see as a parent of young children.
I decided that I was going to make various changes to make sure neither of my kids, or their friends, have access to any of my medicines. While I know my medicine cabinets are high, this is not the only way young children can get into trouble and gain access to your medicines.
If you are like me, I sometimes keep medicine in my pocketbook. I have been known to keep those small tubes of Advil or Tylenol with me at all time. Some of those medicines unfortunately do not have a safety lock and kids can gain access to them if they rummage through your pocketbook. It takes two seconds when you are not looking for young kids to harm themselves by gaining access to medicines that are just not safe for them.
Safe Kids examines data from the U.S. Consumer Product Safety Commission, information from poison control centers and findings from several focus groups among moms. The report reviews what is happening in households that leads to these disturbing numbers and offers parents simple things they can do to protect their children. Safe Kids offers parents some tips to help assure that children are safe from their parents medicine. I gained some great information from their tips that I thought I share. By making small changes, I know my house will be safe for my children and I won't need to call poison control, because my children won't have access to my or my husband's medicines.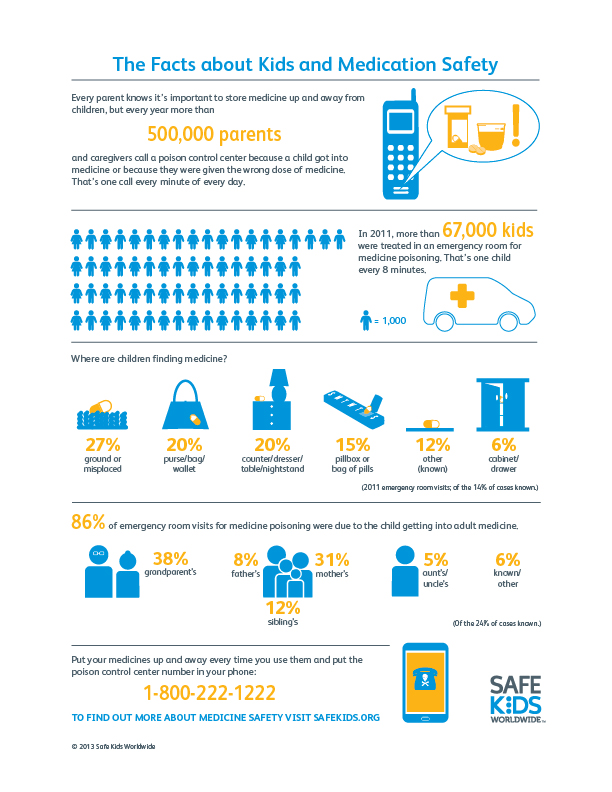 Tips to Keep Kids Safe Around Medicine
  Put medicine and vitamins up and away and out of sight. (In 67 percent of emergency room visits for medicine poisoning, the medicine was left within reach of the child, such as in a purse, on a counter, or under a sofa cushion.) Make sure if you are taking your morning vitamin or medicine, to be sure to put it back out of reach of your children. I am guilty of rushing in the morning but take those extra two seconds and be safe!
  Even if you are tempted to keep it handy, put medicine out of reach after every use. I have one very tall and high medicine cabinet. All my medicines go in there, so they are out of reach of my children.
  Look around your home for products you might not think about as medicine, like rubbing alcohol, eye drops or gummy vitamins, and store them out of the reach of children. Even diaper rash medicines that you leave hanging around the changing table, can wreck havoc if children get into it.
  When you have guests in your home, offer to put purses, bags and coats where kids can't get to them. (In 43 percent of emergency room visits for medicine poisoning, the child got into medicine belonging to a relative, such as an aunt, uncle or grandparent.) I have a very tall coat hanger, where I put guest's items, so my children can't access them.
  Be alert to medicine in places your child visits. Take a look around to make sure there isn't medicine within reach of your child.
  Program the nationwide poison control center number (1-800-222-1222) into your phones. We have this number up all around the house. Make sure if you use a babysitter, they also have access to this number.
  Visit SafeKids.org for more tips on safe storage, safe dosing and safe disposal of medicine.
It takes all of two seconds for your children to be curious, and get into medicines, they should not be in. They could get very sick, very fast. Be sure this does not happen by following the tips above and visiting the site SafeKids to learn more!
*I wrote this review while participating in a campaign for Mom Central Consulting on behalf of Safe Kids Worldwide and I received a promotional item to thank me for my participation.