Mommy, can we watch SpongeBob? I am not sure how many times I get asked this a day!! Lucky for me, SpongeBob has come out with an all new DVD titled SpongeBob SquarePants: Extreme Kah-Rah-Tay which will be available on DVD starting January 15, 2013. This DVD will feature eight all new episodes of action filled SpongeBob SquarePants. In this brand new DVD, you can watch SpongeBob help Sandy teach Squidward karate and see SpongeBob then try to join an extreme sports team, break a book of sports-related world records with Sandy and put his driving skills to the test. Be ready to be prepared for a long, merciless helping of hilarity with the action filled SpongeBob SquarePants.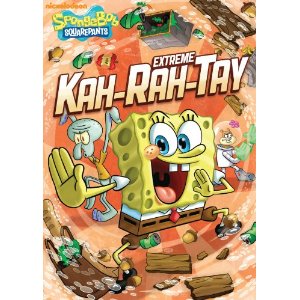 SpongeBob SquarePants features episodes including -Squid Defense, The Way of the Sponge, House Sittin' for Sandy, The Krabby Patty That Ate Bikini Bottom, Extreme Spots, Squirrel Record, Face Freeze, and Demolition Doofus. SpongeBob SquarePants: Extreme Kah-Rah-Tay can be preordered on Amazon today and runs for 88 minutes!
Hayley and Zane both love this DVD. It is great because it is broken down to around 11 minute episodes each, so they could watch one when I am getting dinner ready, eat, and then watch another one after dinner. I always tell them they could watch 3 episodes each day and they usually pick Face Freeze, Extreme Spots, and Squid Defense. Hayley got introduced to karate through this DVD and now wants to take it! It is actually really cute to see SpongeBob partake in his love of karate. The action, the fun, and the animation makes SpongeBob SquarePants: Extreme Kah-Rah-Tay a winning DVD!
*We received a copy of the DVD for review purposes. As always, all my opinions are my own and not swayed by outside sources.