While we are still stuck with another 3 months of cold weather, it makes it really hard to get the children outside to have some fun and exercise at the same time. I know I am guilty of having my kids watch television and eat their snacks, instead of going outside to get fresh air. In the summer we are always outside, but in the winter, I allow my children to sometimes take the lazy route and just sit still, and watch television.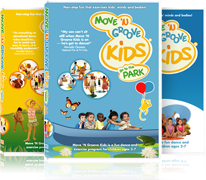 I have researched various ways and activities to get them up and running again. It is so important, even at their young age, to make daily exercise an everyday activity. It is just no good to have them sit still all day, both physically and mentally. That is why I was very excited when I was set three DVDs from the Move 'N Groove Kids DVD line. This DVD collection set was made to get your kids up and off the couch, in a fun and creative way.
Move 'N Groove Kids is a creative movement and exercise program for children ages 2 to 7 years old. The Move 'N Groove Kids curriculum was developed by Deborah Damast and Sara Lavan. It is based on the philosophy of creative movement. Deborah and Sara's popular children's dance classes have been highly acclaimed by teachers, parents and administrators at private studios, daycare centers and pre-schools. Their DVDs feature live-action, classroom-style learning with entertaining text and character animation that no child can resist.
With these DVDs, their goal is to help children develop self confidance, encourage healthy living and promote problem-solving skills. The program encourages teamwork, bridges language barriers and teaches vocabulary. It allows children to have free creative expression, while jumping around and exercising.
When we first put them on, I was not sure how Hayley and Zane would like them. After all, they are used to Yo Gabba Gabba or Sophia the First 24/7 in the household. However, once I put it on, they were mesmerized. First off, I love how they could get exercise in the form of DVDs. You should see them dancing around  the house all day- it is way too cute! I also love that it incorporates language and vocabulary into the DVDs so my little guy can start learning by watching it. Both of the kids love all the DVDs but their favorite is the going to the zoo. They love seeing the animals and dancing along all day/night long. It has cool down and incorporates fun facts so it gives your kids a chance to relax after bouncing around non stop.  I give these DVDS an A+ for fun, entertainment, and learning. To see a clip of the Move 'N Groove DVDs just watch the below:

Buy it: Please use  this 20% discount off the purchase of either a single DVD or the 3-disc set: MEL20. This is good on the Move 'N Groove Kids website only, thru Jan. 31st.
Win it: One winner will receive all 3 DVDs valued at $40. This giveaway is run via rafflecopter so click read more to see the actual giveaway. The only mandatory entry is to tell me which of the three DVDs- Move 'N Groove Kids, Move 'N Groove Kids go to the Zoo, or Move 'N Groove Kids go to the Park your kids would be most excited to win in the comment section proceeding this post. They will receive all three though if they win. While the other entries are optional, I highly suggest you fill it out to increase your chances of winning. US only. Good luck!
*I received the DVDs and a promotional item for review purposes. As always, all my opinions are my own and not swayed by outside sources.