What if I tell you, that you could save the cost on products that will equal healthy living! Would you love that! Well, Vitacost is just that- products that will make yourself be better in the New Year at a fraction of the cost.  They feature all the top brands with discounts on vitamins, supplements, whole foods, health foods, and sports nutrition online.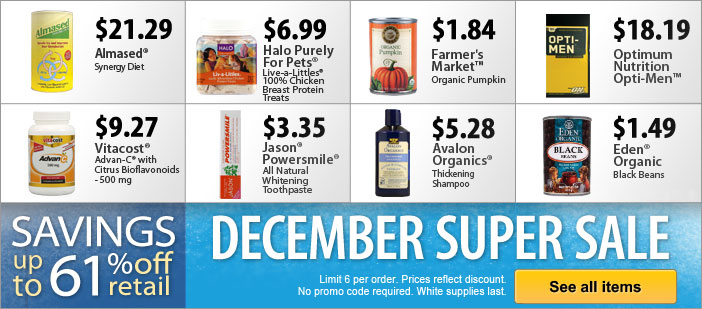 *With Vitacost.com, you don't have to choose between stores that sell products you don't really want at super-low prices, and stores that sell the better health and wellness products you want at crazy-high prices. They offer over 2,000 of the top, most-trusted natural brands, diet foods and healthy living essentials-the very best nutritional supplements, whole foods and sports nutrition-at discount prices, up to 50% off. And they will deliver them right to your door for FREE if your order totals $49 or more. Otherwise, shipping is just a small, flat-rate fee of $4.99, no matter how big the box.*
Vitacost has much more than your typical vitamins- they sell sports and fitness products, diet, beauty, food, home, pet, baby, and drugstore products. If you think about anything that you might need, they will probably have it! I have shopped there for great prices on baby food, beauty items, and vitamins and have always been exceptionally pleased. They also feature some awesome products such as Gluten Free to make living the life with a Gluten allergy much easier. Nutrition bars…Pasta favorites…Baby teething foods..cereal…detergent…home products…You name it and they probably will have it!
Be sure to check out our exclusive Vitacost brand discount vitamins, CSI skin care line and Best of All healthy snacks–featuring the same or better quality as leading brands, without the high price tags.
 This holiday season, I strongly encourage you to check out Vitacost for some amazing products at a fraction of the price. If you want to know more about Vitacost, click here:
Vitacost
! Happy shopping!
*I received products for review. As always, all my opinions are my own and not swayed by outside sources.