I have been an Aldi fan for as long as I could remember. We have two Aldi supermarkets within a 20 mile radius and I find myself frequenting their locations at least once a week. If you are not familiar with Aldi, they are the nation's low-price leader! When you shop there you will find products that are of the utmost quality but also will have incredibly low prices. In this day and age, I think that is all we look for- great products at low prices! Aldi has you covered for that!
Did you know you can do all of your holiday shopping at Aldi? While I am not hosting Christmas this year, I am going to my mother-in law's for their annual Christmas Eve dinner. Every year, I am in charge of bringing some side dishes for the family. So I decided this year to let Aldi help me find the perfect holiday food compliments.  By shopping at Aldi, I am saving time and money while providing my family with delicious holiday meals.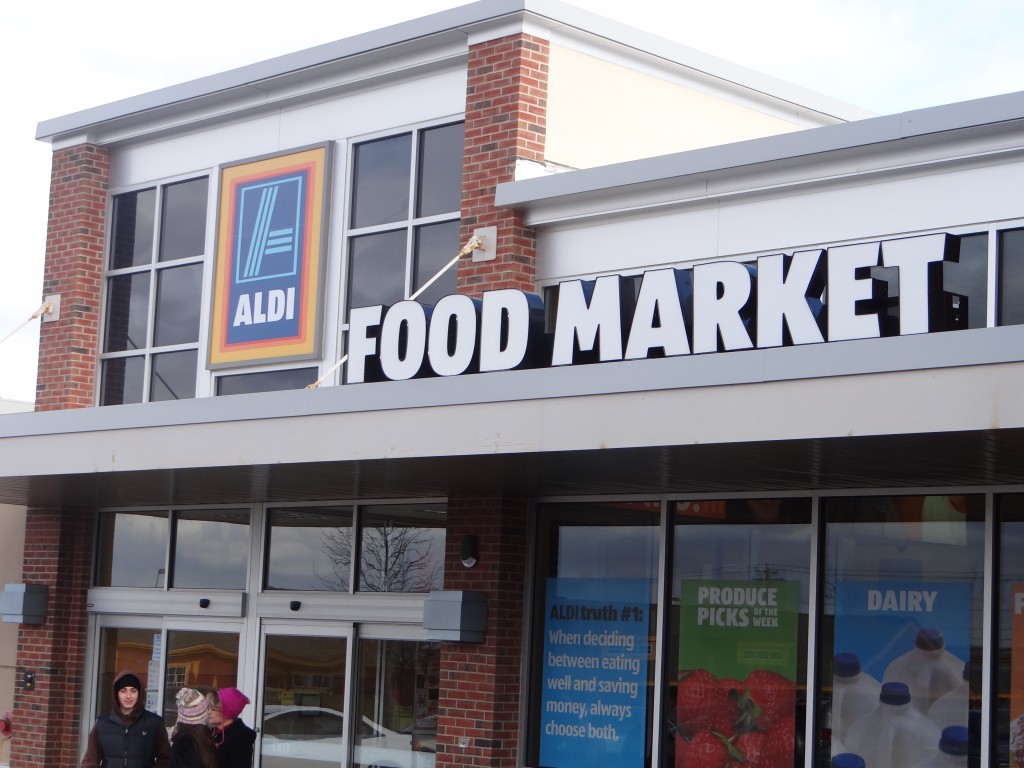 While I do not have to serve the main dish on Christmas Eve, I did peruse Aldi's offering while I was searching for some great side dishes. I found the most delicious looking hams that would be a wonderful compliment to your holiday meal. For the prices I saw, I was tempted to buy a few hams to have them for dinners after the holiday.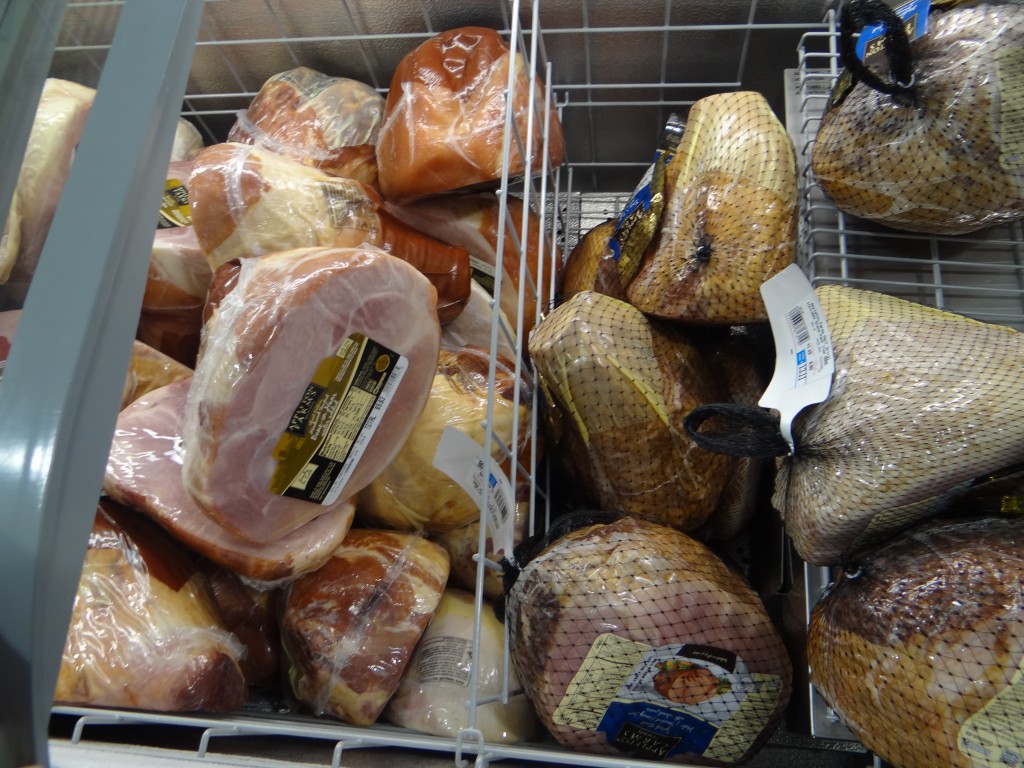 Then I went on to really shop what I needed at Aldi. I ended up buying the Season's Choice Sweet Potato Casserole with praline topping. The picture on the box showed me that I needed to buy this as a side dish- it looked absolutely delicious and even better the cost of under $5.00 for a huge appetizer, made my final decision of picking up the Sweet Potato Casserole easy.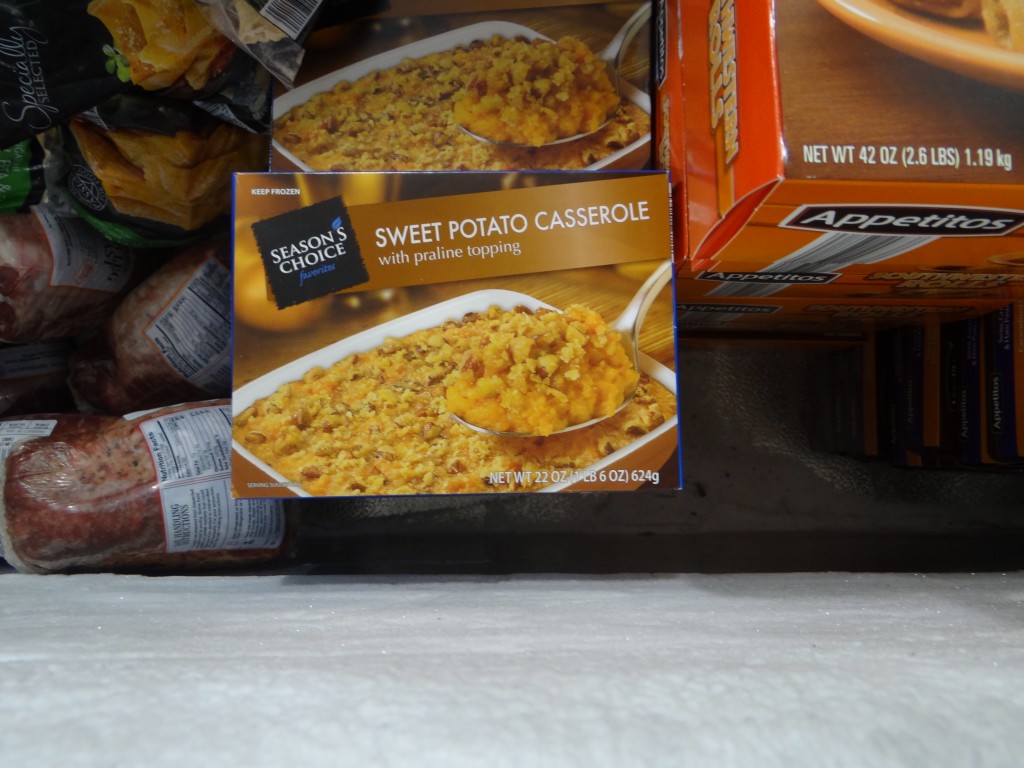 I then went to to see if I could get a pasta side dish that would be easy for me to make. With the holidays, everything is about making my life easier since I am so busy with other aspects of the holidays, such as gift buying. I ended up finding the Reggano Pasta Entree, which are shell shaped pasta with a white cheddar cheese sauce mix. Since my husband's family is Italian, I needed to make sure this pasta would make them happy- they are known to be picky eaters. So, I did a pre-test the night I bought it and it got 5 stars from the whole family. Again, the taste combined with the price really can't be beat.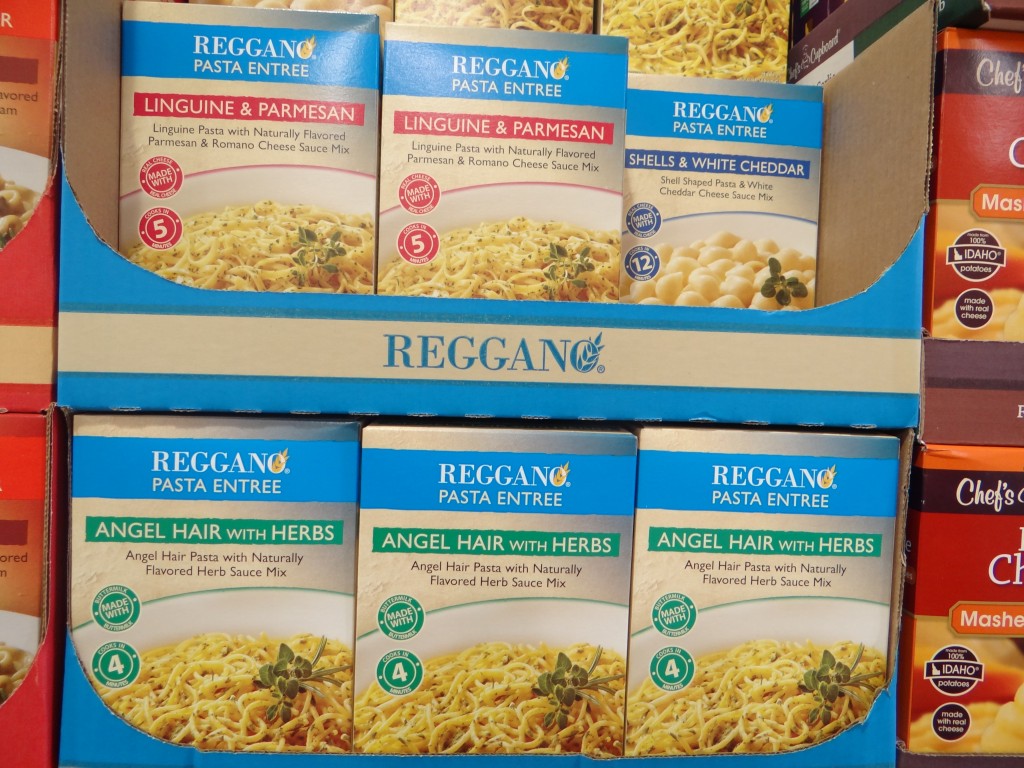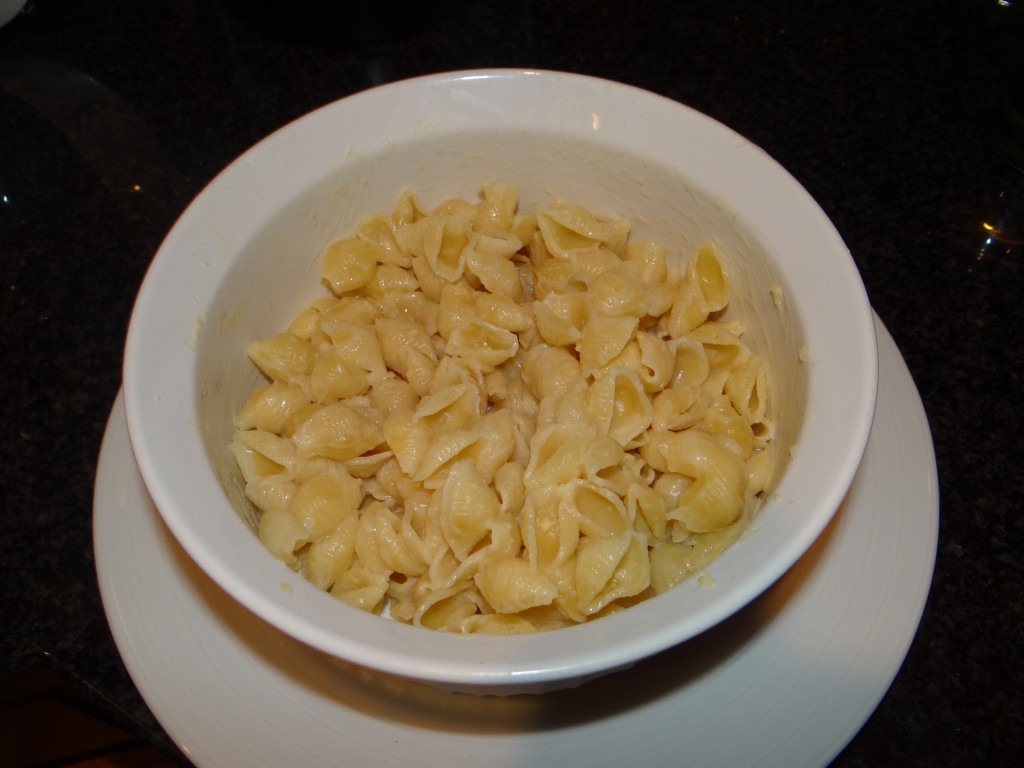 Then I went on to peruse the sparkling non-alcoholic cocktail aisle and found Nature's Nectar Sparkling Blueberry Grape Juice Cocktail which is a flavored blend of 4 juices. On one sip of tasting the Sparkling Juice, I was completely hooked! While my Aldi does not sell wine (it is illegal in Rhode Island to sell wine in supermarkets), they do offer around the country a wonderful assortment of wines.  They have a wide assortment of wines at fantastic, inexpensive prices that will make any wine lover happy. Some of their wines include :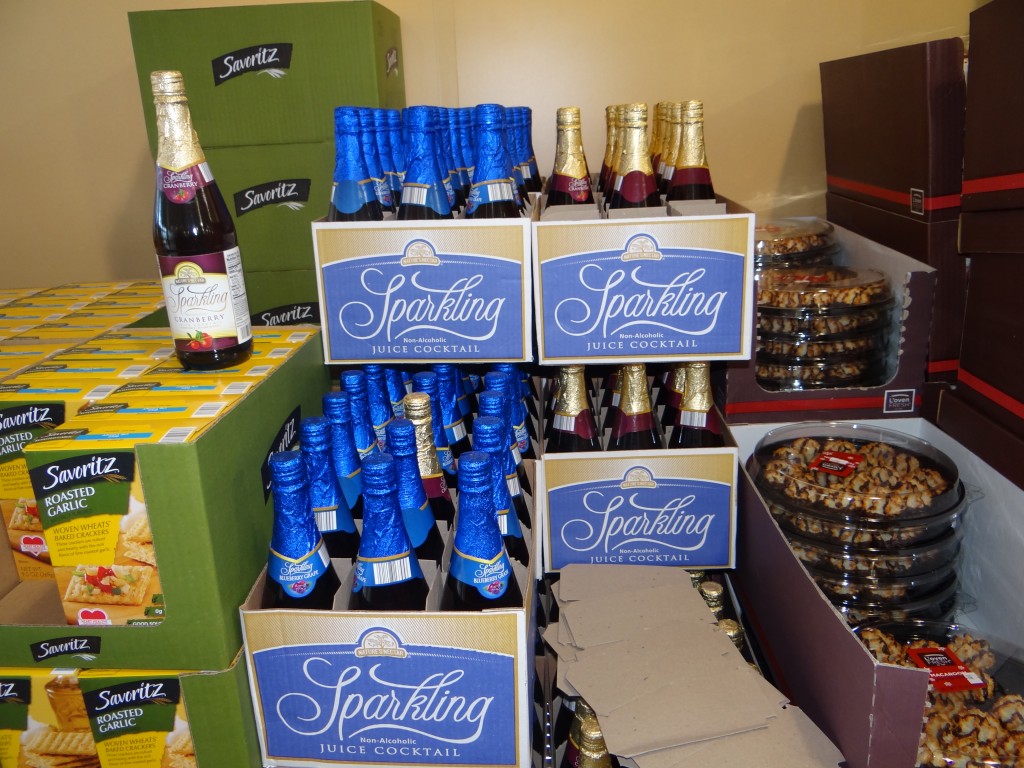 Viña Decana Tempranillo (Spain)
Sunshine Bay Sauvignon Blanc (New Zealand)
Toca Diamonte Malbec (Argentina)
Villa Malizia Pinot Grigio (Italy)
Landshut Riesling (Germany)
While I just gave you a sample of my particular shopping holiday items at Aldi, they do have almost everything you are looking for to make the holiday dinners special in an easy and inexpensive way. I have included some of the other items that you might have at Aldi when you go shopping!
Seasonal Beverages:  • Nature's Nectar Sparkling Apple Cider • Nature's Nectar Sparkling Red Grape Juice Cocktail • Friendly Farms Egg Nog • Rheinhessen Beerenauslese • O'Donnells Irish Cream • Geisweiler Brut Sparkling
Seasonal Cheese Selections: • Specially Selected Gouda and/or Smoked Gouda • Specially Selected Edam • Specially Selected Havarti • Specially Selected Brie • Specially Selected Goat Cheese
Seasonal Cracker Selections: • Savoritz Pita Bite Crackers
Seasonal Dessert Selections: • Café Bistro Glazed Gingerbread • Benton's Maple Leaf Cream Cookies • L'oven Fresh Pecan and/or Dutch Apple Pie • Belmont Petite Cheesecake Sampler
Additional Ingredients for ALDI Party Poppers recipe • Southern Grove Pitted Dates • Specially Selected Brie Cheese Round • Southern Grove Slivered Almonds • Specially Selected Thick Sliced Peppered Bacon
I also wanted to include some great holiday tips from Aldi holiday suggestions that I thought I would share:
Keep it Simple. When planning your holiday party or family dinner, don't overthink it. Remember, "Less is More" when designing your menu and décor. If you try to do too much, you'll end up unable to enjoy the event you've worked so hard to put together. Keep your shopping experience simple and stress free by shopping at Aldi. From award-winning wines and holiday baking essentials to gifts and all the trimmings for your holiday dinner, ALDI has everything you need at prices up to 50 percent* less than traditional grocers.
Don't Forget the Kids.  If you're expecting children at your event, prepare a few child- friendly dishes that adults will enjoy too, such as the Mini Thanksgiving Bites w/ Cranberry Glaze recipe from Aldi. They pack a great flavor in a bite-size (and kid-friendly) serving. Or, if there are picky eaters on your guest list, set up a separate table for the kids so you don't have to display their kid foods right next to your gourmet recipes.
Somewhat Homemade.  Combine traditional homemade recipes with pre-made items for a holiday spread that is sure to please. Dress up your Appleton Farms Spiral Sliced 1⁄2 Ham from Aldi with an apple cider and balsamic glaze. Or, place bite size portions of L'oven Fresh Dutch Apple and Pecan Pies and Belmont Cheesecake Samplers into mini martini glasses for a chic dessert table display.
This holiday season, make sure you visit Aldi for their fantastic holiday food and wine products. Let's all have a wonderful, easy, and healthy holiday!
*I participated in a campaign on behalf of Mom Central Consulting for ALDI. I received a gift certificate to facilitate my review as well as a promotional item as a thank-you for participating.