Have you heard of Speidel jewelry yet! If not, I am going to introduce you to them because not only are they manufactured in my home state of Rhode Island, but they have a fabulous assortment of jewelry.
Speidel is an innovative leader in the time piece and watchband accessory industry. They have a blend of innovative designs that focus on excellence and passion for customer service. They offer beautifully crafted traditional and contemporary timepieces, watchbands, and accessories. Speidel can be found at both high-end independent jewelers and at well-known mass retailers across the US.
I had the chance to review the Speidel Curli Q Watch and two Speidel's My 1st ID Bracelet. When I first received the Speidel Curli Q Watch, I thought it was gorgeous. It is not your traditional one loop around your wrist watch, rather it wraps twice around your wrist, to give a beautiful design.
The Curli Q Collection brings fun and sophistication to any outfit at an instant. I can wear my Curli Q watch with a simple or an elegant outfit to add a little jazz. The Curli Q watch is available in 3 styles, each offering a multiple of colors and textures. They come in the zebra, metallic sheen, and silicone option. All the watches are stainless steel and water resistant. I tested this out this past weekend by accidentally leaving my watch near the tub. It fell in but thankfully, it did not get ruined at all! It retails for $39.99-$49.99, which is a fantastic price for a watch.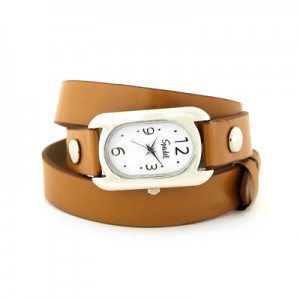 Speidel's My 1st ID Bracelets are a fantastic way to ensure your kids can be identified while they are away from your house. While you can put your child's name on the Speidel My 1st ID Bracelet, I decided to engrave Peanut-Free on Zane's bracelet so people can be aware of his peanut allergy. For Hayley, I engraved her name on it, per her request.
The My 1st ID Bracelets come in adorable styles to fit every little one's personality! Styles include a variety of chains, colors, and charms such as teddy bears, flowers, ladybugs, turtles, hearts, butterflies, and more! Bracelets come packaged in a gift-giving ready to go My 1st ID box that includes a photo frame display on top. These are a fantastic gift for your kids this holiday season and they will LOVE owning their very own piece of jewelry.
The Speidel My 1st ID Bracelet retails for $17.95-$21.95 each and can be seen here:
Speidel is also helping to make the difference in lives this holiday season. Speidel, the world's number one recognized brand of watchbands and identification bracelets, announced today, just in time for Veteran's Day, the launch of the company's new charitable giving program, Change A Band, Change A Life™, to recognize the tremendous contributions of the American men and women of the armed forces.
With the Change A Band, Change A Life™ program, Speidel strives to inspire consumers to "band together" in supporting, honoring and meeting the needs of current and former members of the U.S. military and their families, who have sacrificed so much while fighting tirelessly for our freedom.
Speidel has partnered with Operation Homefront, a prominent, national nonprofit that provides members of the American armed forces and their families with critically needed support, emergency assistance and financial aid.
* I received these products for review purposes. As always, all my opinions are my own and not swayed by outside sources.