I am back from my vacation. Thanks again to Heather for hosting the laughs last week! We had an absolute blast in Vegas and I will certainly be writing about it soon! In the spirit of my vacation, I thought I write my laughs with things that happened on our trip. Not kid related this week but I thought it would be fun nonetheless.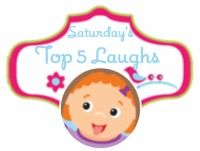 As always, link up any cute, funny, or top five post. Feel free to take my button or share on social media sites if you like. Also go visit the other blogs who link up because I guarantee they will provide you with a good laugh:)
My Top Five Laughs:
5. On the flight going to Vegas, we flew SouthWest. The way it works on that airline, is there is no definite seats. It turns out my husband and I were at the last seating, so of course, we could not sit together. In fact, we were on two opposite ends of  the plane. All I kept thinking was, "What a nice break 5 hours is away from everyone but a good book." Is that bad?? LOL
4. My sister and I were arranging to surprise my mom at a restaurant at the Venetian, where we were staying. However, there were two restaurants with the same name and my dad never specified where my mom and dad were. We ended up going back and forth between the same two restaurants about 3 times because my dad kept telling us the wrong one. He had to talk to us on the phone all while my mom was staying there listening. He was brilliant though in that he made up a story that he was on line with a business guy who was bringing them tickets to the restaurant to a Vegas show so she would not suspect anything.
3. My mom got the shock of her life when we showed up. She was 100 percent surprised and it was AMAZING!! Major props to my dad for arranging the surprise of my moms life by flying in her immediate family to celebrate her 60th birthday. Mom if you are reading: Happy 60th Birthday!!
2. When we were in Vegas, we saw all the Disney characters on the streets basically trying to get tips to take pictures with them. Our Mickey and Minnie were doing a little drinking that day:)
1. Oh my goodness, the flight home was the worst flight I have ever been on. On takeoff, the plane kept dropping, swerving, excelling, dropping,etc. Everyone was fine except poor me who started crying hysterically. Can you imagine a 33 year old crying because of turbulence? I am not a good flyer!
Now your laughs: