I will secretly admit while I love ALL of the Disney movies, Finding Nemo probably ranks in my top five of my favorite Disney movies. If you have not shown it to your children yet, now is the time because Disney's Pixar Finding Nemo is released from the Disney vault for a limited times. As with most Disney classics, they release it from the vault for a limited time and once it is back in the vault, it could be a few years before we see it again on the shelves. So if there is ever a time to get Finding Nemo, now is the time!
Disney -Pixar Finding Nemo dives back into homes this coming holiday in breathtaking Blu-ray. The must "sea" must-own Oscar-winning underwater adventure featuring the unforgettable Marlin, his forgetful friend Dory and the lovable young Nemo swims into living rooms for the first time ever in high definition Blu-ray, Blu-ray 3D and Digital platforms!
This film fully immerses viewers in the stunning underwater world of Finding Nemo! From the creators of Toy Story and Monsters Inc, Disney Pixar critically acclaimed and heartwarming tale splashes off the screen with brilliant digital picture, high definition sound and breathtaking 3D Bonus features that transport you beyond your imagination.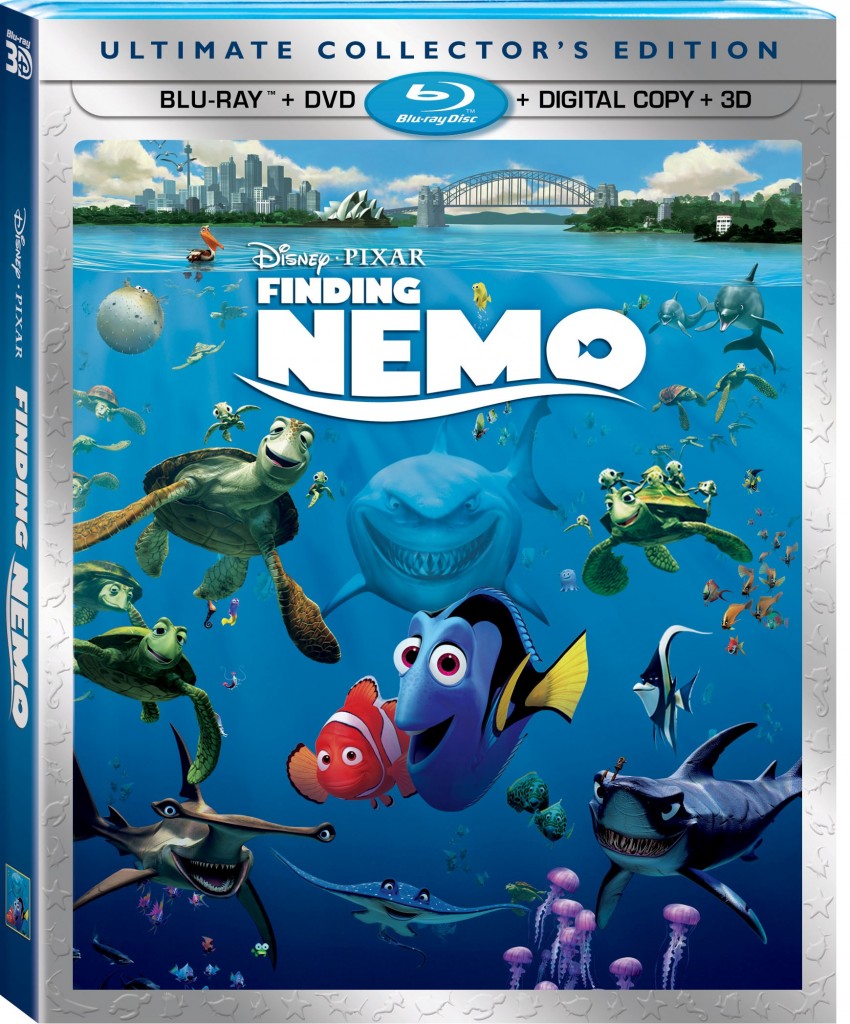 Finding Nemo first got released in theaters in 2003 and earned the Oscar for Best Animated Film and remains the fifth highest grossing animated film worldwide. In 2008, the American Film Institute named  Finding Nemo among the top 10 greatest animated films ever made, and it is the second highest grossing Pixar film to date (behind Toy Story 3).
The Blu-ray 2D and 3D debuts marks the first time Finding Nemo has ever been available in these hi-def formats. Featuring pristine high definition and picture, as well as sound, the Blu-ray creates an incredible at-home experience with a host of interactive features and bonus features including 3D Virtual Aquariums, 2D Virtual Aquariums, CineExplore, A Filmmakers' Roundtable and more!
In the stunning underwater adventure teeming with memorable comedic characters and heartfelt emotion, Finding Nemo follows the momentous journey of an overprotective clownfish named Marlin (Alan Brooks) and his young son Nemo (Alexander Gould). When the two are unexpectedly separated in the Great Barrier Reef, Nemo is carried far from his ocean home and deposited in a fish tank in a dentist's office. Buoyed by the companionship of Dory (Ellen DeGeneres), a friendly-but forgetful blue tang fish, Marlin embarks on a dangerous trek and finds himself the unlikely hero of an epic effort to rescue his son-who hatches a few daring plans of his own to return home safely!
Disney Pixar Finding Nemo is available on Amazon for $22.99. You can also follow along with Finding Nemo on their Facebook and Twitter Page!
Now onto a some great activities to do with your children to celebrate the launch of Finding Nemo:
There won't be any grumpy gills around your house this weekend with these fun Finding Nemo activities! Track how tall the little ones are getting by building your very own Finding Nemo growth chart with Nemo, Dori and Crush markers to help measure the family members' height. While you're waiting to see to see if they've growth in the last 10 minutes why not entertain the kids with an underwater maze and free Nemo-themed coloring sheets included in the below activity button? And remember to just keep swimming!

* I received the above product for review purposes. As always, all my opinions are my own and not swayed by outside sources.