This month, I am featuring 3 brand new titles from HIT Entertainment and Lionsgate Entertainment: Angelina Ballerina Dance Around the World, Thomas and Friends: Muddy Matters,  Barney:  Let's Go To The Moon
Angelina Ballerina: Dance Around the World is going to be available on DVD, Digital Downlowad and On Demand starting January 8, 2013. Angelina and her friends explore dances from near and far as they boogie, bop, skip and hop around the world in these exciting adventures. In step with a lively Irish Jig, the festive Chinese Dragon Dance, the smooth Cheddar cheese Slide with a French flair and more, the mouselings teach each other-and themselves-about the power of dance and friendship. Step to some new beats with great friends and global grooves that every young mouseling will love.  Episodes include: -Angelina and the Irish Jig, Angelina and the Cheddar Cheese Slide, Angelina and the Windy Children's Day, Angelina and the Smelly Cheese, and Angelina and the Dragon Dance.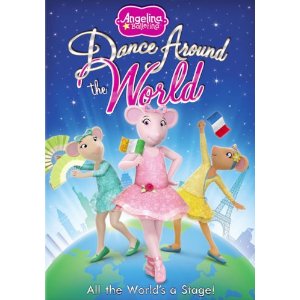 The DVD also features 2 Bonus Features including Step at a Time and Slumber Party Song. You can also create your own dream routine dance. This DVD will sure to please any Angelina Ballerina fan- I know because Hayley raves about this DVD, and she is one of the biggest Angelina fans!
Thomas and Friends: Muddy Matters is an action-packed messy adventures with preschool favorite Thomas the Tank Engine and his engine friends, which is being released on DVD, Digital Download, and On Demand on January 15, 2013. Thomas and Friends: Muddy Matters features 5 action packed episodes plus three bonus features.
Through mud, garbage, and muck, Thomas and his engine friends show that being Really Useful can be a dirty job! See James turn into Really Muddy Engine and Thomas get showered with garbage. Watch Peter Sam make a big mess trying to keep things on track as Thomas creates chaos with the crows and much, much more. Join Thomas and the Steam Team as they make the best of the mess in these exciting muddy and mucky adventures. Episodes include: -Muddy Matter, Thomas and the Garbage Train, Don't Bother Victor, Whiff's Wish, and Thomas Toots the Crows. DVD Bonus Features include: -Go Go Thomas! Karaoke Music Video –Guess Who? Puzzles –Muddy Sheep Roundup Game. DVD Bonus Features include: -Bonus Episode Buzzy Bees! This DVD is adorable and since Zane loves to play with everything messy, this DVD definitely pleased him.
Barney: Let's Go To The Moon is the new Barney DVD arriving on DVD, Digital Download and On Demand on January 8, 2013.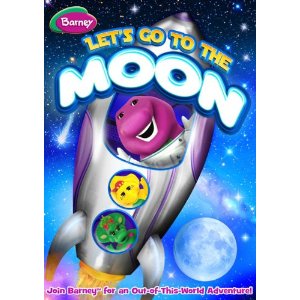 Star Light, Star Bright, let's go on a space adventure tonight! Barney encourages Riff to always reach for the stars, even when his homemade spaceship doesn't reach Mars; Baby Bop learns about Mr. Moon's important job lighting the night for the world, and BJ sees he's special just the way he is- astronaut or not. Barney and his friends discover that the sky is not the limit when you use your imagination! Episodes include: -Dream Big, The Misbegotten Moon, The Amazing Captain Pickles. DVD Bonus Features include: -Barney's Space Adventure Game –What's Different Game –I Love You Karaoke Music Video. VOD/Digital Bonus Features include Movement Bonus Episode.
Be sure to look out for these 3 DVDs this coming January from HIT Entertainment and Liongate. They will make wonderful additions to your Kids DVD collections.
Win it: One winner will win all the DVDs mentioned above. For this giveaway, simply tell me which DVD you are most excited to win in the comment section proceeding this post. PLEASE MAKE SURE TO LEAVE A VALID EMAIL ADDRESS. For an additional +1 entry, follow me via email. Finally, for an additional +2 entries, tweet about this giveaway mentioning @dentistmel and kids Liongate DVDs. This could be done daily but please leave links below in the comment section. Giveaway ends Jan 19, 2013. US only. Good luck!
* I received the above products for review purposes. As always, all my opinions are my own and not swayed by outside sources.