I hope everyone had a marvelous holiday season and a fantastic upcoming New Year! Let's welcome 2013 with a bang! I just want to let you know how much I appreciate all my readers and especially the regular posters who link up every weekend, as you are the ones who puts big smiles on my face. So a huge Thank you from Me!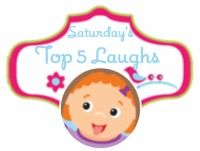 As always, feel free to link up any cute or funny post. Feel free to take my button or share this link up on any social media sites, although this is definitely not mandatory. Go check out the other blogs who link up because they will make you laugh!
Now for my top five laughs:
5. Hayley and Zane are beginning to play more and more with each other. They both opened their respective gifts but they actually share them. It is really cute. Hayley will say, "Okay Zane I play with them, and when I am done, you play with them." I love it!
4. Along those lines, they are also talking to each other more now. The other night I put them each in their own room and for a good 10 minutes, I hear from each other room, "Zane, night night…",  "Hayley….Hayley, night night..". They are just too cute with each other.
3. Hayley had a change of gift items that she wanted Santa to bring her. She has been telling me all along that she wanted Santa to get her a special doctor baby. Of course, Santa got that but then 2 days before Christmas, she says, " I forgot to tell Santa that I also want a pink calendar." So Santa had to manage to find a pink calendar 2 days before Christmas….Luckily Santa did!
2. Zane has been going through a word explosion lately and it is just too cute! He went from speaking no words at all to starting to drum together 2 words in a sentence.
1. My favorite one this week is Zane says to me all the time, "I love you". Sure it comes out, "I owwee you" but I know what he is talking about or at least hoping he is saying I love you. I think he is!
Now your laughs: