Two of my all time favorite movies are being released on Blu-Ray DVD for the very first time! If you have not watched Sweet Home Alabama or Beaches yet, or even if you have, you know they are movies that you will want to add to your movie repertoire!
Sweet Home Alabama: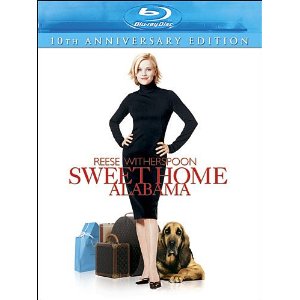 How can you forget the best line of the movie- "You have a baby in the bar!"
Synopsis: Melanie Carmichael, an up and rising fashion designer in New York, has gotten almost everything she wished for since she was little. She has a great career and the JFK-like fiancée of New York City. But when he proposes to her, she doesn't forget about her family back down South. More importantly, her husband back there, who refuses to divorce her ever since she sent divorce papers seven years ago. To set matters straight, she decides to go to the south quick and make him sign the papers. When things don't turn out the way she planned them, she realizes that what she had before in the south was far more perfect than the life she had in New York City.
The cast includes Reese Witherspoon (Walk the Line, This Means War) as Melanie Smooter, Patrick Dempsey (Grey's Anatomy, Made of Honor) as Andrew Hennings, and Josh Lucas (The Hulk, A Beautiful Mind) as Jake Perry.
Bonus features include eight deleted scenes introduced by director Andy Tennant, alternative ending with introduction, Director's commentary, and a music video entitled, "Mine All Mine".
I love this movie and to me, this was Reese Witherspoon best role to date. My husband, who is not into the classic "chick-flick" movie even enjoyed it immensely. It was a movie that could be watched over and over!
Beaches: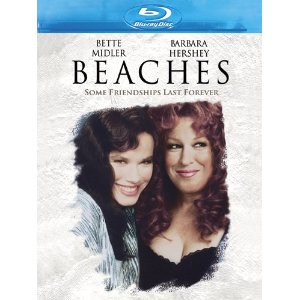 I will say that Beaches is probably one of my top five movies of all time! It is incredibly sad but uplifting at the same time. Bette Middler and Barbara Hershey made this movie a tear jerker by showing the friendship between young girls that grow into adulthood. The story tells that from childhood to death, even with differences between the two of them, they will render their friendship forever and beyond.
Be sure to own Beaches for the very first time on Blu-Ray this coming November 6, 2012. This is a true classic comedy drama in every sense of the words. It tells about a privileged rich debutante and a cynical struggling entertainer share a turbulent, but strong childhood friendship over the years. Beaches stars Bette Middler (The First Wives Club, Divine Madness) as CC Bloom and Barbara Hershey (Black Swan, Hannah and her Sisters) as Hillary Whitney Essex with the Director Gary Marshall (The Princess Diaries, Pretty Woman).
Bonus features include the ever so popular "Wings Beneath My Wings" music video, Segment from "AFI's 1000 years..100songs" with Bette Middler, Barbara Hershey screen test, Blooper Reel, and "Mayim Blalik Remembers".
I can't tell you how much I love Beaches. It was a childhood staple for me. The music…The acting..The movie was all superb! Just make sure you have some tissues handy!
Both of these DVDs will be released on Blu-Ray on November 6, 2012 for the suggested retail price of $20.00.
* I received the above products for review. As always, all my opinions are my own and not swayed by outside sources.