Now that Daylight Savings is upon us, it is a good time to remember to change all your batteries in your smoke detectors and carbon monoxide detectors. What happens though, if I tell you that I have a product called the Kidde Worry Free Smoke Alarm that will last 10 years with never having to hear those beeping, annoying sounds when the batteries are low! I know we are all familiar with the little chirping noises when the batteries are low- the kinds that wake you up at 3AM in a state of manic. While I do change the batteries, many people will continue to listen to the chirping sound of the low batteries till the battery life runs out. Then unfortunately you have no protection against smoke or carbon monoxide in your house.
Thankfuly, Kidde had the consumers in mind and invented a carbon dioxide, as well as smoke detector, that are power sealed by long lasting lithium batteries for the full 10 years of the alarm life. That means you will never hear another chirping sound again with low batteries!  How great is it that you don't have to worry about changing them for the life of the alarm! I was mighty impressed to hear this.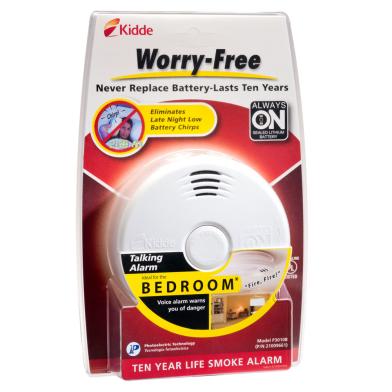 While smoke alarms are installed in 96 percent of US homes, 20 percent of those alarms are not functioning, mainly due to dead or missing batteries. Moreover, two-thirds of residential fire deaths occur in homes without smoke alarms or in homes with non-functioning smoke alarms.
With a sealed, long-life lithium battery smoke alarm, homeowners can enjoy peace of mind knowing that their homes' smoke alarms are always on – operating 24 hours per day, seven days per week for 10 years – that's a decade of hassle-free protection. The National Fire Protection Association recommends replacing smoke alarms every 10 years.
Kidde Worry Free Smoke Alarms offer a variety of benefits to the millions of Americans who rely on continuous battery-powered smoke and fire detection in their homes.  Each of the four alarms includes features designed to address location-specific safety needs such as a light in the hallway for egress and innovative smart sensing technology for kitchens to minimize nuisance alarms caused by cooking.
Here is some more information about the Worry-Free Smoke Alarms from Kidde:
Benefits of Worry Free Smoke Alarms
It's Always On: 24 hr/day, 7 day/week protection from smoke and fire
Decade of protection: sealed lithium battery provides 10 years of continuous power
Maintenance-free, hassle-free: never replace a battery during the alarm's operatinglife and no need to worry about the batteries being removed
Goodbye late night low battery chirps: an end-of-life chirp tells you when it's time to replace the alarm
Location-based attributes make it simple to select the right alarm for the right location in your home
Money savings: no batteries to buy and replace every six months, save up to $40 over the life of the alarm
Quick and easy installation: simply twist the alarm onto the mounting bracket and it activatesOverall Product Line Features

UL Listed
85 decibel alarm
Only UL-listed alarms to contain a photoelectric smoke sensor that is programmed to reduce nuisance alarms
Only smoke alarms with SEALED long-life lithium battery to prevent tampering or removal; operate24 hours per day, seven days per week for a decade
Test-Reset Button tests the alarm circuitry and horn. Resets memory after alarm has sounded.
End-of-life signal chirps every 30-45 seconds when alarm needs replaced
Deactivation switch disables the alarm and makes the batteries safe for disposal once the unit has reachedthe end of its 10-year life. Tamper resistant feature prohibits a disabled alarm from being placed back ontothe mounting bracket.
10-Year Limited Warranty
Installation of the Kidde Worry Free Smoke and Carbon Monoxide alarm (it does both functions) was very easy. It is similar to installation to other alarms in the house, in that you attach the mounting plate to the wall or ceiling. It came with three screws and an anchor and voila, all set up!  Once we had it set up, we did a test to make sure the alarm was powered. It is very loud so if it does go off, even the most heavier sleepers will be awoken.  That is it- after that, the smoke alarm does not require any battery changes, as the sealed in battery lasts for ten years. It will turn on when it is attached to the mounting plate. The monitor also has a bright LED emergency light that goes on when the alarm is set off, to alert your family to safe grounds in case of an emergency or fire.   I also love the fact that it takes care of both functions (smoke/CO detection) so I don't need to have separate alarms all over the house!
The Kidde Worry Free Alarms retails for $25-50 and will be available at select home improvement stores such as Home Depot. Make sure you pick yours up today!
Win it: One winner will receive 2 Kidde Worry Free Smoke Alarms for the bedroom and hallway. For this giveaway, it is run via rafflecopter so click continue reading to see the actual giveaway. The only mandatory entry is to tell me what feature of the Kidde you like best from the post above in the comment section proceeding this post. While other entries are optional, I highly suggest filling it out to increase your chances of winning. US only.
a Rafflecopter giveaway

*I received a gift card and product for review purposes. As always, all my opinions are my own and not swayed by outside sources.