It is funny how when some technology gets more sophisticated suddenly it just gets too complex to use. Take our "universal" remote that I can barely figure out how to turn the TV on with, or the new online kids soccer registration system that is maddeningly complex, and time consuming. Just give me a sign up sheet and pen! Other technological advances meanwhile simplify our lives by streamlining performance. Thankfully, my new Maytag Bravos XL High Efficiency Washer/Dryer pair operates with the most advanced technology in the industry, yet are incredibly simple to figure out! We love the maytag bravos.
The Maytag Bravos XL Washer/Dryer provide the same dependability that we came to expect from my mother's Maytag appliances when I was growing up, but they incorporate all of the technological advance that have come along in the meantime. I remember raving at the time about their Maytag appliances, but I had no idea just how advanced the Maytag washer/dryer would become. I never thought a washer/dryer would actually sing to me! It is true- the Maytag Bravos sing to you when you open up the washer.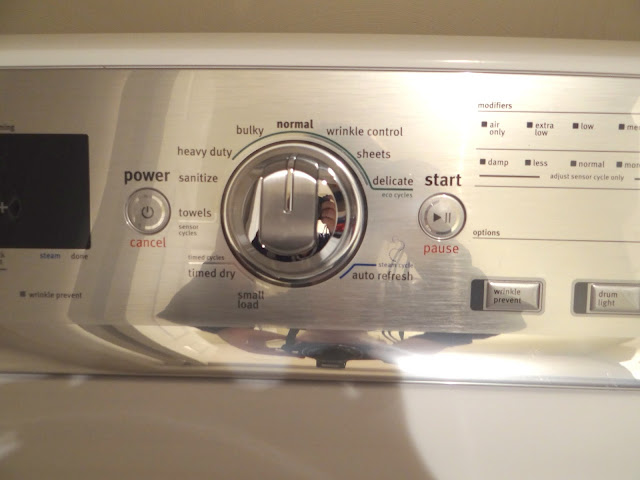 As a mother, I appreciate how much Maytag seems to have taken my children into account when designing some of the new features.   The SmoothClose feature prevents little fingers from getting pinched by the lid closing, it now glides gently to a close, and the Allergen cycle eliminates 95 % of common household allergens, keeping us from going through tissues like crazy during allergy season.  It amazes me the things that they have come up with in these machines; it is as if they have taken every consumer request into account when developing them.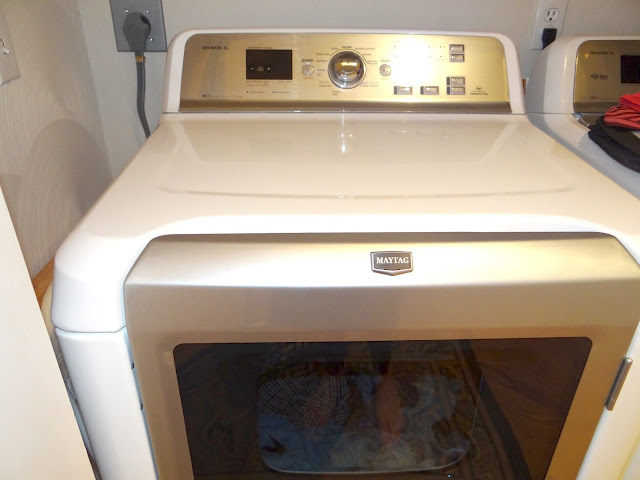 The Cold Cycle saves energy in a big way but performs to clean like a warm water wash cycle, and the Bravos XL High-Efficiency Electric/Gas Steam Dryer evenly dries large, heavy loads to reduce the risk of shrinking. The Auto Refresh cycle helps relax wrinkles and uses steam to refresh clothes and saves me time at the ironing board. (O.k., I don't iron daily, who am I kidding, but I really don't need to anymore with what the Auto refresh Cycle does.) The machines PowerSpray Technology ensures even detergent distribution for amazing cleaning performance by spraying a mixture of water and detergent directly onto clothes, to instantly start cleaning soils and stains.
All of that is the type of new technology that I can get behind, simple to use, but solving sophisticated problems for me, therefore making my life easier.  I swear the only thing the Maytag Bravos XL has not figured out for me yet is the task of folding and putting clothes away.   I have been so blown away by the performance of these machines that I have recommended them to all of my friends. My friends have been over when I was doing the wash and they are simply amazed at not only the magnitude of these appliances, but how much the Maytag Bravos XL can hold in one wash! It seriously has cut down on my laundry time ten-fold, as well as the energy bill! I truly can't rave enough about the Maytag Bravos XL washer/dryer. They also have High Efficiency options in all of their models, both front and top loading at every price point, so there are lots of options to choose from for everyone .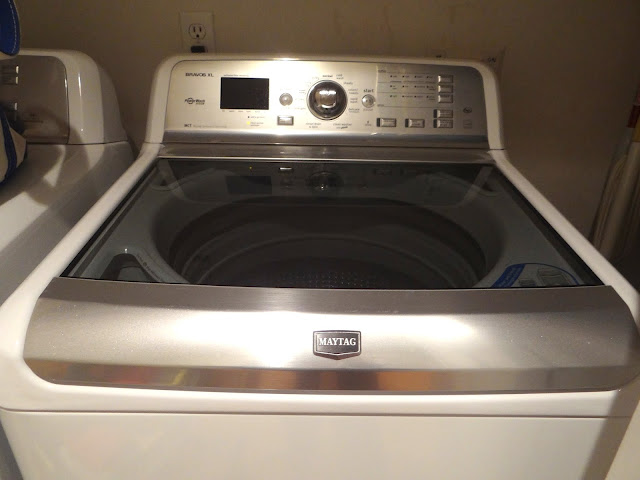 My mom was here the other day and she remarked to my dad, "This is what I want of the holidays." I don't blame her!  If you think about how far the technology has come and how much they have figured out since my mother used her Maytag, by the time my daughter Hayley is doing laundry, I'm sure they will have figured out how to get the machines to fold clothes and put them away for her too.
This holiday season make sure you check out the Maytag Bravos XL High Efficiency Washer/Dryer! They are simply AMAZING- I promise you! I wish you could all be in my household when we do our wash- Doing laundry is no longer a chore with the Bravos XL Washer/Dryer.
Be sure to like Maytag on Facebook/Twitter to learn more about their fabulous products!
*I wrote this post participating in an Maytag Moms Dependable Laundry Ambassador program by Mom Central Consulting on behalf of Maytag. I was provided with the Maytag washer and dryer set to facilitate my post.