The fairytale story of Disney's beloved Princess Cinderella continues in a 2-Movie Collection Special Edition of Cinderella II: Dreams Come True and Cinderella III: A Twist in Time for the first time in Blu-ray! Your favorite characters return with double the magic and more memorable music. Share the perfect holiday gift with the princess in your life before it returns to the Disney Vault. It is available for a limiting time now!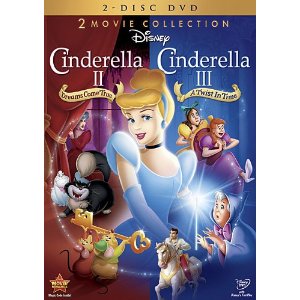 Cinderella II: Dreams Come True Special Edition- As a newly crowned princess, Cinderella quickly learns that life at the Palace-and her royal responsibilities are more challenging than she had imagined. In three heartwarming tales, Cinderella calls on her animal friends and her Fairy Godmother to help as she brings her own grace and charm to her regal role and discovers that being true to yourself is the best way to make your dreams come true.
Cinderella II: A Twist in Time Special Edition- Princess Cinderella is living a charmingly perfect life until her stepmother gets her hands on Fairy Godmother's magic wand. With a wicked spell that turns back the clock, she erases the Prince's memories of the girl he met at the ball and shatters Cinderella's happily ever after! Jaq and Gus scurry to save the day before time runs out. But was it all really just a dream in Cinderella's heart, or will true love triumph over all?
Cast includes Jennifer Hale (Cinderella), Chris Barnes (Prince), Russi Taylor (Fairy Godmother), Susanne Blakeslee (Stepmother), Andre Stojka (The King), Rob Paulsen (Jaq), and Corey Burton (Gus).
I honestly never heard about Cinderella II and III but it an adorable addition to be watched after watching the first Cinderella. I love that it expands on the original Cinderella story and delves deeper into the story. This movie is a fantastic addition to the Cinderella Disney movie line. This movie came out of the vault for only a limited time, so make sure you pick up your copy today!!
Here a few clips that I thought you might enjoy!

*I received the above product for review purposes. As always, all my opinions are my own and not swayed by outside sources.