Thank you to Ubisoft for sponsoring this post. Please click here to learn more about Ubisoft. I was selected for this opportunity as a member of Clever Girls Collective. #UbiChamps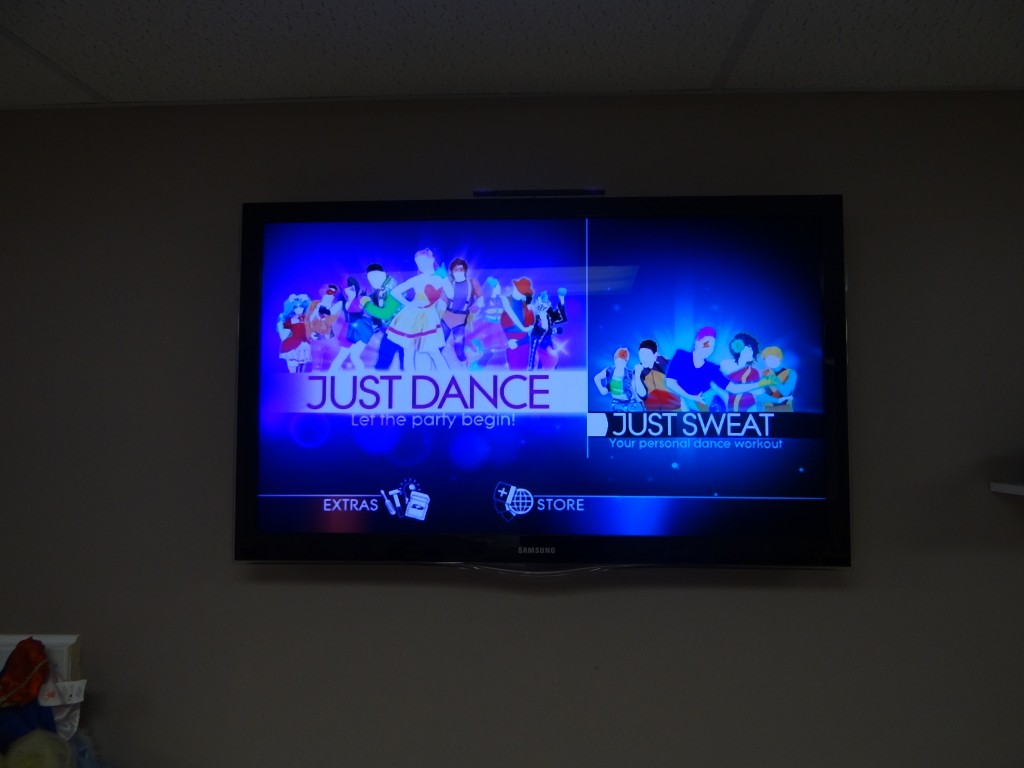 Are you ready to do some dancing? I recently received the Just Dance 4 Wii Video Game from UbiSoft. I will fully admit, I have Just Dance 1,2, and 3 already, so I was very pumped to receive the forth one to review. If you think dancing is not a form of exercise, you are so wrong! Every morning, I get up and like to change up my exercise routine. At least 2-3 times a week, I like to play the Just Dance 4 Wii game and really work up a sweat. I am going to be brave and show you a small video of me working out to Just Dance 4.

By the end of working out to Just Dance 4, I am fully sweating. I like to try out the Just Sweat mode, where I can get personalized workouts and even get a calorie counter. I have tried it and burned over 400 calories in an hour!  While it is a great form of exercise, I do not even realize I am sweating because I have so much fun!  A lot of times Hayley likes to join in on the fun and try to test out her "moves". She loves to sing along with the words, although she is always wrong, since she can't read yet. It is very cute though to have some fun at night with playing the Just Dance 4 with Hayley. My husband even joins in on the fun, and then we have poor Zane looking at us with ten heads! It is such a great and fun family form of exercise.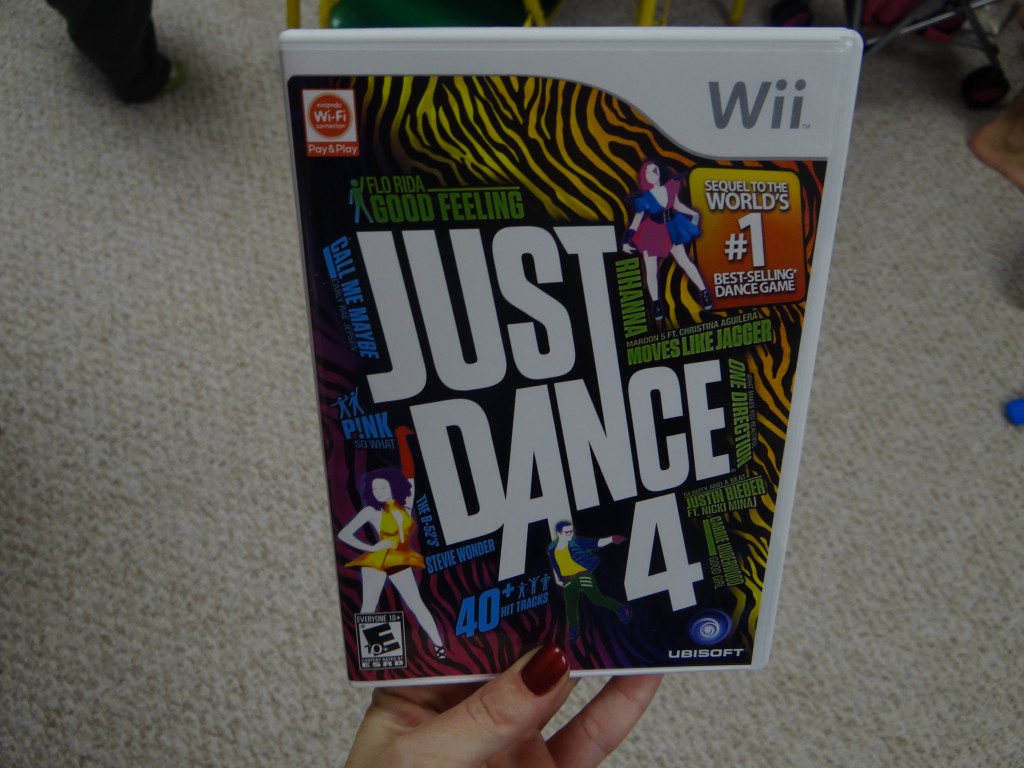 If you are not familiar with Just Dance 4, it is similar to the other Just Dances Wii games but each time they introduce a new game in the series, they have a totally different music set with some additional and fabulous features. They way it works is on each song, there is a "person" moving along with dance moves. The goal is to mimic the person on the screen and try to get the moves just like the dancer on the screen. As you go along, they will tell you how you are doing and get points as you go along. I get so excited when it says perfect on the game. I get that pretty often but that is because I play the game so much, that I learned to perfect my moves. However, as you get more advanced, the moves change so it never gets boring!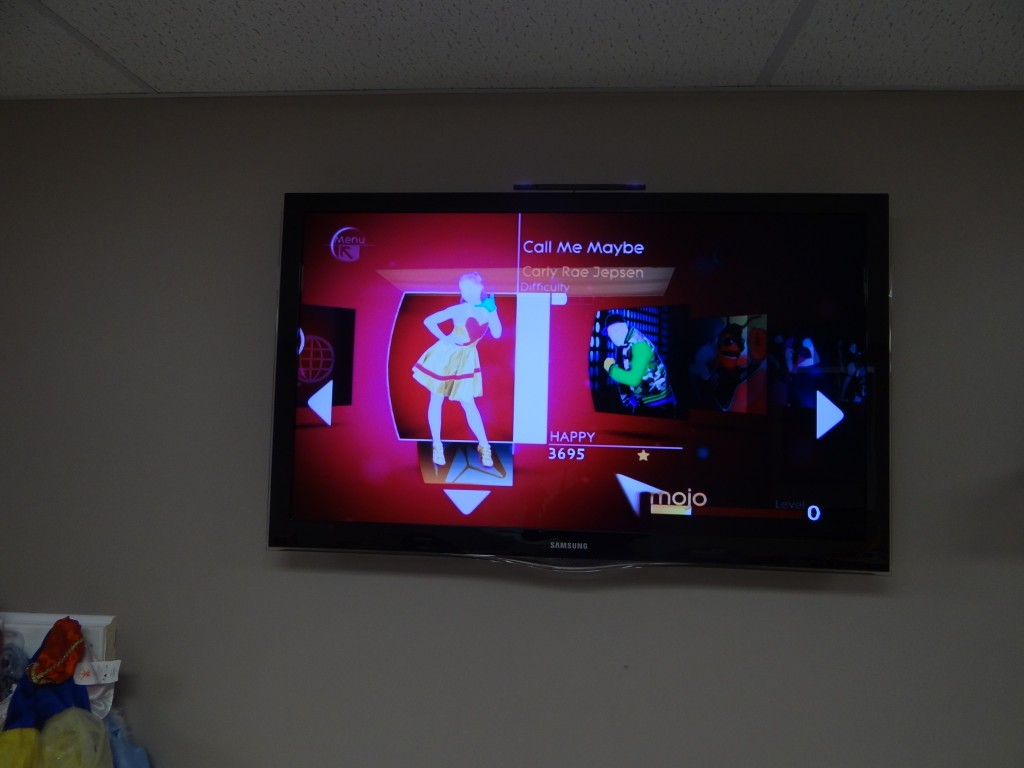 You can also play certain songs with multiple players and have each do, their independent moves. It is fun to play in group mode and see how we all do against each other. Some songs, we even get to move together and see how well we do! There is also a Just Dance mode where you can earn mojo after each song you dance along to. The more point and more dance routines you complete, the more mojo you receive. After you get to a certain level, you can spin a wheel to receive "gifts." It is so fun to play in this mode!
Now onto the best part, the music! Boy, do they have a truly incredible sound track. No matter what type of genre you like, they will have it on Just Dance 4. Some of the fantastic songs include
I Had The Time Of My Life"
Las Ketchup – "Asereje (The Ketchup Song)"
Justin Bieber featuring Nicki Minaj – "Beauty and a Beat"
Panjabi MC – "Beware Of The Boys (Mundian To Bach Ke)"
Carly Rae Jepsen – "Call Me Maybe"
Boys Town Gang – "Can't Take My Eyes Off You"
Anja – "Crazy Little Thing"
Army of Lovers – "Crucified"
Rihanna – "Disturbia"
Dancing Bros. – "Everybody Needs Somebody To Love"
Flo Rida – "Good Feeling"
This Thanksgiving, go head to Amazon and pick up Just Dance 4.  You know after eating all that Pumpkin Pie, it will be a great activity to burn off all the calories! Plus, wouldn't it be fun to have a Just Dance 4 dance party after Thanksgiving dinner!  I know we will be playing Just Dance 4 for many more years to come! I give Just Dance an A+!
*I received the above product for review purposes. As always, all my opinions are my own and not swayed by outside sources.