I am sure you have all heard of Munchkin kids products as they are just about everywhere now. At Munchkin, they develop innovative, exciting, clever, and useful products that excite both parents and children alike. Munchkin was founded in 1991 and is there to make products, that make parenting easier for us moms/dads. Their products are useful and uncomplicated; they make parenting less stressful and enjoyable!
Munchkin has a large plethora of products including bath, cleaning, cups, feeding, nursery essentials, on the go, safety, and toys. We recently received the 9 oz. click lock insulated straw cups, Arm and Hammer Nursery Fresheners with Brackets, and Food Pouch Organizer. We have had such good results with using the Munchkin products, that I thought I share!
The Munchkin Food Pouch Organizer is a high capacity baby food pouch space organizer for baby food/ squeezable yogurt. We go through so much yogurt in our house and I was excited to finally find a nice space to put all the yogurt, rather than haphazardly putting them all over my cabinets, and not being able to find them.
The Pouch Organizer comes with two racks that can be mounted inside or underneath cabinets to keep pouches off of your countertop and stored away for quick and easy access. The Pouch can accommodate most baby food pouch brands.
We have had such success with the Munchkin Food Pouch. It looks like this empty: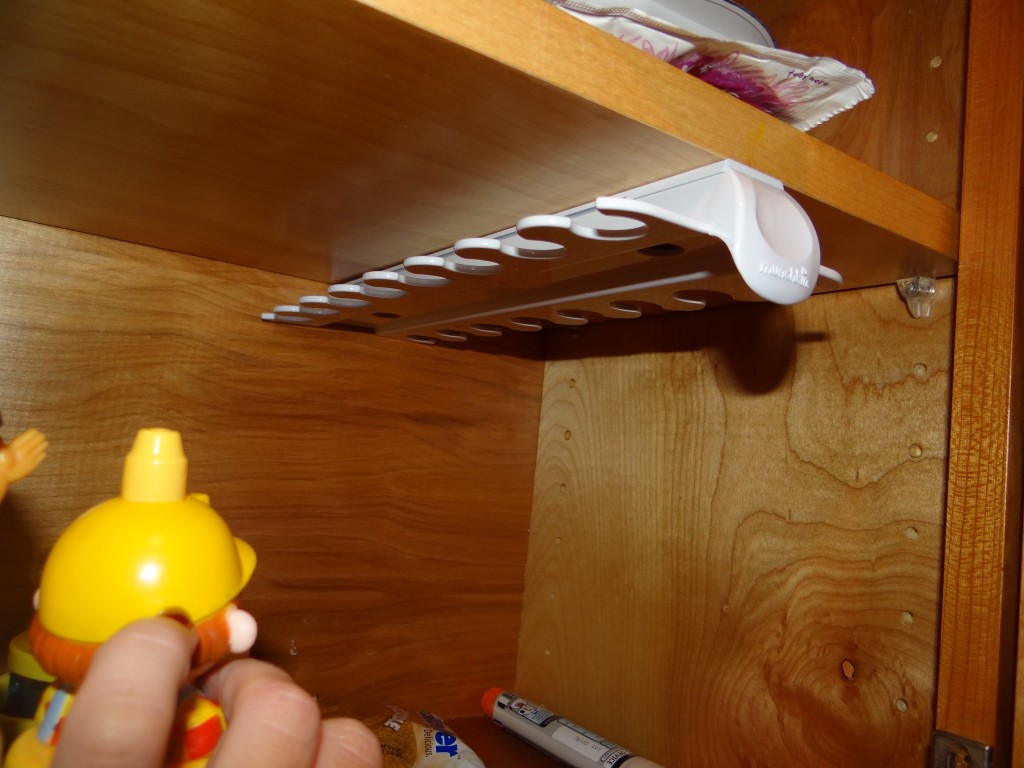 As I am writing this review, I realized that we were completely out of pouches (we go through them so fast) but to give you an idea how it looks full you can see below:
It is such an easy way to store Zane and Hayley's yogurt and is easy to take the yogurt out, as well as replace it. It is an extremely innovative product and only available from Munchkin. If you want some more organization out of your closets, be sure to check out the Munchkin Food Pouch Organizer.
We also received the 9 oz. Click Lock Insulated Straw Cups. I love these cups because they are truly no spill. The cups feature a simple click-and-lock lid to securely close it for a leak proof seal. You can actually hear and see the cup lock, so you can rest assure that there will be no leakage accidents. Munchkin is so sure of these products in that they are mess-free, they are offering a 100% replacement guarantee if it does not work. But rest assured- They certainly work!
These cups have insulation to keep drinks cool and fresh. The Click Lock cups are available in various colors, with licensed characters, and styles including sippy, trainer, straw, flip straw, and Big Kid spout-less. These cups are AMAZING!!! I plan to buy more of these for the kids, as I find them truly spill-proof!
Lastly we have been using the Arm and Hammer Nursery Fresheners with Brackets for quite some time now. These come as a set of three deodorizing discs that come with 3 wall brackets that you can hang anywhere for added freshness. They are sold in lavender and citrus scents.
We use them all over Zane's room and it gives him room such a nice smell. Nothing is worse than going into a babies room in the morning just to smell the horrible "poopy" smell. With the Arm and Hammer Nursery Fresheners I no longer have to deal with the rancid smell!
These products along with other Munchkin kid products are available at major retailers including Babies R' Us, Amazon, Target, Walmart, Diaper.com, Duane Reade, as well as directly on the Munchkin site!
Win it: One winner will receive a holiday Munchkin gift prize package which includes 2 of the 9 oz. Click Lock Insulated Cups and the Arm and Hammer Nursery Fresheners with Brackets. This giveaway is run via rafflecopter so be sure to press continue reading to see the actual giveaway. The only mandatory entry is to tell me which Munchkin product from here: Munchkin looks like something you would want to receive. Please put the comment in the comment section proceeding the post. While the other entries are optional, I highly suggest you fill it out to increase your chances of winning. Good luck! US only!
a Rafflecopter giveaway
*I received the above products for review purposes. As always, all my opinions are my own and not swayed by outside sources.