Hayley is at the age where she just loves to "read". She is really into a good story and listening. For books that she really likes, she even can recite word for word what the page is. One of her new favorite books is  called Good People Everywhere which is written by Lynea Gillen and illustrated by Kristina Swarner.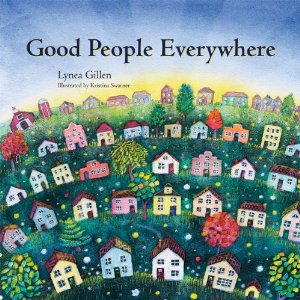 Good People Everywhere is the soothing story to show children how to become mindful of the beautiful and caring people in this world. Each page is delightfully illustrated and unfolds with great, endearing stories that warms hearts. Along with the caring aspect. it evokes imagination and inspires young and old alike to create a world of compassion and beauty.
This book is a wonderful way to get your children to sleep, ease their fears, and develop a sense of gratitude. When we are reading this book together, it actually gives me goosebumps because the words are so special. It tells how various people around the world are doing things to help out. It also brings up many feelings ,such as the page where it says a teenage boy is helping out a young child who is sad and lonely. It is beautifully told to teach your children the importance of being compassionate.
The book includes bonus activities to teach and reinforce learning into daily life, giving children opportunities to practice skills. Activities also broaden the book's appeal to teachers, counselors, and therapists. It is given strong endorsements from educators, media specialist, and parenting specialist.
This is one of our favorite books to read. Teaching Hayley and Zane compassion, is probably one of the most important things I could do in this world. I started them off as babies, trying to teach them about morality and being nice to others. This book encompasses all wonderful stories about good and good people in this world.
Through this book, Hayley is learning the importance of being generous and kind to others. She is seeing in the book what people are doing to help others, and hopefully will emulate this in her life! It truly is a fantastic book!
Good People Everywhere is sold on Amazon for $12.01. It is truly a must read if you have young children!