Happy weekend everyone! I will be resting most of the weekend as I have a pinched nerve in my lower back, which is extremely painful. That is why I can't wait to read your posts, so I can laugh!
As always, feel free to link up any cute, funny, or top five laugh post. Also go on and check out the other blogs who link up, as they are always so funny! Feel free to share this link up on any social media sites, and take my button- although this is not mandatory of course.
My laughs: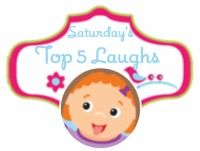 5. Zane has a bad habit of throwing up almost daily after he eats. Despite having 16 teeth, he likes to swallow his food whole, without chewing. He also likes to eat a lot, to the point of being overly full. I have tried to stop him but he sneaks food all the time. Everyone always asks if he is O'kay and we always tell them, "It is just his daily throw up,lol".
4. Zane has a new Elmo shirt. When he wears it, he goes over to everyone and says "See Elmo" and points to his shirt. He gets so excited!
3. Zane loves music class so much but he also loves to sit on other mom's laps. He goes from mom to mom, and just plops his little bum on their laps to listen to the class. It is truly so cute! He just loves people!
2. Hayley absolutely adores Zane. Zane absolutely hates being adored by Hayley. See the problem!
1. Hayley loves imaginative play. She always comes up with the greatest ideas that we could do for play. Yesterday it was a magic show day. She pretended to put on a magic show. She has me sit on the couch with all her friends, aka her dolls, and close my eyes while she would make a ball disappear. She asked me to count to 10, and when I opened my eyes, she said, "Voila… ball is gone". I found that ball underneath my pillow as I was going to sleep last night. I am not sure how she figured to put it there since my bedroom is on the second floor but she did!
Now your laughs: