Happy Weekend everyone! This week was great as we celebrated Hayley's forth birthday! Here is her my post on her birthday: Hayley's 4th bday! Her party is next weekend so it will be exciting. In honor of her birthday, all my laughs will relate to her birthday.
As always, feel to link up any cute, funny, or top five laugh post. Feel free to take my button or share on social media, although it is definitely not required. I hope you all enjoy each other posts too- I laugh every week reading them!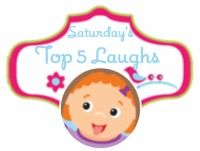 Top five laughs:
5. On the day of Hayley's birthday, she woke up and came in my room bright and early in the morning. She told me she was mad at me because I didn't sing her the Happy Birthday song. I told her I just woke up,lol!
4. Hayley has never blown out a candle on any of her birthdays. She is deathly afraid of fire, so in the past, we would never do a candle. This year, I said maybe we could try a candle in the cake. She blew out the candle. I was so very proud of her! If you know Hayley, you know, than whenever we go to a birthday party, we need to leave the room when the cake is put out. She starts to shake hysterically. I am so proud of her! She actually allowed us to put a candle in her cake!
3. The first thing Hayley said to my mom when she came up to visit for her birthday is, "Where is my present?" Manners..Hayley:)
2. The second thing she said on her birthday was, "I am going to be 5 soon!" Girl, you just turned 4!
1. Hayley told me that she needed to have a Cinderella cake. I told her they didn't have it. She told me that was not acceptable and I need to find a Cinderella cake. The girl would not take no for an answer… Mommy eventually found a Cinderella cake! LOL
Now your laughs: