Thomas & Friends: Blue Mountain Mystery- The Movie:
There's a mystery engine on the Island of Sodor! Travel on an exciting journey with Thomas and his engine friends in this all-new movie adventure, tracking down clues, discovering a lost engine and revealing the power of friendship in the CG animated Thomas & Friends: Blue Mountain Mystery-The Movie that came to Blue-Ray/DVD and On-Demand on September 18, 2012 from Lionsgate Home Entertainment and HIT Entertainment.
Synopsis: When trouble strikes at Blue Mountain Quarry, Thomas is sent to help his Narrow Gauge engine friends. He catches a glimpse of a small engine to hide, yet no one will provide any clues to the engine's identity. Thomas is determined to get to the bottom of the mystery but discovering the truth is harder than he imagines! Will Thomas be able to save his new friend? Or will the mysterious engine be sent away from Sodor forever? Join Thomas and his friends for their most mysterious adventure yet in a movie the whole family will love!
Blu-Ray/DVD Features:
-Blue Mountain Hide & Peep Game
-Learn About Standard and Narrow Gauge Engines
-Blue Mountain Mystery Karaoke Music Video
-Working Together Karaoke Music Video
Hayley and Zane both love Thomas, so they greatly enjoyed this movie. It retails on Amazon for $24.98 for the DVD/Blu-Ray Combo pack, and $19.99 for the DVD.
Awesome Adventures: Thrills and Chills–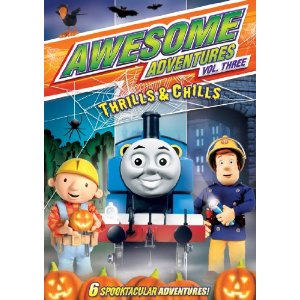 Halloween comes early as preschool favorites Thomas and Friends, Fireman Sam and Bob the Builder get their spook on in Awesome Adventures: Thrills & Chills, an all-new collection of six episodes that came to DVD, Digital Download, and On Demand on September 11, 2012 from Lionsgate Home Entertainment and HIT Entertainment. It's happy haunting as our favorite heroes and pals take on spirits, friendly frights and things that go bump in the night. So leave a light on and settle in for some scary-good fun! Featuring a bonus episode of Thomas & Friends- "Buzzy Bees".
Scare up fun this Halloween with your favorite friends! Thomas and his friends enjoy some ghostly encounters, Fireman Sam keeps everyone safe from scares and Bob the Builder and the machine team go batty with some new nighttime pals! Get in the Halloween spirit with a few tricks, lots of treats and plenty of fun for all!
Episodes:
-Thomas and Friends- "Halloween"
-Thomas and Friends- "Haunted Henry"
-Thomas and Friends- "Duncan Gets Spooked"
-Thomas and Friends- "Buzzy Bees"
-Fireman Sam-"Mummy's Little Pumpkin"
-Bob the Builder-"Trix's Pumpkin Pie"
-Bob the Builder- "Dizzy's Sleepover"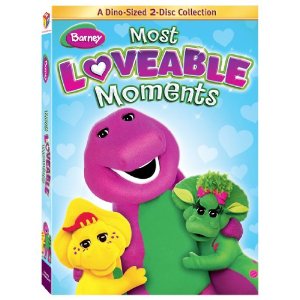 It's an event of dinosaur proportions! Join everyone's favorite purple dinosaur Barney in 10 of his most lovable, huggable episodes in the all-new Barney: Most Lovable Moments which arrived on DVD, Digital Download an On Demand September 18, 2012 from Lionsgate and HIT Entertainment. With seven bonus features including games, read-along stories, sing-a-long tunes and a collectible O-card, this special 2-disc DVD set helps little ones learn the importance of walking together, being a friend and keeping promises.
Join the most lovable, huggable T-Rex in 10 Tee-rific tales filled with imagination, music, and learning! Barney shows what it means to be a friend, why it's important to keep promises and how to find creative ways to work together. Follow your heart and join Barney and his friends in a stu-u-pendous collection of stories and songs the whole family will love. Hayley and Zane can seriously watch this DVD all day long!! Barney is a family favorite in our household!
Episodes include:
-"Once Upon A Fairy Tale"
-"The Reluctant Dragon"
-"The Princess and the Frog"
-"Bonjour, Barney!"
-"Little Red Rockin' Hood"
-" Beethoven's Hear"
-"It's Showtime!"
-"Counting"
-"Days of the Week"
-"Squares, Squares Everywhere"
DVD Special Features include:
-"Barney's Book of Hugs" Book
-"BJs Batting Cage Counting" Game
-"What's That Song?" Game
-Sing-A-Long: "If You're Happy and You Know it"
-"Build A Sandcastle" Game
-Read –A-Long Book: "Barney and Baby Bop's Band"
-"Dino Dress-Up" Game
Win it: One winner will receive all the DVDs above. For this giveaway, simply comment and let me know which DVD you are most excited to win in the comment section proceeding the post. For an additional 2 entries, follow me via email and write it in the comment section. Giveaway end 10/22/12. US only. Good luck!
*I received the above DVDs for review purposes. As always, all my opinions are my own and not swayed by outside sources.