This week I am participating in the Keeping Kids Creative Week Giveaway. I am thankful for Gelarti for sponsoring me on this giveaway. Please read the information below about this giveaway and then see my full review. Please note you can freely enter my giveaway, without any entering any of the other ones in the hop. I suggest you do check out the other giveaways, but it will have no effect on my giveaway from Gelarti.
The last week of September has been Nationally designated as "Keep Kids Creative Week". While this week is often celebrated in schools with many fun activities to help stimulate kid's creativeness, parents can also take advantage of this week to do some really fun things at home. Many parents struggle with finding time to fit creativity in but there are lots of products out there to help us with getting those creative juices flowing. Mama-Nibbles and Life With Two Boys created this event to help you find some fun products to keep your family creative not only during "Keep Kids Creative Week" but any time of the year!
Keeping Kids Creative begins on September 17th at 12:01am EST and ends on September 30th at 11:59pm EST.  Along with the awesome prizes that each of the participating blogs are offering we also have 3 Grand Prizes thanks to our sponsors BabbaCo, Green Kid Crafts, Kelly Kits, PowerCapes, Bannor Toys, We Can Too, and Kat and Company.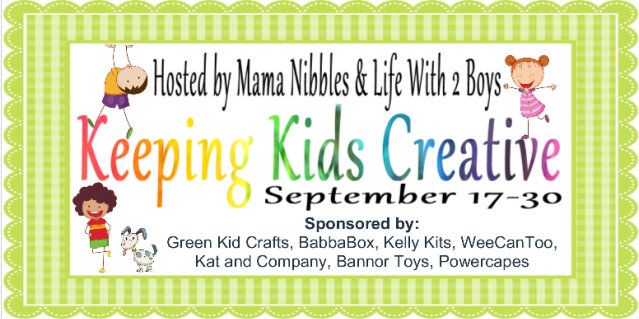 My review of Gelarti Scene Pack: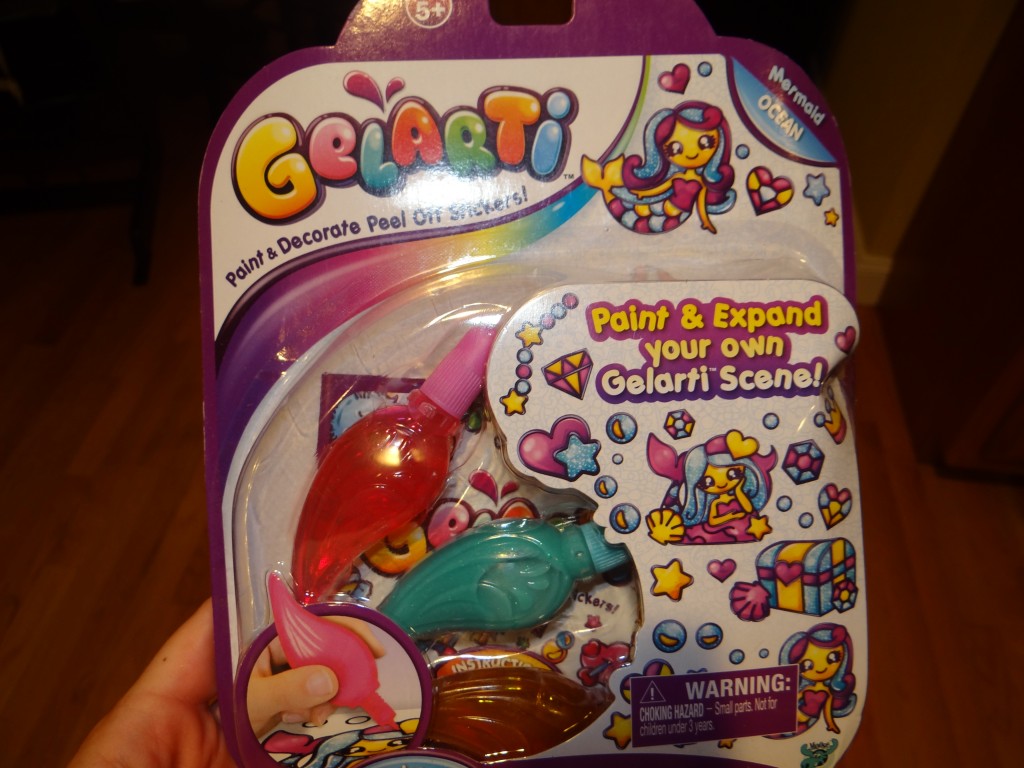 When I first heard about Gelarti reusable stickers, I was so excited. Hayley, who is turning four in two weeks, is really into crafts these days. Crafts and stickers… and this girl is all set! She literally can spend hours coloring, painting, and placing stickers on papers. I truly enjoy watching Hayley doing crafts and being imaginative.
We also go through so many stickers a week. When I find out that Gelarti makes reusable stickers that are paintable, I was excited for Hayley to try it. I knew that she would love it because not only can she paint her stickers, but then she can wait for it to try and stick them all over the house. While some stickers remain on your walls forever, the Gelarti stickers are very easy to take off if you so choose.
*Create a world full of color and fun with the Gelarti Scene Pack from Moose! With twenty stickers to decorate, the Gelarti Scene Packs are available in four assortments, including Forest, Nature, Ocean and Rock, giving kids a fun new way to create their own stickers to peel and place anywhere. Complete with two paint pens, one glitter pen and four sticker sheets, the creative possibilities are endless! Using speciality formulated paint, children simply paint, peel and place their Gelarti stickers, which can be removed and reused again and again. Drying time required*
When we first received the Gelarti Scene Pack Ocean, we set out all paint pens and sticker sheets.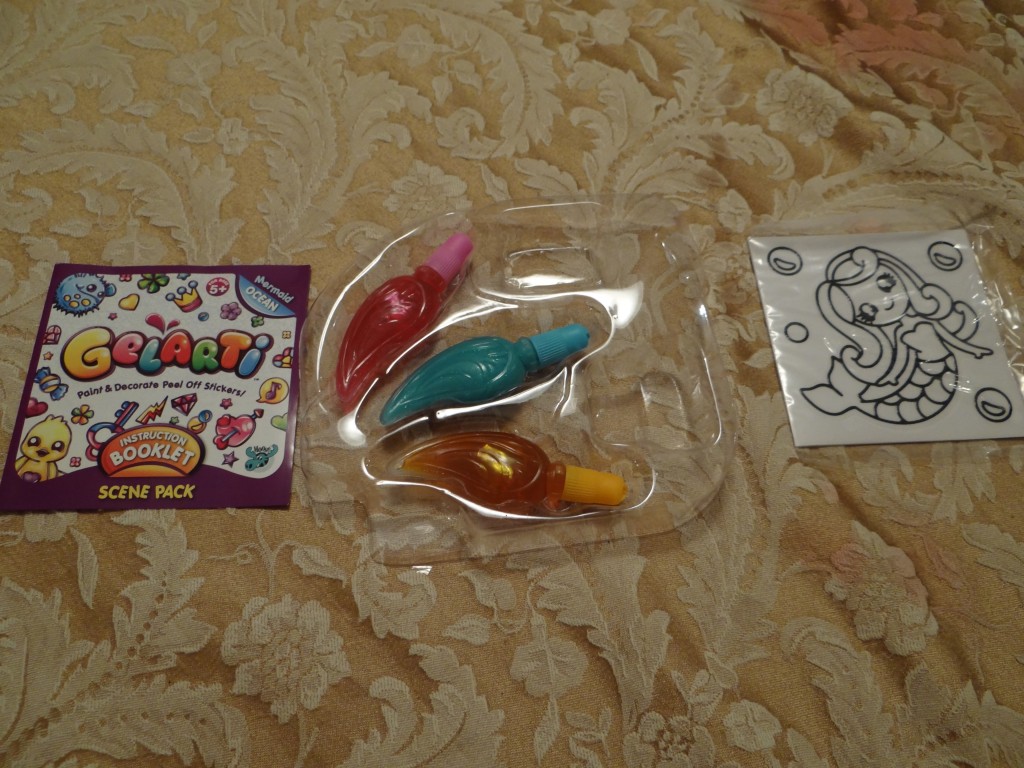 Then I let Hayley pick one of the sticker sheets and get to painting. I will say, that the packaging does say 5 and up. While Hayley is just shy of 4, I will tell you that she readily did get it. However, I did need to assist her as she couldn't quite grasp the concept of not overpainting the stickers. The paint does not come out fast at all, however, Hayley couldn't figure out exactly how to spread the paint on the sticker without over pressing the paint stick. After I told her how to do it, she did get much better and I think with age, she will be perfect and not require any assistance from me.
This activity was so much fun for Hayley and I to do. The paint pens are the perfect size for Hayley's hands and she felt like she was "in charge" of the project the whole time. It was a great craft! Once she was done painting them, we put them aside for it to dry.
The next morning, we took the stickers off and Hayley put them on our window pane. She told me she was going to leave it there for a few days, and then transfer the stickers to her bedroom. That is the beauty of these stickers- they are completely reusable!
I highly suggest if your kids love crafts, to check out Gelarti from Moose Toys, at your local Toys R' Us, Target, and other retailers who sell kids toys. These packs retail for $9.99 which is very reasonable for a crafting project!
Win it: One winner will receive 2 Gelarti Scene Packs. This giveaway is run via rafflecopter so click continue reading to see the actual giveaway. The only mandatory entry is to tell me which scene pack you would like: ocean and rock, nature, or forest in the comment section proceeding this post. While the other entries are optional, I highly suggest you fill it out to increase your chances of winning. US only.

a Rafflecopter giveaway
*I received two Gelarti products for review purposes. As always, all my opinions are my own and not swayed by outside sources.