Now that the winter is coming, I rely on some great family DVDs to get me through my day. With a 17 month old and almost 4 year old, I would not be able to get anything done in my house if I didn't put on DVDs. Thankfully, I found a great selection of DVDs from Ncircle Entertainment including WordWorld, The Gruffalo's Child, Dino Dan, and Noodly Doodly Things to Make, that my kids just adore!
WordWorld To The Rescue: Where Words Come Alive–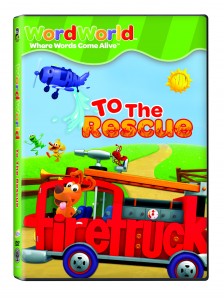 I got introduced to WordWorld from a friend who raved about it. I really had no idea about this show until I received this DVD. Both Hayley and I LOVE it as it allows Hayley to see words come alive on the screen in a fun and entertaining way. Words get placed on all these objects with animations flying around. It really is such a neat concept!
*Welcome to WordWorld, where words are the stars of the show! Join Duck and FLy as they learn how to be firefighters just like their friend Firefighter Frog! To be firefighters, the gang has to keep a look out for any signs of smoke in WordWorld..because where there's smoke, there's fire! Will Duck and Fly be able to determine what's really smoke and what's not! Firefighters to the rescue!
The Gruffalo's Child–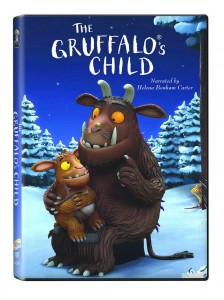 Again, this is not a DVD that Hayley saw before but she really enjoyed it. This is the sequel to the Gruffalo and is based on the best selling children's picture book by author Julia Donaldson and illustrator Axel Scheffler. This is a beautiful and well illustrated DVD that needs to be added to your children's movie repertoire. Hayley loved seeing all the animals including the owl and fox come to life right before her own eyes.
*The Gruffalo said that no gruffly should ever set foot in the deep dark wood.. One wild and windy night, the Gruffalo's Child ignores her father's warnings and bravely tiptoes out into the snow in search of the Big Band Mouse. She meets Snake, Owl and Fox but no sign of the fabled Mouse. He doesn't really exist….or does he? Directed by Johannes Weiland and Uwe Heidschotter with the voices of Helena Bonham Carter, Rob Brydon, Robbie Coltrane, James Corden, Shirley Henderson, JohnHurt, and Tom Wilkinson, this film is beautifully done.*
Dino Dan: Where the Dinosaurs Are–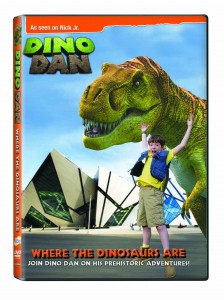 Dino Dan is a favorite in our house. Both Hayley and Zane love seeing the classic Nick Jr. DVD over and over again. The dinosaurs on the screen amaze them and both giggle with delight.
*Follow the adventures of paleontologist in training Dan Henderson as he imagines dinosaurs into the real world! Join Dan as he teaches a baby Triceratops defensive moves to help it get around a meat-eating Spinosaurus! Then find out why the T-rex has such small arms when Dan and his friends embark on a sleepover adventure at the famous Royal Ontario Museum. Tour the museum and learn about real fossil skeletons, from the Stegosaurus to the Tyrannosaurus rex.
Bu then…watch out! The visit quickly turns into mayhem when some sneaky dinosaurs steal a T-rex claw from the museum! Will Dan be able to get T-rex claw back before sunrise? Join the adventures in Where the Dinosaurs are!
Noodly Doodly: Things to Make–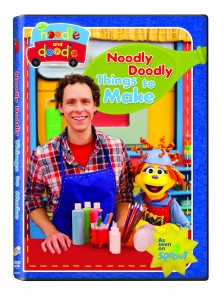 We have never heard of Noodly Doodly but we love learning about various arts and crafts and recipe. With Noodly Doodly, Hayley sat and enjoyed seeing Noodly Doodly do various projects and bake. It is a really cute DVD for those kids in your life.
*Encourage your child's sense of creativity with fun craft projects and kid-friendly recipes that families can make together.  Join Sean and his friends Noodle and Doodle as they use everyday household items to craft, cook and play! Also along for the ride is Sean's dog Doggity who cooks up five special treats.  All aboard the Noodle and Doodle bus!*
Win it: One winer will receive all 4 DVDs above!! This giveaway is run via rafflecopter so click read more to see the actual giveaway. The only mandatory entry is to tell me which DVD you are most excited to win in the comment section proceeding this post. While other entries are optional, I highly suggest you fill them out to increase your chances of winning. US only. Good luck!
*Thanks to NCircle Entertainment for providing me the DVDs for review. As always, all my opinions are my own and not swayed by outside sources.