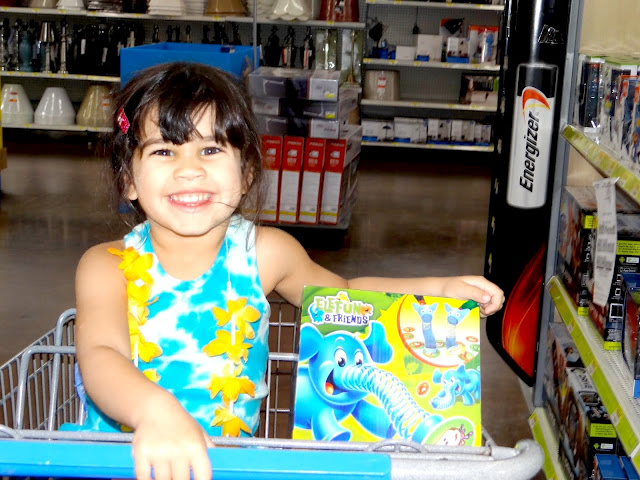 Before we had kids, my husband and I would have a monthly night of just sitting at home and playing some board games. It was always such a fun time just relaxing with some good food and game play. Once Hayley came along, we were no longer able to have our usual date nights, but that didn't mean that we couldn't incorporate a new tradition in our family for family fun night for the whole family. I decided one day when Hayley was around 2 years old, we would set aside Friday night for a family dinner and a game that Hayley choose to play. She is now going on to be 4 and aside from the time Zane was born, we have upheld this tradition week after week. It is a great bonding experience for both of the kids and a great way we can just relax as a whole family.
We are very fortunate that we have a HUGE selection of board games and about 80% of them are from Hasbro. Hasbro is a local company, so I of course need to support them. We always pass the corporate headquarters at Hasbro and Hayley always says, "Mommy, go in and get me a toy." Needless to say, we have many Hasbro board games to choose.
While we usually do our game nights, I decided I wanted to do something special this past week. As many of you know, Hayley fell down on cement stairs and got severely injured in the face region. Thankfully, she is going to be fine but the doctor told us she needs to stay at home and just play nicely (example: no rough play with her brother). We decided since she was hurt and had to suffer through many doctor appointments, I was going to make her favorite dinner and allow her to buy another game of her choice.
Off Hayley and I went to our local Walmart to buy her all time favorite food which is Tyson Chicken Nuggets. Both of my kids are addicted to these chicken nuggets- can you blame them! While I do try to incorporate the chicken nuggets with fruits or vegetables, they eat these at least a few times a week.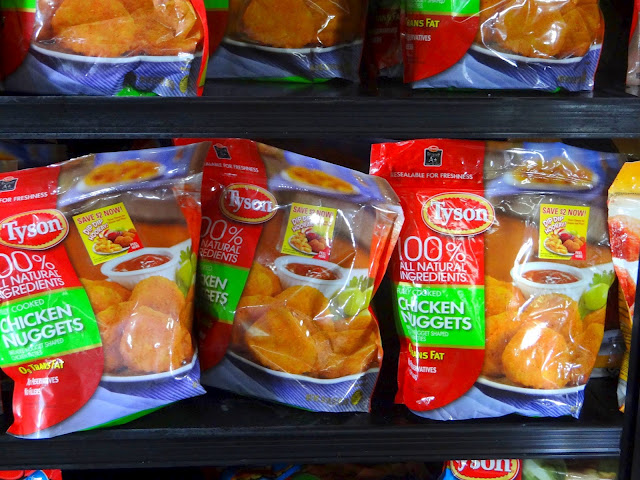 When I was perusing the package, I noticed a #DipDipHooray coupon attached to the package of the Tyson Chicken Nuggets. The coupon was for $2 off when you buy all three products listed including Tyson Chicken Nuggets, Ore Ida French Fries, and Heinz Ketchup. I was so happy when I saw that because I desperately needed Heinz Ketchup. While Zane does not love ketchup, Hayley and her mommy are slightly addicted! I seriously could put Heinz Ketchup on anything and everything- and I do! My husband sometimes looks at me with the thought of, " You are really not putting ketchup on that." I won't tell you all the foods that I put Heinz Ketchup on because I don't want to gross you out, but lets just say we go through a lot of ketchup in the house. So, naturally with that coupon provided by DipDipHooray, I was going to purchase all three of those items.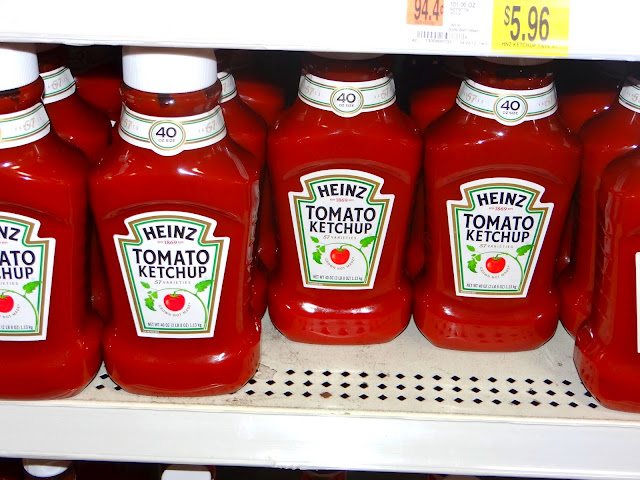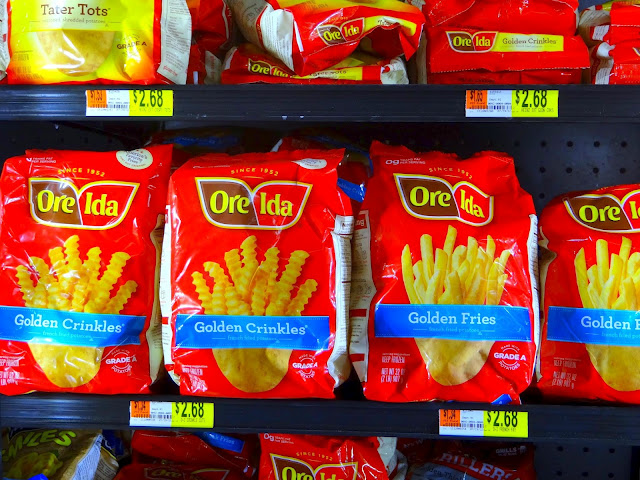 I noticed that the coupon had website link to diptoplay.com. I took out my phone at the store and I was intrigued what that was about. I saw that if I enter the sweepstakes at diptoplay.com, I could win a $1,000 Hasbro Game Night with Hasbro games along with dinnertime favorites from Tyson Chicken Nuggets, Heinz Ketchup, and Ore-Ida French Fries! You simply sign up, enter the UPC codes from the Tyson Chicken Nuggets, Heinz Ketchup, and Ore-Ida products you purchase, and play the online game. How fun-right? Now you can go enter and win. Simply check out the sweepstakes rules and go enter today. Good luck to those that enter! I hope one of my readers win!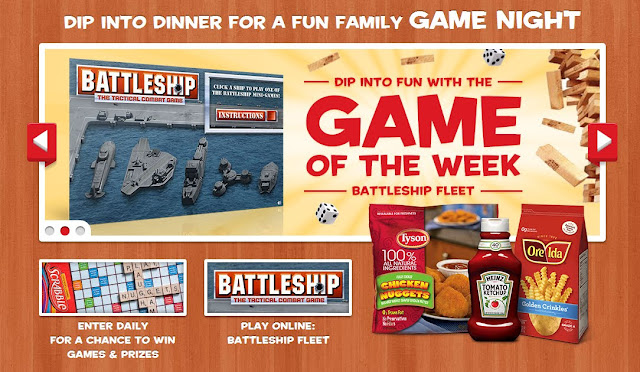 After I was all excited about the new sweepstakes and finished entering, I decided to let Hayley check out the selection of games at Walmart. She choose the Elefun Snackin' Safari and Disney Car2 Monopoly Game. Ironically they both are Hasbro games and I didn't even tell her to choose these ones. I told her we could open the Elefun Snackin' Safari game but we would keep the Monopoly game for the future. She was alright with my decision.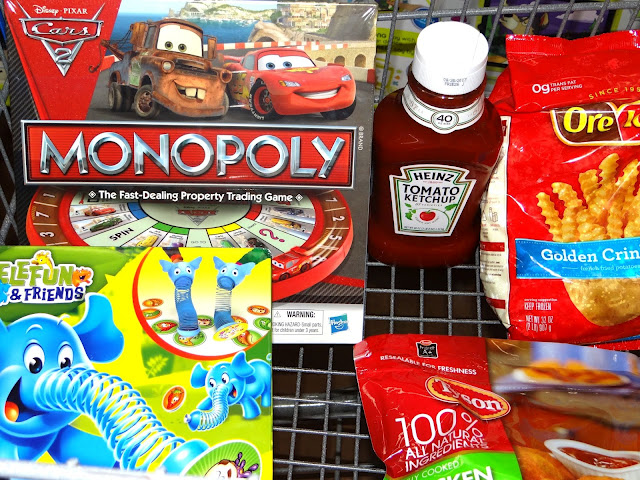 Hayley and I then headed home, and I got ready to prepare the kids a fun dinner that I knew they would love. I put the Tyson Chicken Nuggets and Ore-Ida French Fries in the oven and let them cook. When they were done, I put them on a plate with some ketchup for Hayley and obviously none for Zane because he is not a ketchup fan (the horror).  I added in grapes and a cookie desert and they were all set!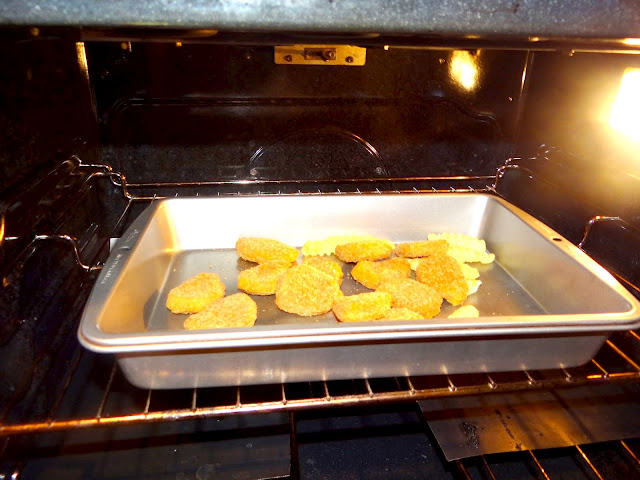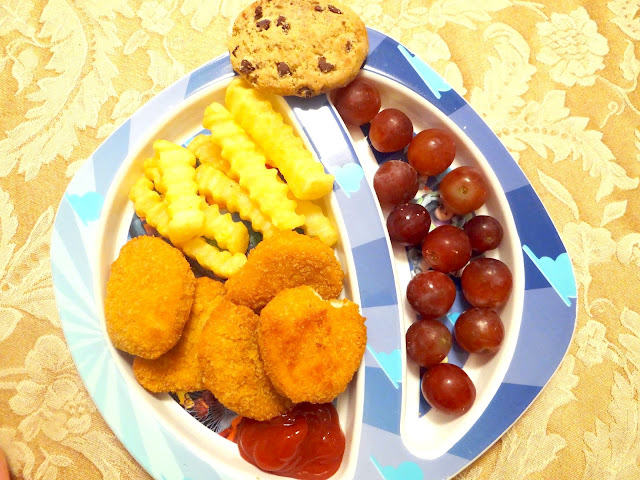 I told Hayley immediately after she finished dinner, we could play the Elefun Snackin' Game. I set up this game in one minute and she was on the way to playing. It is truly a fantastic game where the elephant's trunk picks up cards one at a time. The object of the game is to find matches. It is so much more than your typical matching game because each child has their own elephant trunk to use to attach to their card. Love this game!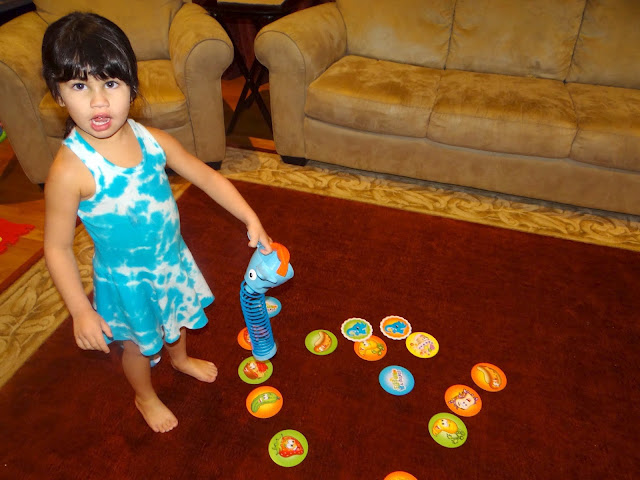 We had such a fun family night and plan to continue our tradition for many years to come. If you want to see my full google plus story of my family fun shopping trip, click here: #DipDipHooray. Feel free to like Heinz on Facebook/Twitter, Ore Ida on Facebook, and Tyson on Facebook/Twitter.
*I am a member of the Collective Bias™ Social Fabric® Community.  This shop has been compensated as part of a social shopper insights study for Collective Bias™ Tyson and Heinz #CBias #SocialFabric"