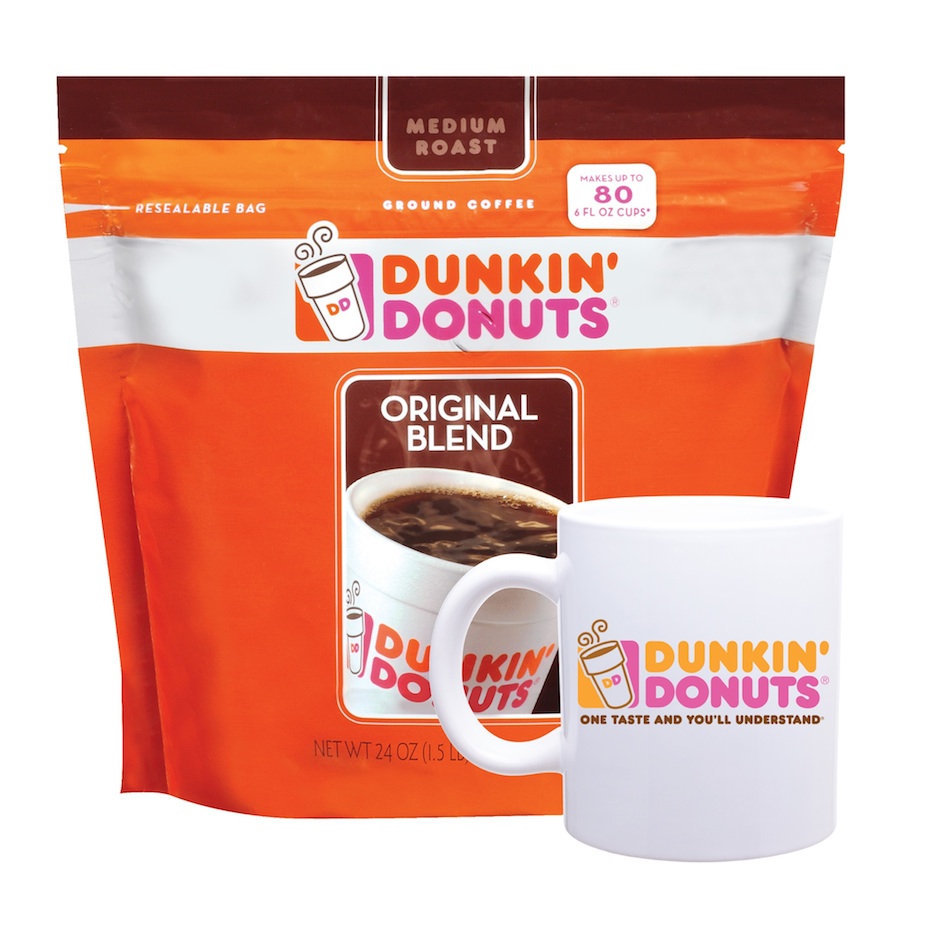 Coffee….I seriously can't live without coffee!  As a mom of two small kids, a part time working mom, a blogger, and a wife, I rely on coffee to get me through my day. Most mornings you can find me downstairs around 7Am drinking my first cup of coffee watching the news before the hustle and bustle of the day begins. There is really only one type of coffee we drink and that is Dunkin Donuts! My husband and I are devout Dunkin Donuts coffee drinkers because not only is the coffee AMAZING but their corporate headquarters used to be where we lived for 10 years in Massachusetts. We got hooked on Dunkin Donuts, as there was one basically on every block. Today we live in Rhode Island, where I currently have 4 Dunkin Donuts within a 3 mile radius. Yes- I know I am lucky!
While we do head to Dunkin Donuts probably daily (if not more), we also make their wonderful packaged coffee at home all the time! My husband and I like the taste of freshly brewed coffee and Dunkin is the only way we go in our house. It is our routine to brew a pot of Dunkin Donuts coffee and then save what we didn't use, put it in the refrigerator  and make ice coffee out of it later on in the day.
I definitely NEED coffee in the morning. As my husband likes to say, "Don't ever go near Melissa if she had not had her coffee." I might have to agree with him on this. Coffee is this mom's best friend! I do, however, like to end the day with coffee as well. This time I make a cup of freshly brewed decaf Dunkin Donuts coffee. I drink this with my desert and feel completely happy! Yes coffee does that to me- puts me in my happy spot! What can I tell you- I LOVE coffee and especially Dunkin Donuts!
This is why I was so excited to learn about the Dunkin' Donuts Mug Up Promotion. Simply share a photo of your smiling face and your favorite mug of coffee for the chance to win exciting prizes including a $10,000 Grocery Gift Card, one-year supply of Dunkin' Donuts packaged coffee and an extra-large Dunkin' Donuts branded mug!  Go now to Dunkinathome.com and upload your photo with your favorite mug! It is that easy! You can also be registered to win weekly prizes of $100 Grocery Gift Card!  The promotion ends on August 26th so be sure to hurry over an enter on the Dunkin' Donuts Mug Up site! Good luck to all!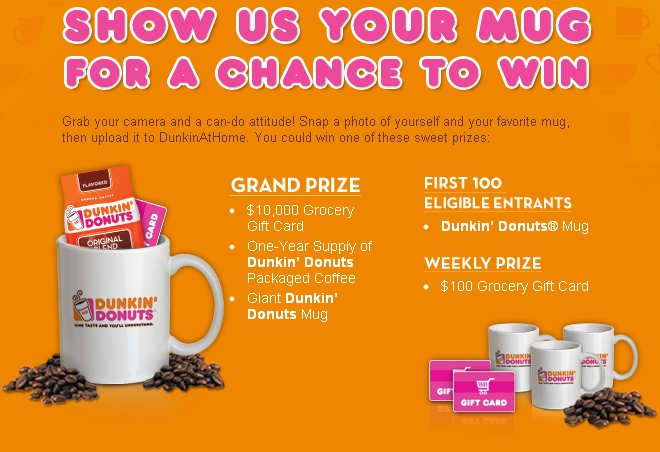 Here are some tips from Dunkin Donuts and Shaina Olmanson, the founder, blogger and photographer behind Food For My Family to brew up tips to help you take better digital portraits.Whether you're planning to upload a funny, crazy, mysterious or thirsty face to the Dunkin' Donuts Mug Up Promotion, keep the following tips in mind:
Chin Up! Angle your forehead towards the camera to clean up the neck and jaw line. It feels weird but actually looks good!
Master the 2/3 Turn. Instead of facing square to the camera, turn away from it about 45 degrees. It will appear to give you a slimmer profile.
Powder On; Powder Off. A matte finish on your face is essential to achieve a great portrait. Use a powder with a yellow, rather than white tint, to avoid a white cast on your face from the camera flash. Not using powder? Use a napkin to blot your face.
Experiment with Expressions. A smile is great but a compelling portrait doesn't rely on saying "cheese" for the camera. Act out different emotions and different moods to create a compelling shot.
Have Fun. You always look your best when you're enjoying what you're doing. Let your hair down, kick off your shoes, smile, and show off your pearly whites. Don't forget to have a bit of fun.
*I wrote this review while participating in a blog tour by Mom Central Consulting on behalf of Dunkin' Donuts packaged coffee and received product samples and a promotional item to thank me for taking the time to participate