Welcome to the weekend! This weekend we have a lot going on because I am working tomorrow and then have to prepare for our annual Forth of July party which will be this Sunday. I am excited:)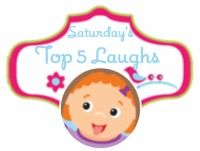 As always, come link up any funny, cute, or top five laugh. I sometimes get asked if this needs to be about kids, and the answer is no! As long as it is funny or cute, feel free to link it up! Please also check out some of the other great blogs who link up, if you want a good laugh! Feel free to share your posts on fb, twitter, or any other social media sites. Happy Saturday!
Top Five:
5. We went to the carnival last night and Hayley absolutely loved the rides. She has been going on rides since she was a year old so she is an old pro. I told her it was time to leave (at around 9 pm- and we had a hour ride home).  She kept saying one more time-one more time! That turned into another hour! The girl loves her fun!
4. Zane's hair officially looks like a mop. It is so stinkin cute. I have cut it before, at least 5 times, but I will not cut it again for awhile.  I love it long and he just looks adorable with it.
3. Zane started saying the word ball this week. The only problem is the five words he knows- ball, juice, hi, nose, and this- he interchanges them for each other. It is actually quite funny. He will ask for more juice and say more nose. LOL!
2.  Zane is so chubby but he is also short! I have to put on 2T for him. The waist fits him perfectly but the length makes it looks like he is wearing pants! I wonder if they make petite sizes for babies,lol
1. Hayley is such a daddy's girl! I sometimes get upset that she calls out for her daddy for everything and wants to see him all the time. However, I then also  think, that she is also calling out for him at 2AM to go the bathroom.  He can have all the love!
Now your laughs: