As soon as I knew I was having a second child the planning began.  A second car seat, second crib, and a double stroller were tops on the list.  There are so many double stroller options out there, but unlike buying my first single stroller where I did not know what to look for, buying my double stroller I knew the features that were really important to me and our day to day lifestyle.   I hit the jackpot with the Joovy Cocoon X2.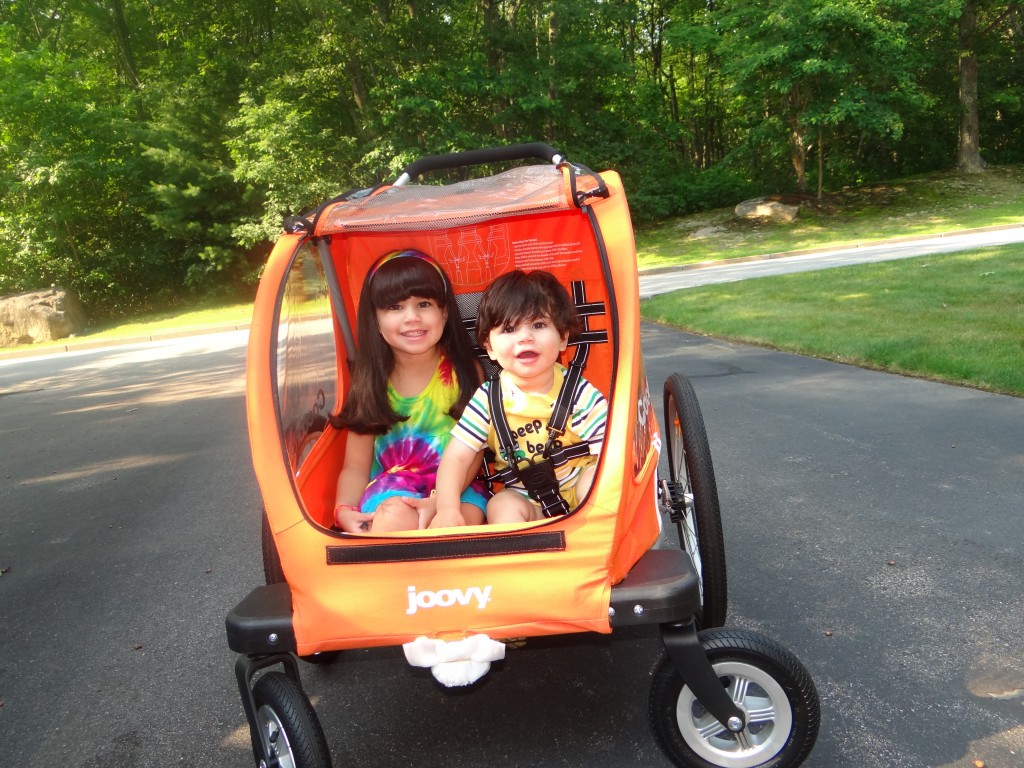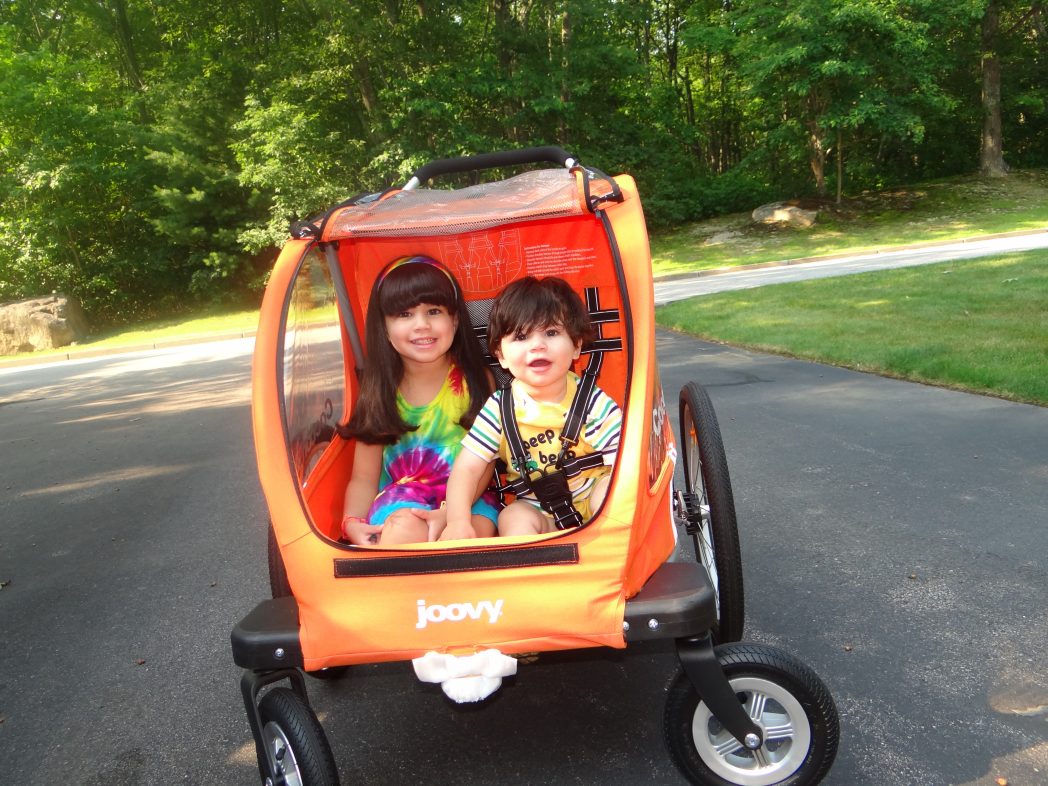 First of all it is a great looking stroller and I love the combination of form and function on this product.  It is made for various weather conditions and terrain, which made it perfect for me as a New England mom.  The wheels swivel to make control super easy, and the handle bar is simple to adjust so that people of different heights can set it to what feels most comfortable for them. Both my husband and I are small but my babysitter is very tall. There is no problem for any of us in handling the Joovy Cocoon X2.  The Joovy CocoonX2 Double Stroller is 31" wide so it fits through most doorways, and it collapses easily for storage by simply unfastening the latch in the back. To even flatten it further the wheels can be removed.  The whole thing only weighs 35 pounds so it is no problem lifting it in and out of the car when we go places.  While I have read reviews of various double strollers not fitting in the backseat, I can assure you that we have no problems whatsoever with this.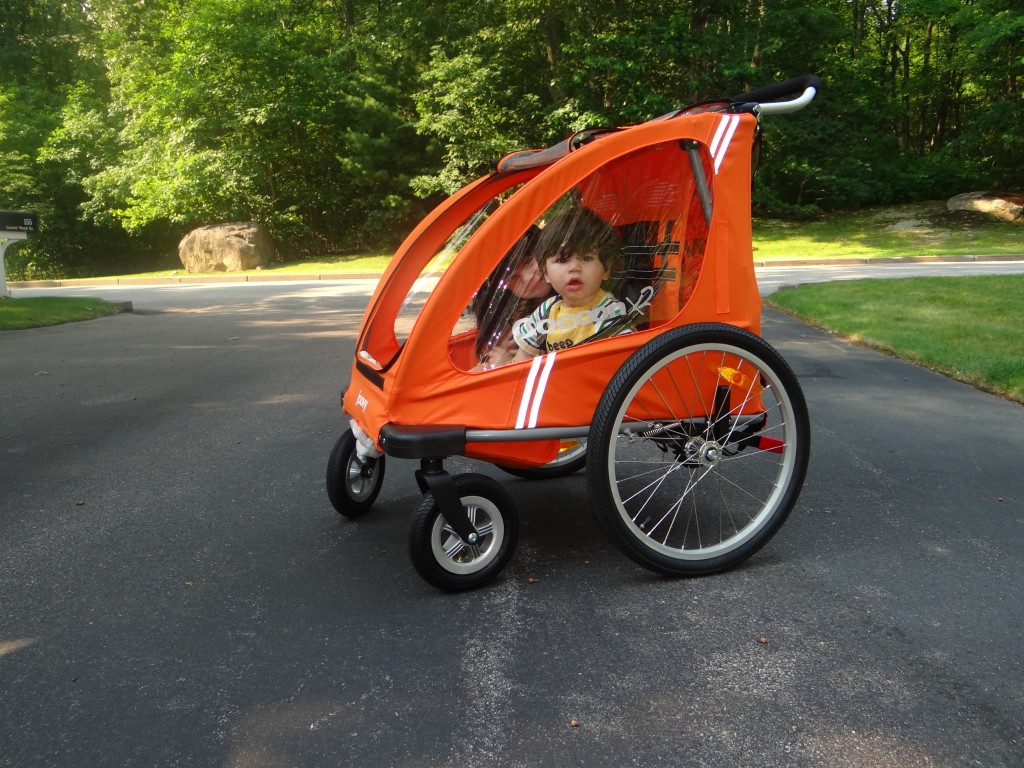 The interior of the stroller provides plenty of space for my two kids, and they each have a little pouch beside their seat to keep their sippy cup or toys for entertainment along the way.   They have lots of legroom, and five point harness straps keep them safely in place.  There are big clear windows on each side for them to take in the sights, and the front panel zips open for easy climbing in and out action.  I love the screen panel that can be zipped down on nice days to protect them from bugs while still letting them get plenty of fresh air.   I really appreciate the screen because we actually had an incident where a bee flew into our single stroller once and almost  stung Hayley!  When the weather is cold or rainy the front clear panel can be zipped down giving the kids full protection from the elements.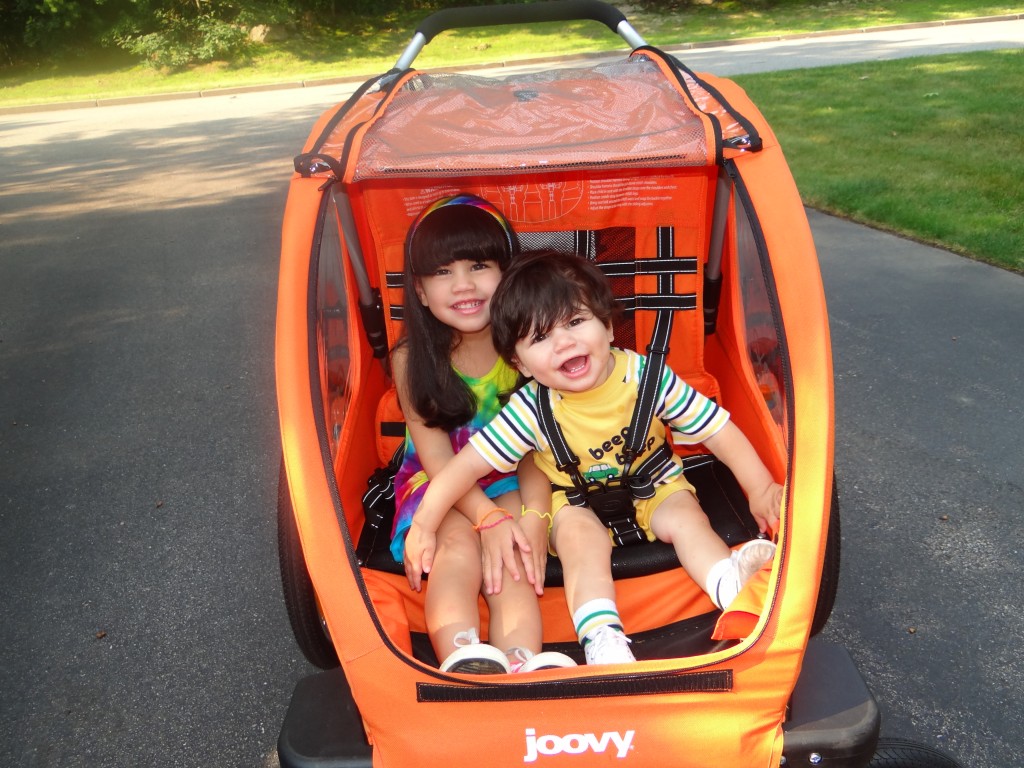 My favorite window though is the skylight on the top that I can peek down at them through if I open the cover panel.  The other thing I love about the this Joovy double stroller is its versatility, instead of cluttering my garage up with a separate jog stroller, and a separate bike attachment, I was able to just purchased the jogging wheel and bicycle attachment for the Joovy CocoonX2 Double Stroller and can now transform my one stroller for any of the three uses, bikes, runs or walks. I love that! It is simply an AMAZING STROLLER!!!
My other favorite features are the huge trunk compartment in the back that zips closed to secure items and can fit a ton of stuff or our outings; I call it the trunk of our stroller it's that big.  I also added the Parent organizer attachment to mine and this is the absolute best! It is a feature I had always wanted in my single stroller, but never had the option for.  Now I have three-cup holders near my handle and a zipper pouch for easy access to my phone or keys.  This stroller truly provides a cocoon like environment for my kids and keeps them comfortable and safe when we are out and about.
I would highly recommend the Joovy Cocoon to anyone who asked which double stroller to go for.  It truly has fulfilled all my needs in the stroller department. Now if we could just get them to make a crib cocoon that would keep my toddler from escaping in the middle of the night..
The Joovy Cocoon X2 retails for $549.99 and is available Green, Orange, and Black. This Joovy Cocoon X2 is a truly fantastic double stroller! To purchase the Joovy Cocoon X2, please check out the Joovy home page. Trust me.. You will love this stroller!!!
* I was sent a Joovy Cocoon X2 Stroller  for review purposes. As always, all my opinions are my own and not swayed by outside sources.