GUILLERMO DEL TORO'S PINOCCHIO is available today on Netflix! As a reviewer of movies, I have had the chance to screen a lot of movies and this movie to me is the best movie of the year 2023. Even as an animation film, this reimagined Pinocchio far surpassed even the original in my mind. The brilliance of Guillermo Del Toro is seen in this film over and over again. It tells the story of Pinocchio but one filmed with emotions ranging from comedy, to dramedy, to darkness. However, as a whole this movie is appropriate for all ages and brings in very clever musical numbers to update happy tones to the movie. If you want to see the movie of the year, then turn on Netflix today and watch Pinocchio.

Synopsis:
Academy Award®-winning director Guillermo del Toro and award winning, stop-motion legend Mark Gustafson reimagine the classic Carlo Collodi tale of the fabled wooden boy with a whimsical tour de force that finds Pinocchio on an enchanted adventure that transcends worlds and reveals the life-giving power of love.
Premieres: December 9, 2022 on Netflix and in select theaters
Directed by: Guillermo del Toro and Mark Gustafson
Screenplay by: Guillermo del Toro and Patrick McHale
Based on the Book Pinocchio Written by: Carlo Collodi
Produced by: Guillermo del Toro, p.g.a.; Lisa Henson; Gary Ungar, p.g.a.; Alex Bulkley, p.g.a. & Corey Campodonico
Director of Photography: Frank Passingham
Production Design: Guy Davis and Curt Enderle
Edited by: Ken Schretzman, Holly Klein
Music by: Alexandre Desplat
Songs: Music by Alexandre Desplat; Lyrics by Roeban Katz, Guillermo del Toro and Patrick McHale
Co-Producers: Melanie Coombs, Gris Grimly, Blanca Lista
Directors of Character Fabrication: Ian MacKinnon, Peter Saunders, and Georgina Hayns
Animation Supervisor:  Brian Leif Hansen
Art Director: Robert DeSue
Visual Effects Supervisor: Jeffrey Schaper
Sound Design and Supervision: Scott Martin Gershin
Re-Recording Mixers: Jon Taylor, Frank A. Montano
Casting by: Mary Hidalgo
Cast: Gregory Mann, Ewan McGregor, David Bradley, Tilda Swinton, Christoph Waltz, Finn Wolfhard, Cate Blanchett, John Turturro, Ron Perlman, Tim Blake Nelson, Burn Gorman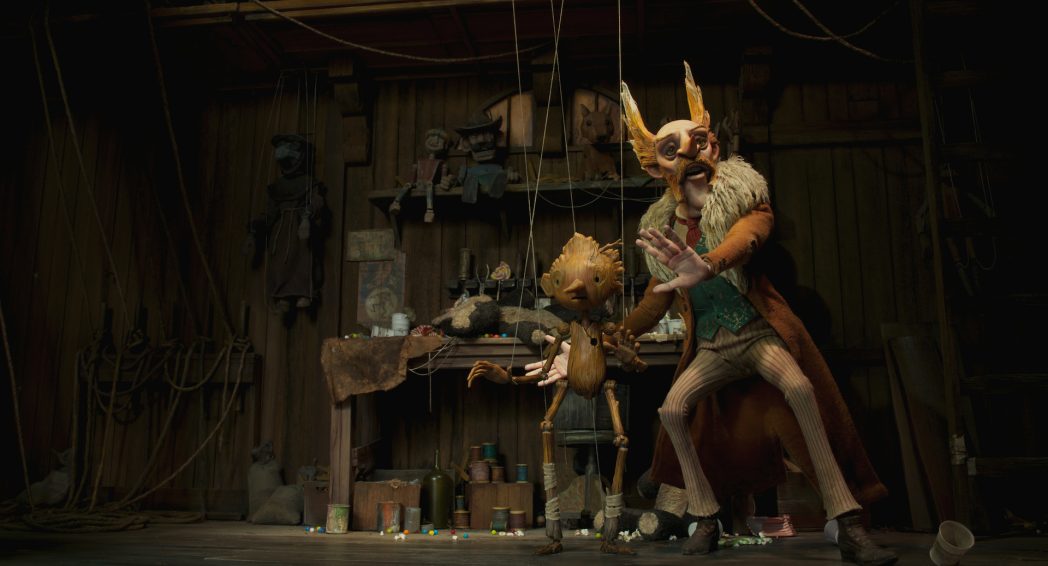 Press Junket:
I had the chance to interview Gregory Mann, who voices Pinocchio and Carlo in the new Pinocchio. I hope you enjoy the interview with Gregory as much as I enjoyed interviewing him.

PINOCCHIO IS NOW AVAILABLE FOR STREAMING ON NETFLIX!