Disney and Pixar's original series "Cars on the Road" debuted exclusively on Disney + last week. The Disney+ Original series follows Lightning McQueen (voice of Owen Wilson) and his best friend Mater (voice of Larry the Cable Guy) as they head east from Radiator Springs on a cross-country road trip to meet up with Mater's sister. "The series is a romp across the country with Lightning McQueen and Mater," says director Steve Purcell. "Like any real road trip, every day is a new mini-adventure with unexpected twists and turns."
"Cars on the Road" is produced by Marc Sondheimer. The series' episodes are directed by Steve Purcell (Eps 1, 2, 8), Bobby Podesta (Eps 5, 6, 9) and Brian Fee (Eps 3, 4, 7). Composer Jake Monaco created the score for all nine episodes.
I had the chance to interview  Larry the Cable Guy ("Mater"), Marc Sondheimer (Producer), Steve Purcell (Director Eps. 1, 2 & 8), Brian Fee (Director Eps. 3, 4 & 7), and Bobby Podesta (Director Eps. 5, 6 & 9) for Cars on the Road!
INTERVIEW TIME:
1. What were the advantages of doing a short form series on Disney+ with Cars on the Road? – asked to Marc
Marc said everything they do starts with the characters and their world.  He said that they are very passionate about this franchise and these characters and the worlds.  It is awesome to be able to tell a story and put these characters in unique situations. To be able to partner with Disney + is great because it supports all the ways to do different things with the characters and try out various ideas. They are very supportive of that.
2. Why was a cross country road trip an ideal starting point for this series of shorts. – asked to Steve
Steve said when he was a kid around the age of 8, his family traveled  from Ohio to San Francisco and moved across the country. That trip stuck with him and it was a big adventure. Something new was unlocked and it was a big, awesome trip. That has always stuck with him. It was a great opportunity to create something that was modular in that every stop along the way could be a totally new location, a totally new sensibility, and a totally new set of characters.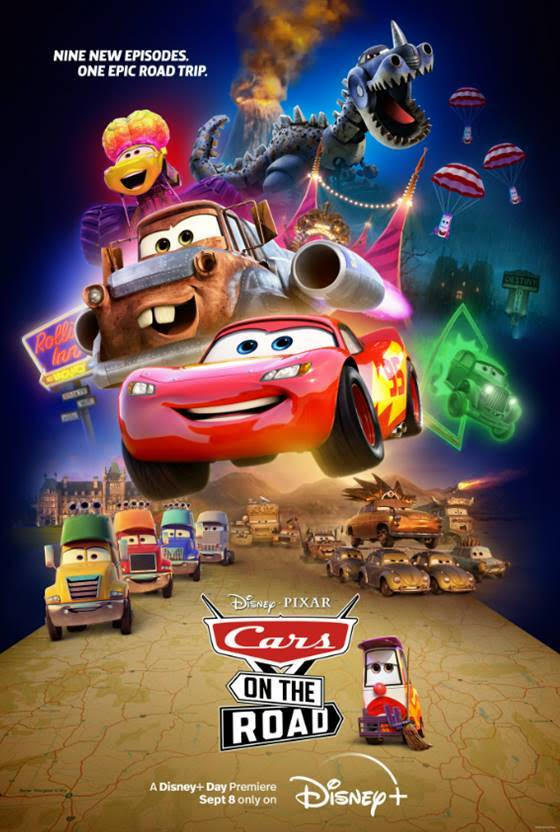 3.  Brian, how did you, Steve, and Bobby kind of collaborate together to make the series cohesive?
Brian said all three of them have been in the franchise since the beginning so they know each other well. They are all heavily rooted in the characters.  All of them have different personalities and that is what makes this franchise work.
4. What is Mater's favorite stop on this road trip in Cars on the Road?  If you had to guess, what would have been Mater's favorite stop along this journey?
Larry said all the episodes are his favorite and he can't pick one.  When Larry goes into the studio they have a funny sketch already written and he just does the voice and is creative with it. But the true genius behind it is the writing and the creativity of what Mater's going to do.
5. What were some of the new character dynamics you wanted to explore in the series that you hadn't gotten to do before in the franchise previously?  -asked to Steve
McQueen and Mater have spent this so much time together continuously in all of the stories.  They come together and go apart.  This time they are on the road trip together so there will be some arguing along the way.  We get to see McQueen being a know-it-all, but then getting brought low in the haunted house, kind of forcing them to have to stay in that place that Mater didn't want to stay in.
6. What's your favorite movie reference and or Easter egg in Cars on the Road?
The Pizza Planet truck makes an appearance throughout the entire series in every episode. But his favorite personally was the kind of the Harryhausen stop motion assimilation they did in Dino Park.  That was fun to watch the animators craft that. Letting the animation team do their thing and  watching Steve direct that.  And just have fun with it and just all the homages are really fun to kind of dig into and watch.
7. Who is your favorite character in Cars on the Road and why?  And does your favorite character represent your favorite car in real life?  -asked to Brian
Brian said besides Mater would be the motel keeper, desk clerk as they go into the haunted motel because as a kid he loved haunted house movies.  He loved that genre.
CARS ON THE ROAD
 

is streaming exclusively on Disney+ Now!

*Thanks to Disney for inviting me to this press junket. All opinions are my own.*