Ready for a horrific thriller! The wait is almost over as Barbarian is soon to be released in theaters!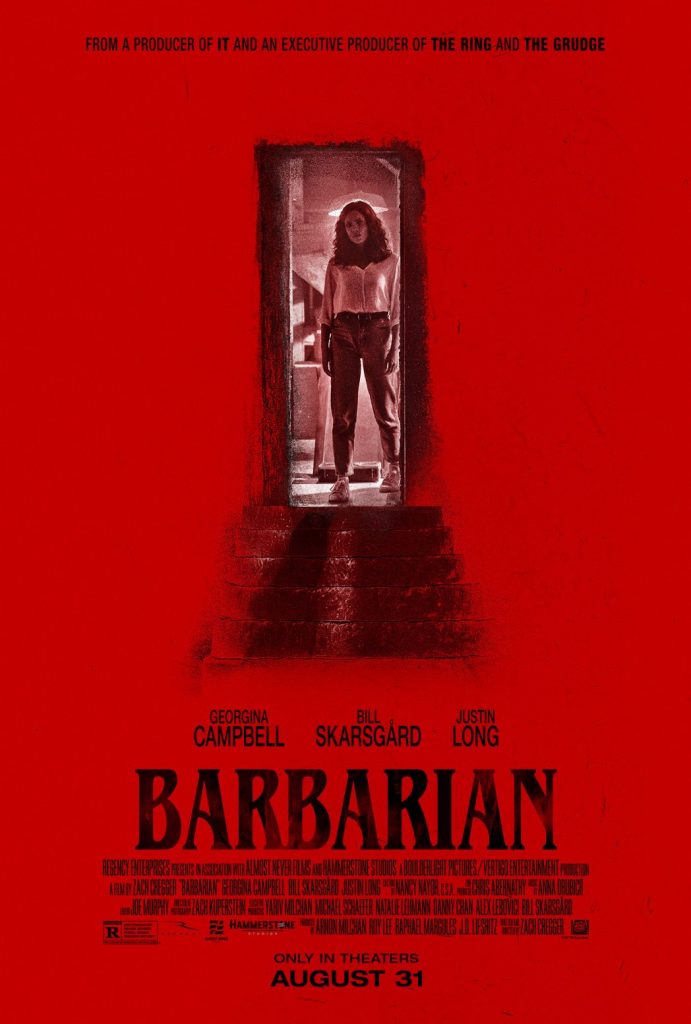 In "Barbarian," a young woman traveling to Detroit for a job interview books a rental home. But when she arrives late at night, she discovers that the house is double booked, and a strange man is already staying there. Against her better judgement, she decides to spend the evening, but soon discovers that there's a lot more to fear than just an unexpected house guest.
From 20th Century Studios and New Regency, "Barbarian" stars Georgina Campbell, Bill Skarsgård, Justin Long, Matthew Patrick Davis, Richard Brake, Kurt Braunohler and Jaymes Butler. The film was written and directed by Zach Cregger. The producers are Arnon Milchan, Roy Lee, Raphael Margules and J.D. Lifshitz. Michael Schaefer, Natalie Lehmann, Danny Chan, Alex Lebovici and Bill Skarsgård are the film's executive producers.
INTERVIEW WITH Georgina Campbell -Tess, Justin Long – AJ, and Zach Cregger –Director/Writer
1. What was your initial inspiration for the script and how did it progress?- asked to Zach
Zach said he read a book called the Gift of Fear by the security consultant, Gavin de Becker. There was a chapter in the book that was really primarily directed towards women and he was encouraging women to pay attention to these little minor red flags that men can give off in day-to-day situations. They can be very innocuous things that you might not notice. Things like complimenting you when it's not necessarily appropriate or doing you a favor that you didn't ask for or touching in a nonsexual way that's not initiated by you. All these little things that seemingly don't matter, but he was basically saying the gift of fear, it's important to pay attention to these little red flags because you're equipped with that to identify potential threats.
As he was reading this, he had an epiphany because of the level of privilege he has. He realized he has a completely different psychic landscape than most woman do. At this point, he wanted to write. He wanted to write a scene where he can load those tiny red flags into an interaction. It was an exercise for him to do late at night in his garage. It's always a double-booked Airbnb and I'll make this guy really nice, but I will give him a ton of these little triggers and it was really fun and that was the impetus. He let himself follow his nose and he didn't think about where it was going to go ever. He figured if I'm surprising myself, then I have to be surprising the audience.
2. Georgina, tell us how you got involved. What was it about the script that compelled you to its journey?
She said she got sent the script from her agent and at the time she was thinking about doing a different job. She wasn't really sure. This script came along and it had to be quite a fast decision. She read it and she was just completely gripped from start to end. Really, there's just so many twists and turns which as you are reading it, you're just so engaged and just keep wanting to know where is it going, where is it going, where is it going? She has always wanted to do a horror film.
3. You've been in some of the best horror films ever made. What was it about this particular script that made this one just hit a little bit different?- asked to Justin
Justin said it was one of the best written horror script he has ever read. There was something very classic, completely unexpected. He had no idea what was happening and was so intrigued by it. It was just unlike anything he had read. It starts off as a well written romantic comedy, which is really hard to do. The dialogue was so fluid and natural. Then there were things happened in it that broke so many rules. He was just so grateful; it was one of those things you read and you just so grateful that whoever wrote it wanted him to do it.

4. Zach, tell us a bit about the journey in getting the team to help get this thing made.
Zach said it's a weird movie. This is not a script that follows conventional story beats at all. The structure is strange, and so nobody wanted it for a long time. He sent this script to everyone he knew in town. He knocked on every door and he got no's across the board. He had a lot of close calls with some exciting people and he thinks everyone got cold feet and everyone pulled out. And then he got it to the Boulder Light guys, and they were excited; but these are two young dudes in their twenties, and he a thought "Okay, nobody wants it. These guys are kind of untested, but they're down to do it." He was , "It's either I go with them or I sell my house and I try and make it on a micro budget. So, let's see what they can do." And then they took it on!
5. Georgina, tell me about constructing tests and some of the similarities, and differences between yourself and the character.
Well, Tess was constructed by Zach. He wrote her very well. Everything was there. He gave her the book recommendation, which was about fear, so she read that. She think Tess, she's in the place of the audience. You are viewing everything through her, so she's very relatable. She was very easy to get into the character, because she's the person that's going through all this. So, it's just reacting, really, to everything that's going on around her. She said she's a much better person than her. Braver than her.
6. And Justin, AJ is such a complex character, man. He brings comedy relief, his appearances attention release. It's a breather from the frenetic energy of the film, if you will. Then he begins to reveal a really devastating dark side. Talk about the challenges of playing this guy.
Justin said there there was only one or two moments where he felt like he couldn't relate. There were some really awful things that he does that fortunately for him and people close to him, Justin related to. So, that was a challenge, but a fun challenge. You have to create something, and you have to create an approximation of how somebody might feel. And so, he loved that challenge.
He loved playing somebody who was that flawed, and somebody who was trying so hard. It is guy who was kind of different when he was talking to his mother, different when he was talking to a friend. And so, that was interesting. It was really fun to mix it up.
7. And Georgina, the chemistry between you and Bill Skarsgård is one magnificent tension wire, I'll tell you. It messes with the audience and weaponizes every horror trope there is to a dazzling degree, to the point where the audience gets a real rush from it. Tell us about filming those scenes with Bill and how that dance of awkwardness and trepidation was choreographed.
Georgina said it was just really exciting. She was very excited when she got the job. And then when she heard that Bill Skarsgård was going to be in it, and Justin Long, I was like, "Oh my God." Jesus Christ, I've got to bring my A game".  So, she was just so excited when she met him. Georgina is a huge fan of all of his work, and he's just a dream to work with. He's a really charismatic, charming guy. So, it's very easy in those early scenes to kind of slowly be charmed by him. And also, they had just met each other, and then went into a scenario in a similar way of meeting each other, which is easy.
Barbarian is in movie theaters September 9th!
*Thanks Disney for inviting me to the press conference.*