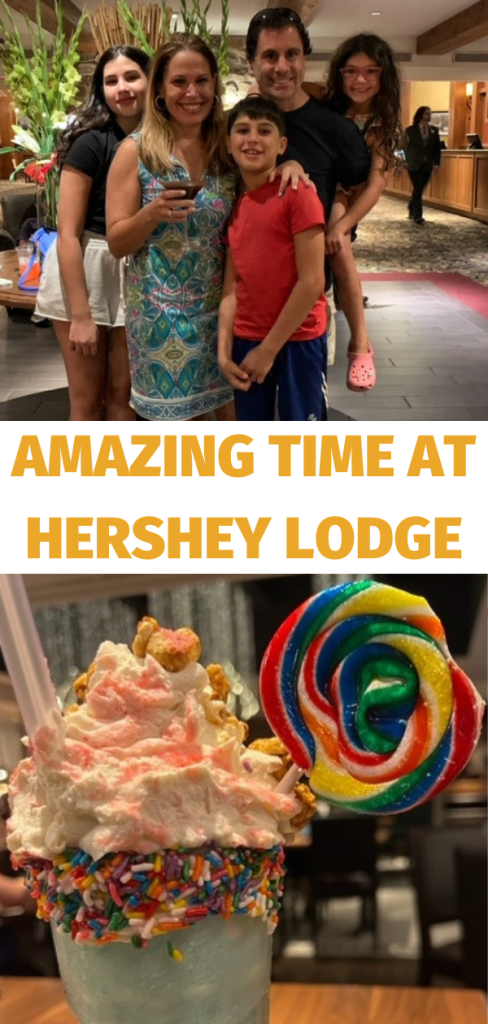 One of my families favorite places to visit is Hershey Park. We absolutey love heading to Hershey, PA and experiencing all that it has to offer. At Hershey Park, one of our favorite places to stay at is the Hershey Lodge. Hershey Lodge is a full resort located in the heart of Hershey PA, also known as,  Chocolate Town USA.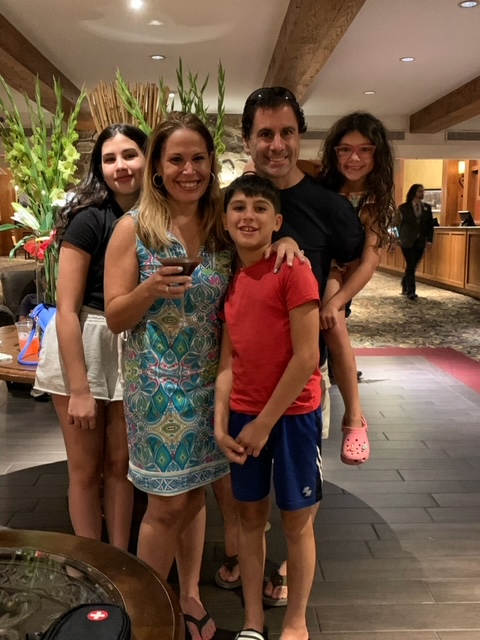 The Hershey Lodge offers 665 guest rooms and 100,000 square feet of function space. Accomodations at the Hershey Lodge includes King Guest Rooms, Parlor Rooms, Two Queen Guest Room (where our family slept), Premium Two Queen Guest Suite, and ADA Accessible Rooms. Each features chocolate themed decor and the best bath products around. And yes, the lotions and soap do smell like chocolate.  Included in the room rates are complimentary WIFI, refrigerator, coffee maker, flat screen TV, DVD player, iPod alarm clock, iron and ironing board, safe, hair dryer, phones, and evening turn down based on request. We absolutely loved staying in the two queen room and felt the room provided all the necessities for 0ur family. We slept beautifuly too as the beds are some of the most comfortable beds I have slept on.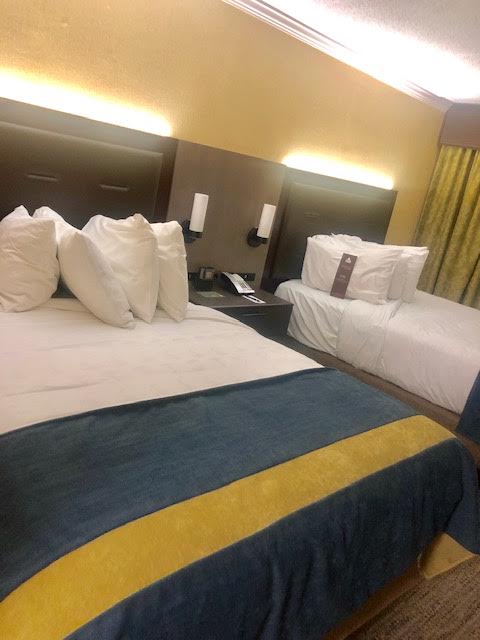 If you stay at the Hershey lodge, you have some great resort benefits. One obviously is you always get chocolate at check in. Each member of your family will receive a full size Hershey bar. You also will get characters such as Kiss and Hershey roaming around the Lodge for picture taking. One of my families favorite areas is the Hershey's Water Works at the Hershey Lodge. This Hershey Lodge Water Park is awesome! We were so busy this time we did take advantage of it but honestly if you stay a few days, do not miss out on this. They have such fun slides,  Hershey Lodge pools, in pool basketball,  and more for the whole family to enjoy! Here is a picture of my kids a few years ago going over Reese's Water Walk.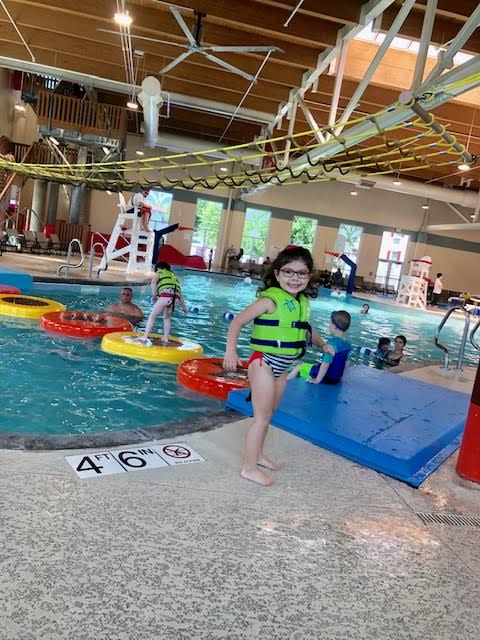 Included with your Hershey Lodge stay is admission to the Hershey Gardens, the Hershey Story's Museum Experience, access to 2 award winning golf courses, preferred parking at ZooAmerica, and accessibility to all the awesome attractions including Hershey's Chocolate World around Hershey, PA. However, my all time favorite benefit is you get early access to the park when you stay on Hershey property. Definitely take advantage of the extra times in the park because these times are usually less crowded.  There is also a shuttle service that runs all the time to take you from the Hershey Lodge to the park.
Some of the best dining can be done at the Hershey Lodge. We love to eat mostly at the Hershey Grill as the variety is unbelievable. This time I got the meatballs and they were divine. Most of the meals obviously also include some chocolate such as the Belguim Chocolate Waffles or oatmeal with chocolate morsels. We also enjoy The Bear's Den which has a fun hockey rink experience while dining. There is many TVs here to watch all your favorite sports games. The Cocoa Beanery is also a great place to grab a latte. Their Lavender Latte is not to be missed. Probably my most favorite though is the Dark Chocolate Martini that they make in the bar area in the main lobby. Trust me when I tell you, you will never experience a martini like a Hershey Lodge Martini. If you are tired, no worries. They have Hershey Lodge Room Service.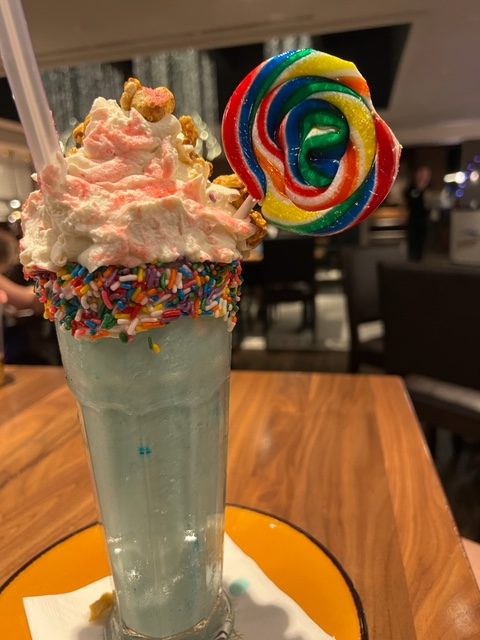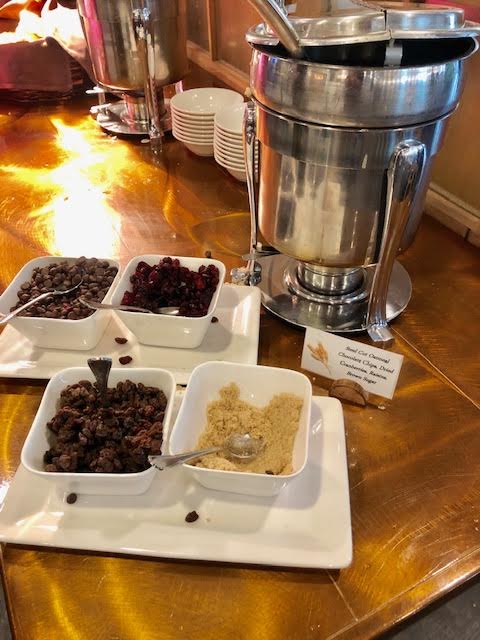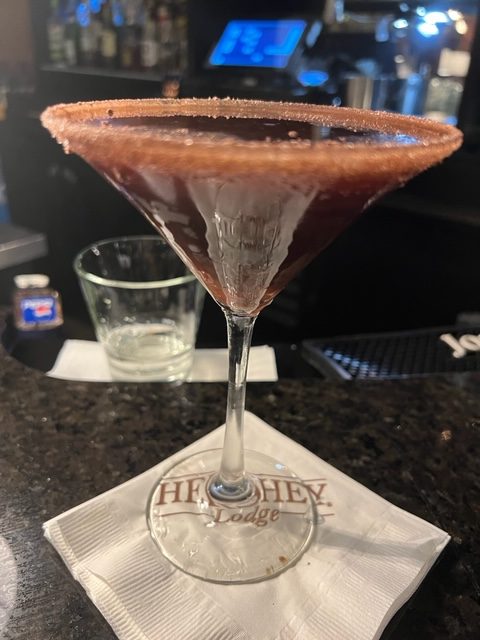 I will be writing more soon on the upcoming events at Hershey Park and what we love about Hershey Park. Stay tuned.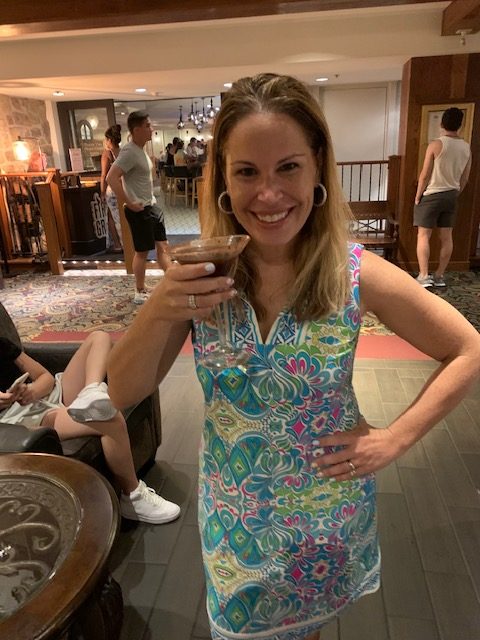 *Thanks to Hershey Lodge for providing my family a fabulous experience. All opinions are my own and not swayed by outside sources.*