I know I have not posted these in FOREVER! Life gets in the way so much sometimes. However, I vow to try to do them. And I also know it is Sunday and I am off by a day! I hope you enjoy the kids laughs and have a wonderful weekend.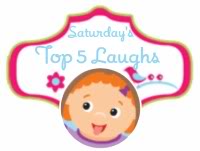 TOP FIVE LAUGHS:
5. Tay started really getting into the acting world. Whenever we go to set, she demands lox and a bagel. She says she needs this to go on set. I have to laugh!
4. Zane's birthday was last week. He turned 11! He had the best birthday party with a gaming truck. He said he is sure he wants to be a professional gamer or You Tuber.  Okay Zane..Okay lol.
3. Hayley sang beautifully this week at her cabaret. When I looked on stage, she was wearing my favorite outfit. How is it that I have a kid where we can share clothes?!
2. We have a cruise coming up. Each kid wants to bring 2 suitcases full of clothes. Do they think we are moving??
Some recent pictures of the kiddos. Zane is 11, Taylor is 7, and Hayley is 13!