Last week I had the chance to interview Jacob Tremblay (voice of "Luca") , Jack Dylan Grazer (voice of "Alberto"), Maya Rudolph (voice of "Daniela," Luca's mother) , Jim Gaffigan (voice of "Lorenzo," Luca's father) , Emma Berman (voice of "Giulia") , Enrico Casarosa (Director) , and Andrea Warren (Producer) for the  Luca movie coming out TODAY!!  It was a pleasure doing this interview for this wonderful movie.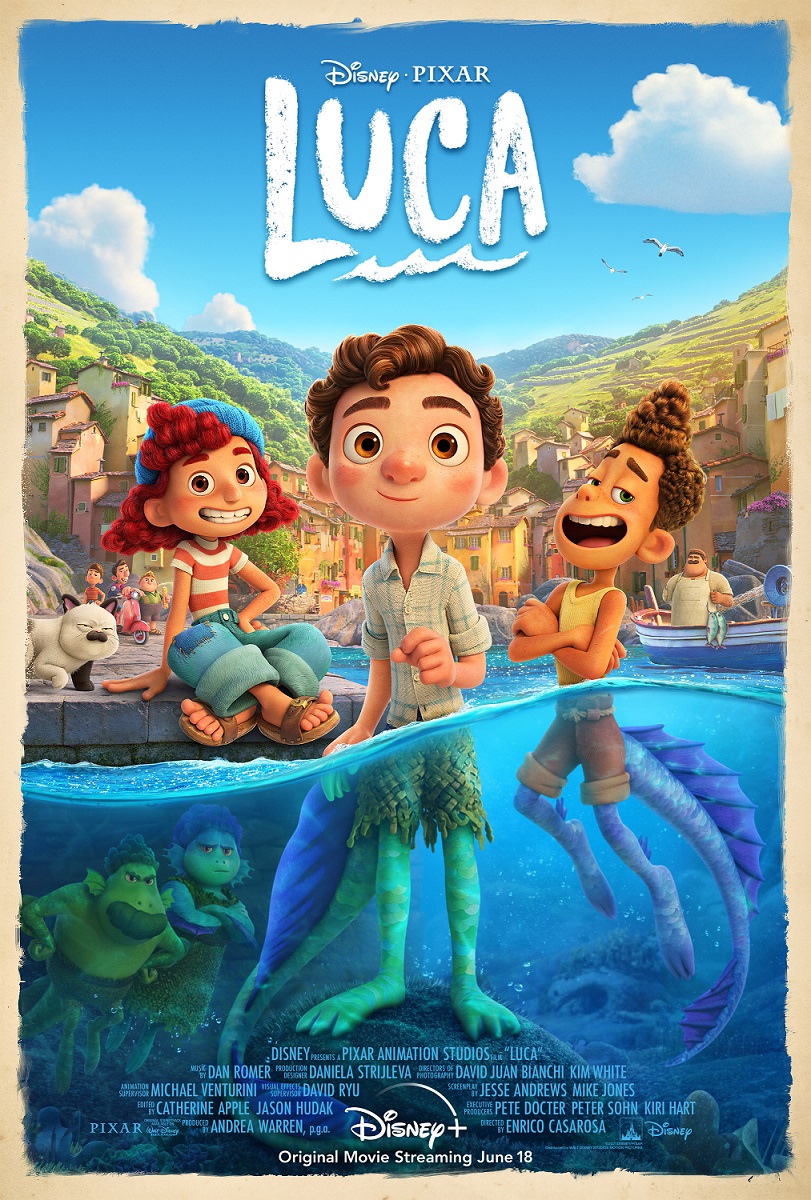 INTERVIEW FOR LUCA:
1. This story stems from your childhood, Enrico, in Italy, especially on the Italian riviera.  Can you tell me a little bit about that and also how your very good friend during that time also inspired this film?
Enrico said he was born in Genoa, which is this poor town right on the riviera. He was a shy kid, sheltered a bit by his family. When he met his best friend at 11, his whole world opened for him. His friend was a bit of a troublemaker and Enrico got dragged into the troubles a bit. It was finding friendships that made him realize who he wants to be. Those summer days for him were the best. There was a lot of diving into beautiful waters.
2. What did you wanna convey with this movie? 
Andrea told us he thinks it is amazing to have such a wide audience around the world and this film has so many important messages. The notion of friendship really resonated with him. It is also overcoming the inner critics and how you overcome that. Overcoming sense of doubt. He said to make sure you surround yourself with Albertos. 
3. Tell us a little bit about Luca and what he's like when we get to meet him?
Jacob said when you meet him at the beginning he is more of a timid child. He wants to explore the world but his parents have a lot of restrictions on him. Then he meets Alberto who helps him step out of his comfort zone. 
4. Why do you think that Luca becomes so fascinated with the human world, yet he's so reluctant to go there all at the same time?
Jacob said it has something to do with his curiosity and he wants to explore what is off limits, however his parents are very restrictive.  
5.  Tell us how Alberto is different and the same, Jack?
Jack says he thinks the aspect of curiosity is seen throughout both of them. However, Alberto has no restrictions and is eager to explore. He is a huge part in inspiring Luca to go to Portorosso to get the Vespa.
6. Emma said it was a dream come true to voice this role of Giulia . What is your professional journey like to this point? 
 She said it was her first ever movie and it is a Pixar movie. She started out doing voice over work for Leap Frog, etc.  She got an agent from doing voice over work and it went from there.  

7. What was it like playing her?  
Emma says Giulia is a very strong character.  She's determined, and she's hardworking, and genuine, and intense.  But she's also awkward, and quirky, and goofy.  She had a fun time playing her because she can relate to her. 
8. Maya, you play Luca's mom.  You play her so well.  Tell us a little bit about her, and also how you relate to her as a mom.
Maya said she is a very serious mom and one that does not mess around. There is a lot of strong discipline and wanting to raise your family right. There is a certain way that Luca's family is meant to do things and she wants to raiser her son the correct way. She wants to protect him from this dangerous world. She is a fierce protector. 
9. Did you record this from home? How did this work?
When the pandemic hit, they realized they needed to work from home and they were a bit nervous how they would record. They needed to send out iPads and microphones and have everyone test it in their houses. It was definitely tricky to do.
10. I would think casting is so important for this? What were you looking for in the stars initially?
In terms of Luca, Jacob had this energy Enrico said. There is an innocence about him. He knew with Jack, he went with a skateboard feeling and he loved Emma meeting her at Pixar.
11. Jim, if you were visiting Portorosso, what would be the first thing you would want to eat?
He joked that he would have it all. The pasta scenes were very exciting for him.

LUCA

 

debuts TODAY on Disney+ June 18th

*Thanks to Disney for inviting me to this press conference. All opinions are my own and not swayed by outside sources.*