The Water Man is now available On Demand and it is one movie you do not want to miss out on watching. I will be telling you all my thoughts of this movie in the next couple of days but in the meantime, I wanted to tell you about the wonderful interview I had with Amiah Miller and Lonnie Chavis who played Jo and Gunner respectively. It was an absolute pleasure interviewing these two young stars about The Water Man. You can tell how excited they are to star in this movie and I can definitely see why.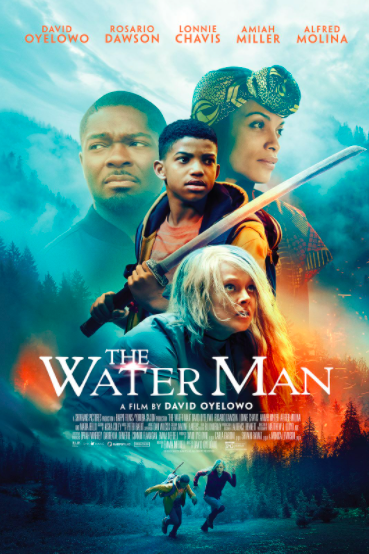 SYNOPSIS:
Gunner (Chavis) sets out on a quest to save his ill mother (Dawson) by searching for a mythic figure who possesses the secret to immortality, the Water Man. After enlisting the help of a mysterious local girl, Jo (Miller), they journey together into the remote Wild Horse forest — but the deeper they venture, the stranger and more dangerous the forest becomes. Their only hope for rescue is Gunner's father (Oyelowo), who will stop at nothing to find them and in the process will discover who his son really is.
Starring: David Oyelowo, Rosario Dawson, Lonnie Chavis, Amiah Miller, Alfred Molina, Maria Bello
Directed By: David Oyelowo
Screenplay By: Emma Needell
Interview with Amiah Miller and Lonnie Chavis:
1. What was your favorite filming location?
Lonnie told us the whole set of The Water Man was mostly filmed in the woods and there was various weather elements including hot and cold days. One set was filmed on a very steep hill. He said the whole setting of The Water Man was pretty.
2. What kind of advice would you give tweens on facing their fears and did you face any fears filming?
Lonnie said he had a lot of fears during the movie and heights/ darkness were two of his biggest ones. The log scene was very high up and he got quite nervous.  Amiah said it was the fear of not achieving what she knew she was capable of achieving as an actress. She said we all have fears and that makes us want to grow and learn from it.
3. In the movie Lonnie uses his imagination with his drawings. Are there any similarities in this with your character and was were your biggest challenges taking on the role?
Lonnie said he is not as good as Gunner in drawing but he does dabble in drawing.  In the movie, Lonnie faces a lot of challenges like when he finds out his mom is sick.  The director helped him delve into personal experiences to bring this out and let him act out these difficult parts.
4. Are the bugs real in the film?
Amiah said they were not real but in an end scene they used this hissing effect that scared Lonnie.  These cockroaches at the end were big and creepy.
5. Did you do the stunts yourself in The Water Man?
He mentioned he did a bit but some of it had a blue screen underneath like the log scene. They were elevated and they were high up, but there was not rushing water.  They loved all the experiences.
6. The emotions you had to your mom,  versus the emotions you had to your dad, I noticed the push back, that typical teenage moments towards a dad and the loving tender moments to the mom, which we see a lot with teenagers. Was that hard to portray in this movie and delving into the different emotions?
Lonnie said he felt like he had the same exact relationship with his mom and he is very close to her, just as Gunner was to his mom.  Jo's character does not have a good relationship with her parents but in real life her parents are her best friends and are so supportive.
7. Do you prefer TV or film work?
Lonnie says he likes movies better as it challenges him as an actor. Amiah said the same. She loves acting but movies are her true love.
8. Do you have any favorite moments from filming or onset?
Lonnie said filming with Amiah was amazing and she was like a big sister to him. They had so much fun together And Lonnie says Amiah is a true professional and one of the sweetest people ever.  The whole cast was amazing they both said including the awesome director.
9. At the end of the movie there's a question and it really hit home. So please answer that question of if you have to choose a short life with lots of love or a long life with no one left to love, what would you choose and why?
Lonnie said definitely a short life with lots of love.  He said he prayed a lot with his family because the movie challenged him at times. Amiah said love is the driving force to humans.
10. What would be emotions you would use to sum up the movie?
Lonnie said the movie identifies with a lot.  There is sacrificial love, there's family, there's hope, there's faith, there's sacrifice. There is a lot of genres that come inside of the movie as well. But what he hopes a lot of people see is that you shouldn't take time for granted. And that love has no limits, especially after COVID. That's a lot of things that people need right now. Amiah said her word would be powerful because it opened her eyes with relationships.
The Water Man is released On Demand NOW!
*Thanks to The Water Man for inviting me to this press conference. All opinions are my own and not swayed by outside sources.*