A few weeks back I had the chance to talk to the cast and crew of Flora & Ulysses. It was such a great press conference and you can find out more here: Flora & Ulysses. Now I can finally tell you what my family and I thought about Flora & Ulysses which is available to stream this Friday on Disney +.

Simply put, Flora & Ulysses is heartwarming but more than anything it is beyond hysterical! It is a wonderful family film that can span many generations. I recently watched the movie with my kids and my parents (who are in their 70s) and everyone thought the movie was simply adorable from start to finish.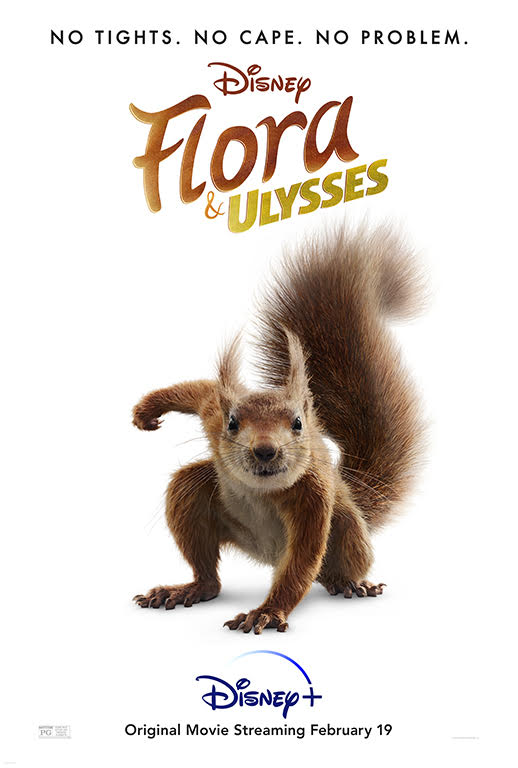 The story follows a 10 year girl named Flora who is a comic book lover. When her dad (who developed superheroes such as Incandisto) has a bad route of luck and feels defeated, Flora is determined to bring the joy back to her family and found this way through an adorable squirrel named Ulysses.
She meets Ulysses in an unexpected way after helping her neighbor with her new vacuum. Ulysses gets stuck in the vacuum and develops superhero powers. However, Ulysses needs to be hidden because sometimes his power can easily be overpowered as seen in an adorable kitchen scene where Ulysses literally destroys everything. While I was laughing, I totally understood mom (played by Alyson Hannigan ) frustration with Ulysses when he finally came out of hiding.
Soon though Ulysses brings such joy to her family and with Ulysses superhero powers (such as flying and even writing poetry), they know they have to keep Ulysses and protect him from Miller (played by Danny Pudi) who wants to catch Ulysses and  bring him to animal control. This will ultimately take him away from the family. Some of the funniest moments of the movie involve Miller and the "killer cats".
The cast of this movie is superb and Matilda Lawler, who plays Flora, is absolutely superb! The dynamic connection between her, her mom, and dad (played by Ben Schwartz) is seamless and real. I also loved the funny moments between Matilda and her friend, William Spiver (played by Benjamin Evan Ainsworth).
The themes of this movie are also perfect for a wonderful family film. At times Flora, mom, and dad feel defeated in failing professions and losing their spirits. Ulysses was the one who makes them all realize that it is important to never give up and with this life, we need to be happy and do all we can to make life wonderful.  Having hope is also very important and knowing that all of us can be superheroes, even without our powers.
Flora and Ulysses is a wonderful family film and one that is perfect for all. Be sure to stream it this Friday, exclusively on Disney +.
SYNOPSIS:
Disney's "Flora & Ulysses" is a comedy-adventure based on the Newbery Award-winning book about 10-year old Flora, an avid comic book fan and a self-avowed cynic, whose parents have recently separated. After rescuing a squirrel she names Ulysses, Flora is amazed to discover he possesses unique superhero powers which take them on an adventure of humorous complications that ultimately change Flora's life–and her outlook–forever.
"Flora & Ulysses" stars Matilda Lawler, Alyson Hannigan, Ben Schwartz, Anna Deavere Smith, Danny Pudi, Benjamin Evans Ainsworth, Janeane Garofolo and Kate McCucci.
It was directed by Lena Khan and produced by Gil Netter. Based on the novel "Flora & Ulysses: The Illuminated Adventures" by Kate DiCamillo, the film's screenplay is by Brad Copeland. Katterli Frauenfelder and James Powers served as executive producers.
FLORA & ULYSSES is streaming exclusively on Disney+ starting February 19th. And be sure to watch out for Easter Eggs! Stay tuned for my full review next week….