This past Thanksgiving, I wore the coolest shirt evah! LOL! No really, they were simply amazing and we got compliments constantly on then. Enter Chalk of the Town...
With Chalk of the Town, kids and adults alike can personalize a tee or tote right away. On each surface of the shirt, there is a mini chalkboard where you can write and decorate what you want on each shirt. Kids and fans of all ages can use the water-based chalk markers to decorate these shirts for holiday parties, Disney trips, sporting events, birthdays, or anything else! The best part is, once you are done with the occasion, simply wipe away the surface with water and the shirts/totes can be used again and again.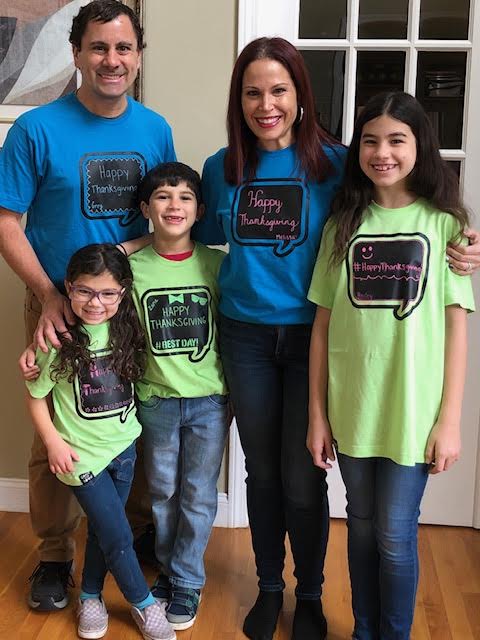 We decorated our own Chalk of the Town shirts with stencil and wording for Thanksgiving. We plan to use these shirts again when we go on our Norwegian Cruise in a few short weeks.  The best part is you can get the shirts in every size, so it can be used for your entire family. In the past I ordered personalized shirts for our Disney trips or cruises but once the trip was done, the shirt went away! Now though I do not need to spend money anymore since Chalk of the Town allows me to personalize the same shirt each time. Genius I say!
These shirts are sold in adult and kids sizes and they sell them as part of a kit complete with chalk markers, a wiping cloth, and a stencil or you can purchase any of these items separately, as well.  These would make the perfect gifts for babysitters, teachers, bookworms, nieces and nephews, kids, and much more.
Why waste money buying individualized shirts for every occasion?! Simply buy the Chalk of the Town shirt and you will be ready to go for any occasion!
*I worked with Chalk the Town on this post. All opinions are my own and not swayed by outside sources. *