Lady and the Tramp debuts on Disney + on NOVEMBER 12TH! That is right, only about 4 more days! The past few days I talked about my time on the set,  interview with director Charlie Bean and Producer Brigham Taylor, interview with Thomas Mann and Jim Dear, and my interview with Head Animal Trainer, Mark Forbes.  For my last interview, I had the chance to talk with  Kiersey Clemons & Yvette Nicole Brown . Kierey Clemons plays the role of Darling and Yvette Nicole Brown plays the role of Aunt Sarah, who prefers cats over dogs. It was such a pleasure to walk through the set talking to them in Savannah last fall!
MY INTERVIEW WITH KIERSEY CLEMONS + YVETTE NICOLE BROWN: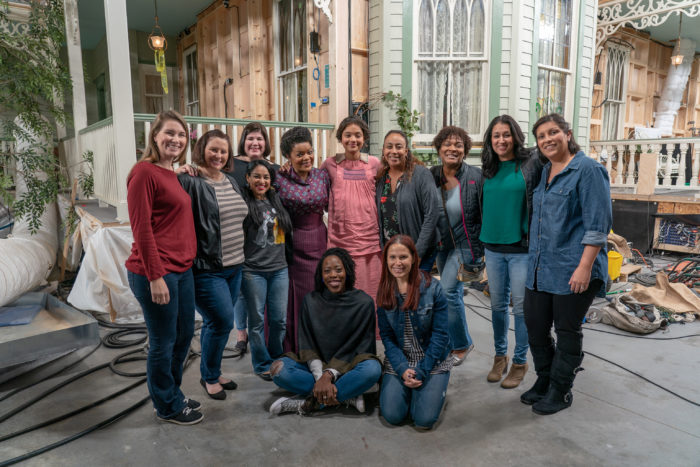 They first introduced themselves to us and were just so lovely. Yvette told us this was her biggest acting job because she loves dogs so much and in this film, she has to be hateful!
We first asked how they became involved in the process? Kiersey told she went to the producer, Brigham and at first she did want to go to the meeting LOL! She said she just didn't feel like it. Then she saw arcade games in his office and she was all in!
When she got the call for Lady and the Tramp, she did not know it was for that movie. A lot of times producers will call you in to get to know you so she didn't know it was for the part. Her mom told her she had to go for the role, even if that meant relocating for a bit, because it was a huge opportunity. She was so glad to have gotten the role.
"And my mom said, it's Lady and the Tramp; it's Disney; you'll get to be on set with dogs; you're going to the audition. And so I went to the audition. Every audition isn't great. Some of them are very hard. This is one of the best auditions I ever had. The director was so lovely, and I got it." She said she got a letter when she got the part! Yvette chimed in that it was so nice to get individual letters for the roles.
We then asked the best part of the process?
"The dogs and also Thomas, who plays Jim Dear. He's lovely. Charlie's amazing; Brigham's lovely; our crew is amazing, Kiersey's amazing, and the dogs. Everything about it is just love, and we hope that you guys see that when you watch us in-between scenes and when you see the finished film, it's just like a love letter to dogs." – Yvette
They both said wearing corsets was very challenging. Yvette mentioned to us that Kiersey is so good with the babies on set. They actually have triplets for the babies when they were filming.
They talked to us about the set both on and off, in downtown Savannah. They loved the beauty of it and what I saw that day, I did too!
Their dynamics that day on set was simply amazing and I am so excited to "see" them in Lady and the Tramp!! Being big Disney fans, they are so excited to be in this film!

"Lady and the Tramp" debuts on November 12, 2019, streaming only on Disney +.
*Thanks to Disney for providing me accommodations to Savannah to attend this event. All opinions are my own and not swayed by outside sources.*