*I worked with Shark on this post. All opinions are my own and not swayed by outside sources.*
As a busy mom who works outside of the home in addition to blogging and running a household, I'll admit that it's not always easy to keep up with everything I need to. For example, sometimes I just don't have enough time in my day to run all of the necessary errands I have waiting for me or to make sure the house is spotless by the time my husband gets home from work. There are even nights when I'm guilty of grabbing fast food for dinner on my way home because I'm either too worn out or just don't have enough time to put together a full evening meal. 
These things happen more times than I care to admit but they do indeed happen on a pretty consistent basis. I even know my fair share of SAHM who experience the same problems, because they simply have too much to do during the course of their day to get every last thing on their to-do list done. It's exhausting and some days impossible! This is why, when I was given the go ahead to partner with SHARK,  I jumped on the opportunity. Especially when I learned that I was being sent one of their new Shark ION Cordless Handheld Vacuums to review.  This is one of the best cordless handheld vacuum.
Like I mentioned above, sometimes there just isn't enough time in my day to get everything done. This is especially true when it comes to household chores. I'm definitely guilty of spot cleaning throughout the week, just so I don't get completely overwhelmed or have the house looking like it's being kept up by a circus troupe. Now, with help from the Cordless Handheld Vacuum from Shark, it's so much easier to clean up more messes in less time. My full size vacuum still has a very prominent role to play at home but more often than not, I find myself reaching for the Shark to clean up.  It is one of the best cordless vacuum for hardwood floors!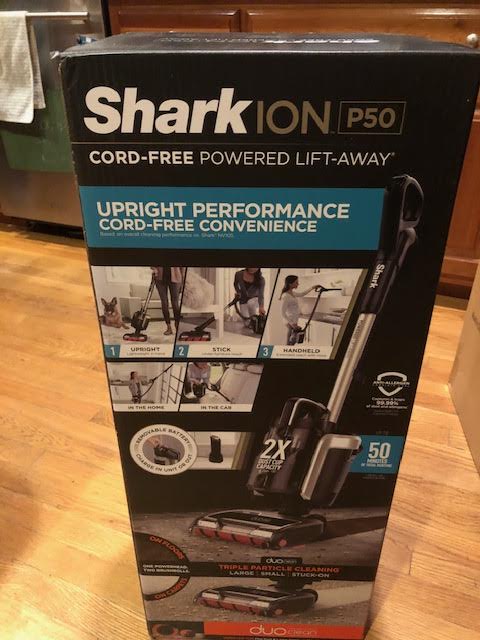 Lightweight, with enough suction to clean up every day spills, the Shark Cordless Handheld provides easy maneuverability that makes messes such as cereal, tracked in dirt (especially under the kitchen table) and a variety of other household accidents, a breeze to clean up. With a weight of just 1.4lbs, it's also super convenient to carry around the house without worrying about tiring out my arms or having to ask for help getting it up a flight of stairs! 
Each Vacuum comes equipped with Duster Crevice tool, Multi-service Pet tool, Dual Onboard Accessory Storage and ION Charging Dock. It truly is the best Cordless Handheld Vacuum that I have tested. Additionally, users can enjoy benefits that include features like:
High efficiency, brushless motor that provides superior suction in a compact form. 
Ultralight weight design that makes it easier than ever to keep your home clean without wearing yourself down in the process. 
Easy access, fast charging dock and onboard storage for each of the included tools that come with the Shark Cordless Handheld Vacuum. 
Cordless design that allows users to take the device with them anywhere in their home or vehicle! 
Even for those who have very little carpet or have homes that are entirely tiled/wood paneled, this little workhorse is very versatile and can clean just about anything. Like I said, you can even take it out to the car to clean out dirt from your floorboards, pet hair from the seats, sand from soccer practice, etc.! It has definitely been a lifesaver here at home for us, as well as in our vehicles.
To learn more about Shark and their battery operated vacuums, especially the Shark Cordless Handheld Vacuum, you can head over to their online site or even their social media pages like 
Facebook
|
Twitter
|
Youtube
|
Pinterest 
to find out the latest news, release dates and more.