I think I must have told my readers over a dozen times now about the fond memories I have of the outdoors when I was a kid. Way back when, when technology wasn't as widely known or used, my family and I spent every available moment we could outdoors: rain or shine. If the sun was out we rode bikes, climbed trees, explored our local parks, etc. If it was raining, heck, we did the same things. We adored everything nature and the outdoors had to offer us. I loved trying to skateboards as well so I was always on the hunt for girls skateboards. Skateboarding for kids was always the rage and still is, these days!
These days, I can honestly say that not much has changed. Although we do allow our kids an allotted amount of screen time per day, after school work and chores are completed, the bulk of their time is spent in free play outside. Together and even individually we share everything my own family did together, including: biking, skating, swimming, climbing, hiking, running and more. We aren't afraid of sunshine, fresh air or sweat, not in the least and we look forward to the time together as a family.
I've had many of my mommy friends come to me and ask how I've managed to get my entire family on board with being so athletically inclined as well as so willing to simply venture outside. My answer is always simple, I started them early, didn't introduce as many toys or gadgets and instead, started taking them outdoors. They loved it then and still do to this day. Especially now, due mostly to the fact that they've been obsessed with our latest test product from Morfboard.
Skatingboarding for kids:
Morfboard was conceptualized and is now run by a group of individuals who grew up very similarly to myself. Well, if I had been more deeply involved in the skating world that is. These guys literally would rush home every day, shed their school essentials on the nearest surface, grab their skate gear and run. Even now, all grown up and with families of their own, they still make time to indulge in their childhood passion.
And THAT is why Morfboard was created. These action sports enthusiasts wanted more children to have that kind of freedom. To be able to have something they loved so much that they spent every waking minute they could spare, going outside and doing it. Knowing that getting into that kind of lifestyle could be tough, as well as pricey, the action driven minds behind the company created the Morfboard system.
I have to say, as much as my kids love this one, I think I may love it even more. Morfboard truly made their innovative system fun for all ages, versatile and affordable. So, not only can kiddos skate using the Morfboard system but they can also scoot, balance, AND bounce. All this, at an affordable price while providing endless hours of outdoor fun!
Complete Skateboards
Skatingboarding for kids
To break down the Scoot/Skate system as easily as possible, it goes a little something like this: For just $99 one can purchase the Scoot/Skate combo which comes as one board that has many possibilities for all year round fun. The innovative outdoor board has the capability to transform in seconds, from scooter to skateboard and with the help of a super simple LRT Lock & Release Technology, you can drop an Xtension (either the bounce or balance option) into the board to transform it again, locking into into place with the Flex Trigger.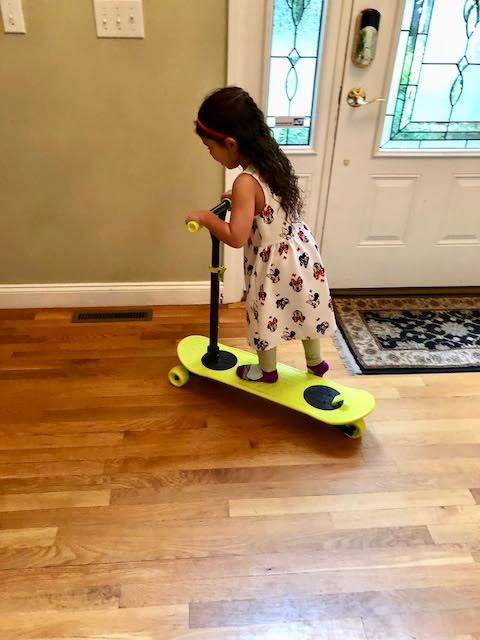 Other features to mention when talking about the Morfboard system include but aren't limited to:
Durable cast aluminum alloy front and rear skate trucks for riding and grinding.
53mm Urethane Wheels for smoother & faster rides.
Performance ABEC 5 Skate Bearings for obtaining higher speeds.
3 position Adjustable Scoot T-bar with super grip handles.
Lean to steer wishbone front scoot truck for sharper turning.
Rear wheel with inset pressure brake to stop on a dime.
Going through all of the specifics now, it's hard to believe we all didn't seriously hurt ourselves as children but seeing how much fun my kids have had since we received the Morfboard system, makes me realize that as long as they're having fun and aren't in danger, if action sports is what they want to spend their summer doing, then bring it on!
To learn more about Morfboard (these are awesome custom skateboards) and their innovative, insanely fun boarding system you can visit them online or become a follower of their social media sites like 
Facebook
|
Twitter
|
Instagram
|
Youtube
. Christmas is fast approaching, so there's no better time to check this one out and put it on your shopping list!
*This post is partnered with Morfboard. All opinions are my own and not swayed by outside sources.*
GIVEAWAY: One winner will receive a Morfboard. This giveaway is run via rafflecopter so click read more to see the actual giveaway. The only mandatory entry is to visit Morfboard and tell me what you like best in the comment section proceeding this post. While the other entries are optional, I highly suggest filling them out to increase your chances of winning. US only. Good luck!