Going Back To School with Peppa Pig! Let's do this! The last few weeks, school has officially started!  What that means is the little kids are starting back up at preschool. This year, Tay Tay has started her last year of preschool and she is more in love with Peppa Pig than ever! It is all Peppa Pig here! Her sheets, her wall, her books, her pencils- PEPPA LOVE is serious in our house. To go back to school, Tay Tay wanted the latest and the greatest in Peppa Pig products and she definitely got that!
Going Back To School with Peppa Pig- BEST PEPPA PIG PRODUCTS FOR BACK TO SCHOOL:
Peppa Pig: Learning to Share: George and Richard Rabbit learn how to share their toys in this story with a sheet of stickers. Based on the hit TV show, as seen on Nick Jr.George has a toy dinosaur, and so does Richard Rabbit! But one day at the playground, they do not want to share their toys. Can Peppa Pig and Rebecca Rabbit help their little brothers learn to play together nicely?
Tay Tay loves this book. It was one of her nightly favorites that her dad or I read to her every night. It is such a sweet story with all her favorites.
Tay also loves Peppa's School Day! It is a wonderful book to get your kid used to school.
2.  Peppa Pig 14 inch Ballet Buddies Kids' Backpack-Pink/Purple: Going back to School has never been easier with the cutest backpack, perfect for those little hands.  This backpack features two full zip-closures that open up to spacious interiors for storing books, school supplies, or their lunch. There are cute graphics features across this bookbag to get your kids excited for school! It is also a lightweight backpack with great handles so kids can store their items without it being too cumbersome.
3. Peppa Pig- Sun Staches : Peppa Pig loves nothing more than to have fun and splash around in mud puddles all day long. Jump in with your best friend Suzy Sheep with the official Peppa Pig Sun-Staches! Tay Tay loves wearing these adorable sun staches! These also make great gifts!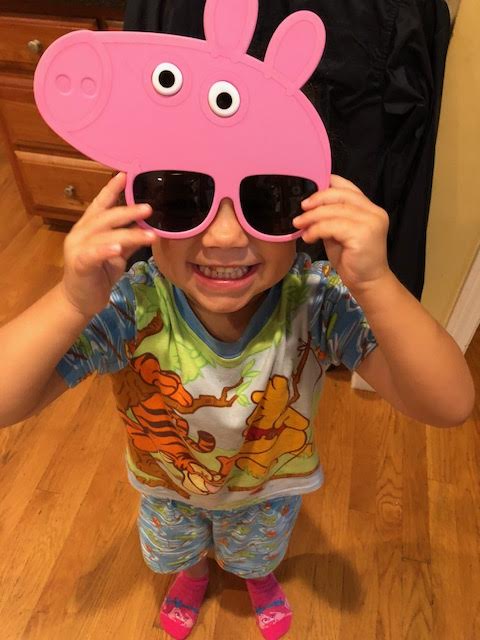 Going Back to School with Peppa Pig has never been easier. Be sure to check out these awesome Back to School inventory today! Happy shopping!
*I am a Peppa Pig ambassador. All opinions are my own and not swayed by outside sources.*