Oh sleep! Remember those day of sleep! As a kid and now an adult, I have had sleeping problems for most of my life. As a kid, I remember those nights not sleeping before a test and as a adult, there is so much to worry about and ironically most of it is done late at night when everyone else is sleeping! Thanks goodness for a company like Weighting Comforts. This company creates weighted blankets to help people overcome anxiety and sleeplessness. The Charcoal Weighted Blanket was one of the best weighted blanket I have ever tried!
I was one of the ones who was very skeptical about weighted comforter and the sensory blanket. I saw informercials at night on this and I was like, "Does this really work?" I will say with no doubt it my mind, that this sensory blanket truly is the best!
SENSORY WEIGHTED BLANKET:
The Charcoal Weighted Blanket is made of flannel which adds warmth on those cold nights and has 100 percent cotton dimensions. It is 42 by 74 and is machine washable. One of the main features of this blanket is it helps reduce anxiety but making you feels like you're being hugged or held gently. It also helps you to relax and improves your overall sleep.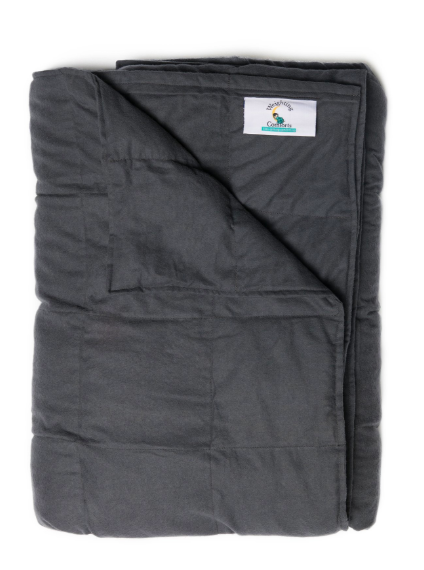 ANXIETY BLANKET FOR ADULTS:
From the first night I tried this blanket, I fell in love. I fell asleep so readily and once was asleep, stayed asleep! I also take some organic sleep pills at night so a combination of this, really puts me into a wonderful sleep! While kids can have anxiety, these blankets are specifically designed for adults. This heavy weighted blanket is so comfortable and soft. It truly is the best weighted blanket. Be sure to give Weighted Comforts a try today for a peaceful and calm nights sleep. Also, these blankets are sewn by international refugees which truly is so awesome.
*I received a weighted blanket for review. All opinions are my own and not swayed by outside sources.*