*I was invited to the Ant-Man and The Wasp Set Visit in Atlanta at Pinewood Studios. All opinions are my own and not swayed by outside sources.*
To visit a movie set is something so very special, it is hard to put into words. Last year, I was invited to Pinewood Studios to go on the movie set of Ant-Man and The Wasp. The Ant-Man and The Wasp Set Visit in Atlanta was truly magical.
While I was on set, I was actually able to see how a Marvel movie is made. What amazes me is how many times one tiny scene is filmed to make sure it is perfect to the audience when they watch. Paul Rudd, Evangeline Lily, and Abby Ryder Fortson were all there that day, filming a scene involving a car. While I don't know much about this scene, seeing it being filmed was simply amazing. When filming a movie, all the main characters have stunt doubles as well as fill in people who set the stage and wait into between takes so the main characters can get breaks.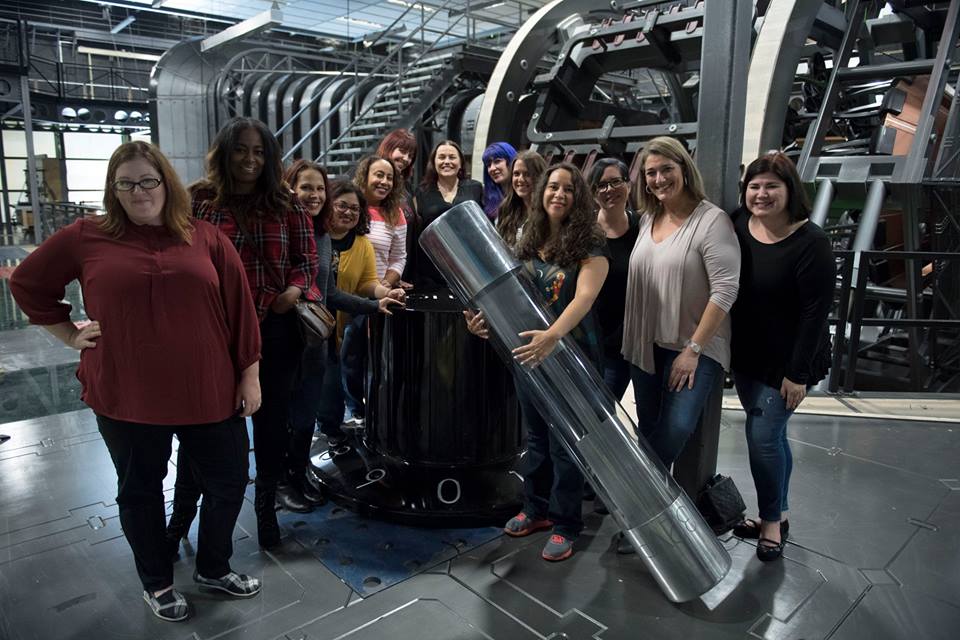 I am not sure how many people get to walk on Hank Pym's lab set, but I did get to to that. There are no words to describe just how cool this was that day! We saw how it was set up and the logistics in making his lab come to life on the big screen.
That day, we also had the chance to interview Executive Producer Stephen Broussard and Production Designer Shepherd Frankel. I hope you enjoy the interview as much as I did that day!  
Executive Producer Stephen Broussard:
Executive Producer Stephen Broussard came in and introduced himself to us. At the time, they were finishing their last week of shooting in Atlanta. He told us that the story left off where Ant-Man (the first one) ended. This story starts up with the premise that Scott is a family man and being present for his daughter, while putting his old criminal ways behind him. In between the movies, he turned himself in to the authorities. And he basically said, I'll sign what I've got to sign, I'll plead down, I'll serve time, just let me get this off my record, kind of thing.
"And this film starts with him essentially under house arrest, he's living in an apartment with Louise, he has an ankle monitor, he can't leave, he's serving like a two year sentence. And when that is done he's free to go, he's free to not be Ant-Man, because he surrendered that by the terms of these accords. But will be a free man and can live his life after being trapped in this tiny apartment for two years. Our movie starts on the very tail end of that, where he's got basically seventy two hours if he keeps his nose clean and doesn't do anything wrong for seventy two hours, he's free to go, a free man.
Hank and Hope come crashing into his life and say, we need you, we can't wait. We think we can go find Mom, we think we can find Janet van Dyne who was alluded to in the first movie as being lost to a quantum realm during an early adventure with the original Ant-Man and Wasp Hank and Janet. And for reasons that Scott- for reasons that Scott is a part of, he's a central piece of the puzzle to them finding it.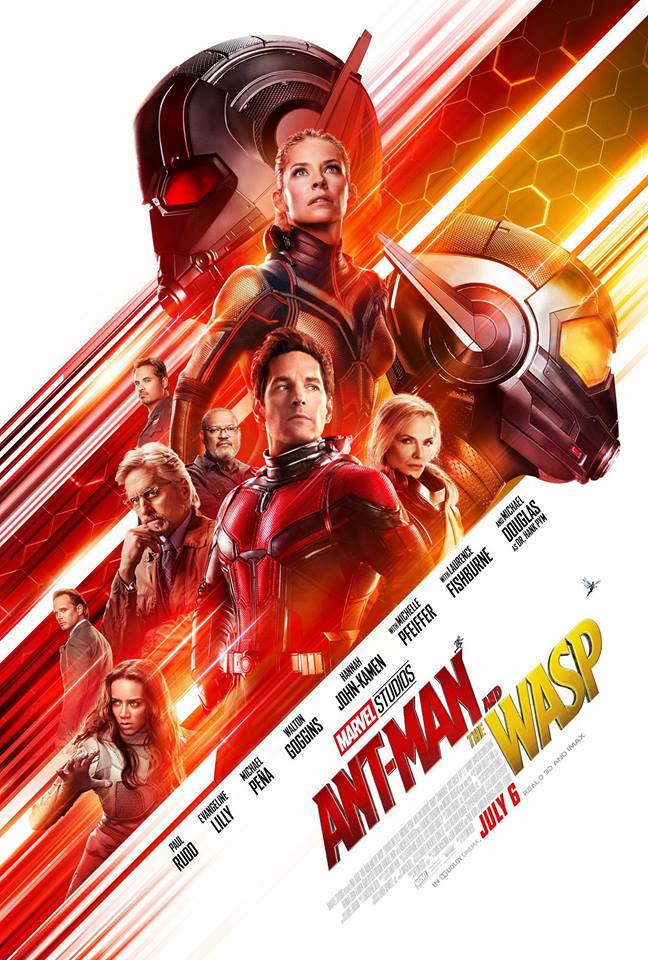 Which is why they can't wait, he's like oh my god what are you talking about, I have three days left, I can't do this, I can't go be in this adventure. And they essentially kidnap him out of his house arrest. And so you have a movie that takes place over roughly these three days as they're racing to find mom before that opportunity goes away. And also racing to get Scott back in there at the moment when they're going to come and check on him or his sentence gets extended ten years, like the stakes are really big for him.
So it sort of came from this- well just early days of what can the movie be, weird sci-fi quantum realm stuff. But we also talked a lot about a genre of movies that I don't know, maybe someone has a better name for it, but we call it One Bad Night movies, where stuff just keeps going wrong and it gets worse and worse.
The night gets worse. And just when you think you're about to get out, all sort of keeps coming back on you a little bit, in this weird San Francisco criminal underground that they just keep crossing paths with.
And it's a movie about fathers and daughters and parents and children and there's all these parallel relationships. You've got Scott and his daughter Cassie, you've got Hank and Hope and Hope missing her own mother, Janet. And she hasn't been in her life for thirty years nearly. What does that do to someone when they grow up, what does that reunion look like. Like the reunion can almost be as traumatic in a lot of ways as the separation.
I love kind of delving into that, because it feels like a unique corner of that universe. Because they're kind of regular people, they're not billionaires, they haven't been bombarded by gamma rays or bit by spiders, so they just kind of feel like Scott's a regular guy. Up until very recently Hope had a regular job. So it's cool to sort of explore those dual pathways. That's kind of the premise, that's kind of like where we find ourselves today."

Question 1:    You said speaking of after Civil War, is there anything in between that's going to carry over?
He didn't want to give too many spoilers but he said that Infinity War is the massive universe crashing together and all these characters are huge character movies. It will properly fit together once you see it on the big screen
Question 2:    How do we see the characters evolving?
When we first meet Scott, he is not sure he wants to do this again. He is a father and not sure he wants to be involved.
"And conversely we're meeting Hope who's finally allowed by her over protective father after these years, to step into the role of hero. And so she's sort of off the leash, off the chain, going crazy, kicking ass. Like we meet her in a really heightened amazing heroic place. And they're not the happiest with each other, or I should say Hope's not the happiest with him. Because in going off and getting himself arrested, he turned the same government agents that are trying to keep him under wraps on to them. So they're like, oh, where did you get this equipment, what are these suits, or is this Hank Pym technology, oh we'll go see about that.
They go knock on Hope and her father's door and they're like, you need to sign this and there's a whole new thing, we're monitoring all this, and they're like yeah thanks but no thanks. Because as well established in the first movie, they don't take very well to authority, they never have. So they kind of go on the run and they're on the run while they're trying to find mom. So they're doing this incredibly difficult, incredibly complicated task of locating where Janet is in the quantum realm and how to get there while the government is on them.
And they blame Scott for that. If you hadn't run off, if you hadn't gone to help the Avengers without consulting us, maybe we wouldn't have to do this out the back of a van. But being that it's Hank Pym and that he has access to shrinking and growing technology, this is how it is explained to you all. This is a big building, you can see the scale right here by the size of the van next to it. And it's sort of a nondescript building that they bring to Scott at early in the movie.
And it looks kind of derelict and he almost feels bad for them, like oh you've fallen on hard times. I'm so sorry that we are bringing the heat down on you, has caused you to have to live like this. But then they go inside and sort of the rest of this wall is this amazing lab that they've grown inside with these found parts. Like if you go in there and you look around, you'll see Legos grown huge, you'll see an erector set kind of makes the architecture of the place. Volume knobs from guitar amplifiers are huge, because Hank Pym is not a billionaire, so he's grown small things big to afford to do this."
Question 3 Are we going to see a lot of comedy?
He told us we will definitely see funny parts in the movie, as we did in the first. There is a lot of riffing, improv, and such. He said this is one of the funniest movies.
Question 4:    Do they go back to their criminal?
"They are starting a security company, because who better to protect you from criminals than ex criminals. So they're trying to go legit and basically Scott is under house arrest, but he's been helping where he can from the house. But part of the life that awaits him if he gets out is that he's going to go join this business. So he's like I got a job waiting for me.
I'm going to be let out of house arrest, like this is the worst possible timing for you to come and sweep me up in this adventure. And then naturally because they're around, they kind of get swept up in the adventure in funny ways too. But it's funny to see these guys who were always lovable guys, but kind of shady, they had a bit of a shady path, but now they've gone straight, they've got uniforms and suits and ties and they're making pitches to clients, trying to land the big job. And they're really funny."
Question 5:    What can we expect new this time?
We will see a lot of shrinking and growing which is a huge concept of this movie. You also will have two heroes now.
Question 6:    Will we see any Avengers come to help him?
"Kind of like the Falcon in the first movie? Not in this film. Kind of by design but for the reasons I was, to answer your question about Infinity War, we wanted it to feel sort of more contained. So there's no huge cameos waiting or anything like that. But we've opened it up by inviting all these other new characters in like the Randall's and the Walton's, Laurence Fishburne, Hannah John-Kamen, a lot of new faces. So it'll definitely feel surprising."
INTERVIEW WITH SHEPHERD FRANKEL
We had the chance to sit with Production Designer Shepherd Frankel. He was very welcoming with all of our questions that day.
Question 1:    What can we expect from the first film to now?
This is movie is about family at the heart of it.
"With real kind of people, problems and challenges. Like a normal guy trying to get his life together to be the best dad he can for his daughter where Hank Pym is just trying to find his wife and he's got to go to any lengths to kind of figure out where she is and also Hank Pym kind of choosing to make sure the science he's created is used for good and not for bad.
All those things taking place in real life and real world environments and the kind of what I like to call the alternate universes of Ant-Man is the macro universe and going into that world, so that is the inter-planetary travel of the first Ant-Man. Going into the macro universe, into the quantum realm, but also into these small environments where we set up a whole kind of production timeline to shoot and film in camera with a bunch of innovative camera techniques and lenses and approaches to shoot.
There was not one oversized prop in that film and we shot all these environments in camera because the camera behaved certain ways and there wanted to be a sense of real, where walls were and how a camera can move and tell a story in these small environments, so that was a really cool technical element of the first Ant-Man that we are doubling down on, on this one, so the difference is we meet our characters a couple years later.
And the stakes are higher meaning, last time we saw Scott, he was in a prison in Civil War. He had just kind of found himself in the wrong place at the wrong time and he was a in a prison, what's going on with them and we're doubling down on the story that he's on house arrest and he wants to figure out his life, so he can be, have a relationship with his daughter.
We also know that Hank Pym, what has he been up to? Like, he had to be on the run and not visible because of things that happened on the first film, so Hank Pym is underground continuing his effort which is where's Janet? Where is Janet? There's a ticking clock here. I got to find her, so it's about family with Scott. It's family with Hank and Hope and finding Janet.
And it's family with Louis and Dave and Kirk. I've fulfilled the dream. I'm living the American dream. I've got a small business and we're doing well and we're trying to grow and you get a real sense of family there and it's about all these people working together and so in this film, we are playing with scale a lot.
And you can see that in the environments where, in the macro world where you and I would kind of walk through this table and see these huge bottles and glasses and phones and pens, which we saw in the first film, in this one, we wanted to create environments where we, as full size people, would walk into and question our scale. Like, did we shrink down? I'm suddenly seeing things in a way I've never seen them before, so if anyone's been to the Museum of Natural History in New York City, you go underneath the whale and suddenly, you're kind of, it's a spiritual moment.
You're kind of like, whoa. What, I'm so small. Like, what's going on? And this is what a whale is like in real life. You, we wanted to make, have the audience have that sense of vertigo and feeling when they walk into some of these environments. In addition to just these older kind of textured characters places, so we've a lot of environments that reinforce our characters and their storyline.
Question2: Can you talk about the lab being made of found objects and what should we look for?
He said it is an exciting environment built from found pieces and everyday items like erector sets, Lego pieces, and more. There is a lot of Easter Eggs in the film too!
"In this film, we definitely built oversize set pieces and objects to be integrated as if Hank Pym is building a lab on his table and then he would grow it because he knows how to grow and shrink things. He would grow it, work on it, habitat, inhabit it and function in there and then it would shrink again and it was if you and I were to make a model and we'd use a paper clip and we'd drop a glue cap occasionally, but, so there are things to find."
It was such an exciting day at the Ant-Man and The Wasp Set Visit! Be sure to get your tickets as Ant-Man and The Wasp opens on July 6th, 2018.