As part of the AMAZING Disney Social Media Moms Celebration we had the chance to visit Animal Kingdom before the parks opened and experience Pandora-The World of Avatar as the sun was breaking for the day. It was truly magical! As I am always searching for the most complete way to visit the parks, I decided to write down my Tips and Tricks For Visiting Animal Kingdom! I know when I do my searches, these are always the posts that provide me the most information to making sure my visit to the parks is successful!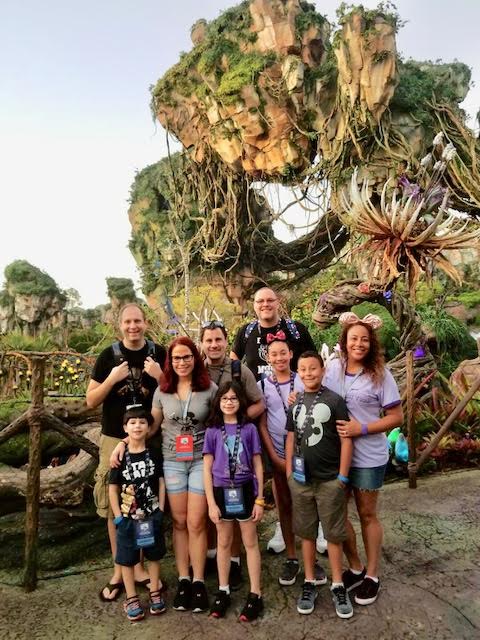 TIPS AND TRICKS FOR VISITING ANIMAL KINGDOM: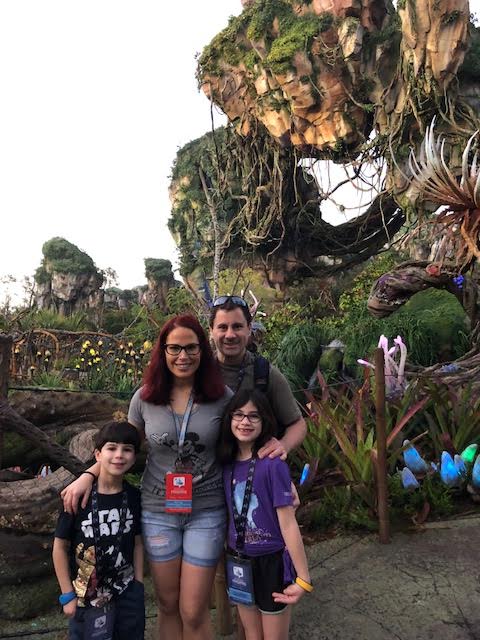 1. Pandora-The World of Avatar is a must see. If you only have a few hours at Animal Kingdom, my #1 suggestion is to make sure you visit Pandora. Some ideas on how to do this most efficiently are below, but trust me- DO NOT MISS IT!! Pandora is broken down into 2 main parts including Avatar Flight of Passage and Na'vi River Journey. Both of these attractions are centered around the Valley of Mo'ara which is a picture perfect site that will leave you seriously gasping at the depth of the beauty.
Centered right at the world of Avatar is the Valley of Mo'ara which includes floating mountains, glowing fauna + flora, a native drum circle and much more.
As part of the Disney SMMC experience, we arrived at the parks an hour before the park opened so we got to see the Valley of Mo'ara as the sun was coming up for the day and it was truly an amazing spectacle. After taking picture after picture, it was time to get on Avatar Flight of Passage.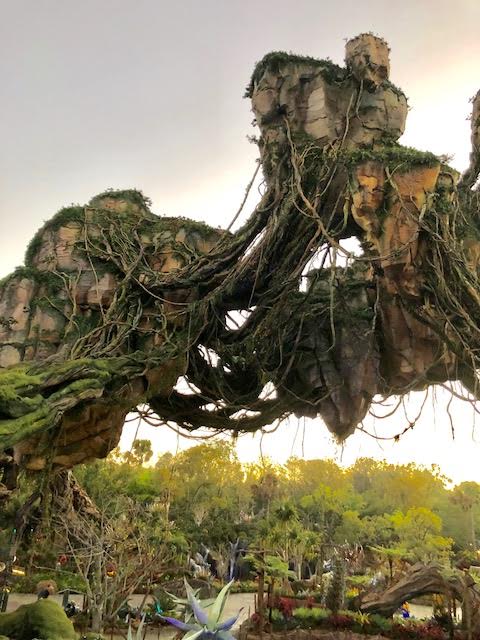 The Avatar Flight of Passage, in my opinion, is the best ride attraction at Disney World. While I love Soarin', take that ride and times it by 3, if that is even possible. This is an interactive ride where you fly on top of your mountain banshee over the vast moon. This is all done in 3D and you will be given your necessary glasses when you ride. Before riding, you will be given your Avatar in an interesting and very interactive way. I don't want to spoil it too much but after riding it three times in a row, I can assure you that YOU DO NOT WANT TO MISS THIS!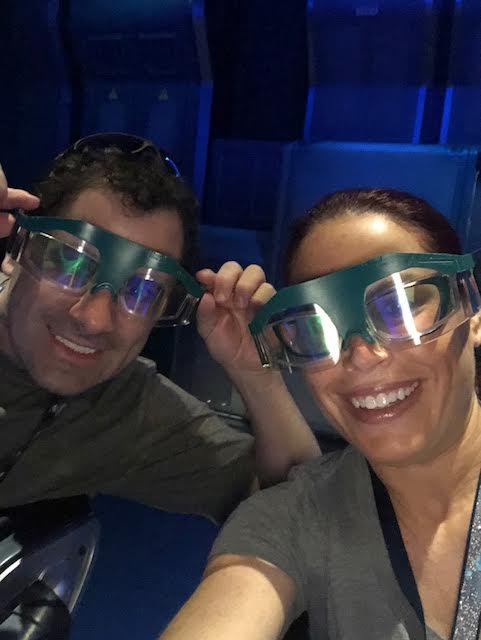 After riding, make your way to the Na'Vi River Journey where you journey deep into a bioluminescent rainforest in search of the Na'vi Shaman of songs. I rode this river rode for the first time and it was a smashing success with my family. The technology and beauty of this attraction is second to none.  It is a great family ride for young and old alike.
2. So now that you told me all the great things about Pandora Mel, how am I going to get on it?!! The answer is easy- FAST PASSES! Use those Fast passes as soon as humanly possible to avoid getting stuck in the long rides for these parks. I can tell you that when the ride opened for the day, it started at a 3 hour wait so fast passes are your best bet. Most of the fast passes can be made right on My Disney Experience App.
If you are not familiar with this app, it is A MUST to download. You can make your fast passes on the website version above, but the app is much easier in my opinion. With this app and for this park, it goes by the the tier fast pass system. What that means is you can make your first selection for either Pandora-The World of Avatar or the Na'vi River Cruise. After you do this, you can then pick 2 others from other big selections such as Dinosaur, Expedition Everest, Kali River Rapids, Kilimanjaro safari, and more.
If you are newcomer to the park, I would recommend doing The World of Avatar and then for my other two, Kilimanjaro safari and Dinosaur. The reason I would not choice Everest (although it is my second favorite) can be found below with tip #4.
Once you are done using your fast passes, you can then schedule three more. So if you know you are going to visit and get into the parks early, book all your fast passes for the first thing in the morning and then once you are done, schedule three more. There are no more paper fast passes so this is the most efficient way to assure you get your fast passes in with your recommended time.
Also it is to note that if you are staying on Disney property, you can schedule your fast passes 60 days prior to your visit and if you are not on Disney property, it can be done 30 days before.  One of the big perks to staying on Disney property is you have first selection for the fast passes once your window opens. I will tell you from experience some of the big rides go fast, so as soon as you rise on your 60, or 30 day out, book your fast passes.
3. If you are traveling with children of various ages and sizes, take advantage of the rider switch that Disney offers! For example, if you have a fast pass for Pandora-The Flight of Passage and your younger child can't ride (height minimum is 44 inches) you can get a rider switch so the other parent can stay with the child who can't ride, and then once the ride is completed, the parents switch! A lot of people don't know about this awesome system that Disney implemented for both parents to ride, while being able to watch the child who is not tall enough.
We use the rider switch every single time we go on rides where Taylor can't ride. It is also good to note that most rider switch, allow 3-4 people to come on again. So when the parent switches, you can go with your children(who can ride) again! It is such a great feature.
Also most of these rider switch passes give a few day leniency so you don't need to ride immediately after one parent comes off. If the younger child is melting down and you need to leave the park, no problem! You can return with your ticketed pass another day and used your rider switch within the time window you are given.
4. Take advantage of the single rider lanes! My second favorite ride at Animal Kingdom is Expedition Everest. This is a thrill ride rollercoaster that careens you through the Himalayan mountains, all while avoiding the mythic Abominable Snowman.
For this ride and several others throughout Disney World (including Aerosmith's Rock N' Roll Roller Coaster at Hollywood Studios) there is a single rider lane which is usually quite short. If you are okay with splitting up with your party (you definitely will be split up) use this lane to the right of the ride. The single rider lane I have found in the past is at least half the wait of the regular line and sometimes as fast as the Fast Pass lane. On my Disney World Fishing Trip in October, I went on Everest three times using the single rider line. Definitely take advantage of these lines.
5. See the shows at Animal Kingdom but don't use your fast passes on them! Unless you want to sit in the first few rows, a fast pass is usually not needed. The shows at Animal Kingdom including the Festival of The Lion King, The Nighttime River of Lights, and Finding Nemo-The Musical are some of the best entertainment I have seen around.
My family especially loves The Festival of The Lion King. If you have a child who loves the Lion King or if you enjoy it yourself, this show is truly INCREDIBLE!! My daughter saw it two times in a row because she loved it so much!
However, do not use a fast pass on this. The theaters for The Festival of The Lion King and Finding Nemo have more than ample room to find a great seat. You might be sitting in the back but there are really no bad seats in these venues.
6. I also found out recently that you can pre-order food at some of your favorite eateries in Animal Kingdom.  For lunch and dinner, I recommend dining at the Satu'li Canteen which has some of your favorite Pandora themed foods. It overlooks Pandora and the breathtaking views. Even if you don't ride the rides, this is a fun eatery to dine at and with being able to pre-order right on your My Disney App, you can't beat it!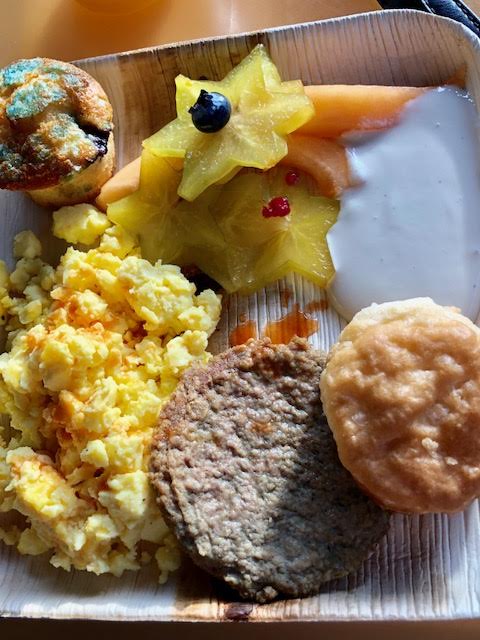 We had breakfast there for the conference and it was incredible! I love the set up, views, and delicious foods!
Animal Kingdom is becoming one of my favorite parks to visit! I hope my Tips and Tricks for Visiting Animal Kingdom will help you plan the greatest and most efficient Animal Kingdom experience out there.
*Big thanks to Disney for inviting  me to the Disney Social Moms Media Conference.  All opinions are my own and not swayed by outside sources. I hope you enjoy my Tips and Tricks for Visiting Animal Kingdom.*