Almost time for Easter! I am so excited for this holiday to spend with my kids. If you are looking for a great Easter Recipe,  try out my Chocolate Bunny Recipe. You will love it, as will your entire family. It is also great to bring it to all your Easter get togethers!

Ingredients for Chocolate Bunny Recipe: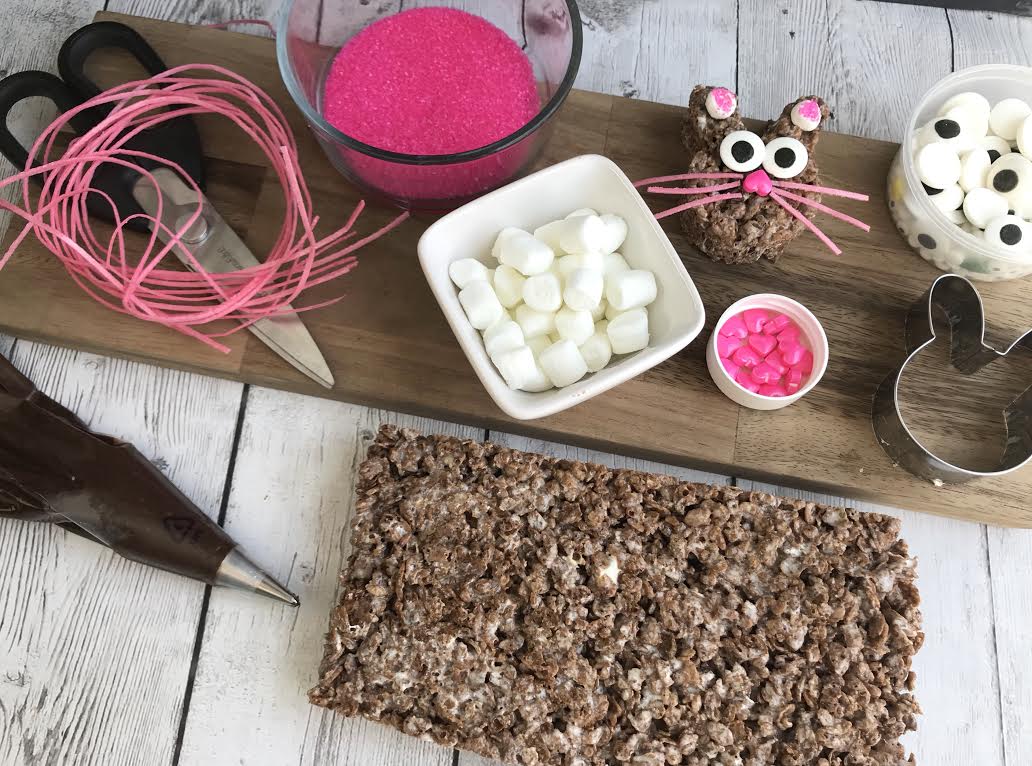 6 C. Kellogg's Cocoa Krispies OR Cocoa Pebbles Cereal
6 tbsp. butter, cut into chunks
10 oz package of mini marshmallows
Foil or parchment paper
Non-stick cooking spray
Bunny shaped cookie cutter
Large candy eyes
Pink Easter grass candy
Small pink heart candies (you could also substitute pink M&M's)
Small marshmallows, cut in half (ears)
Pink sugar crystals
Chocolate frosting
Small round frosting tip
Disposable piping bag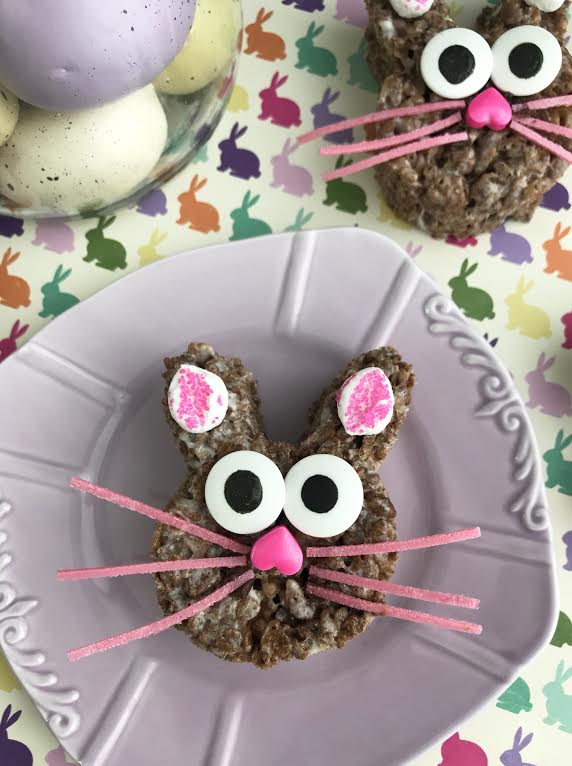 Directions for Chocolate Bunny Recipe: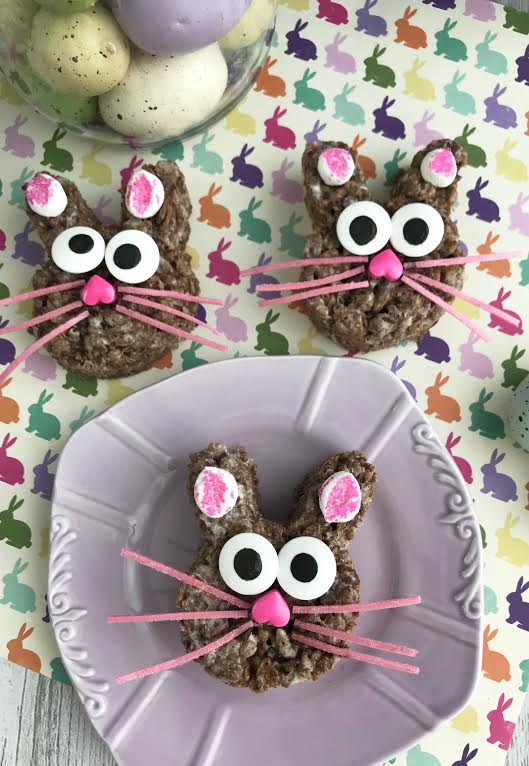 1.Line a 9×13 baking dish with foil (you could also use parchment paper) and spray with non-stick cooking spray.
2.Heat the 10 oz of mini marshmallows and 6 tablespoons of butter on low/medium heat, stirring occasionally.
3.Once the marshmallows have melted about 3/4, stir in the chocolate cereal until completely coated.
4.Pour the mixture into the prepared pan and use the back of the spoon to evenly press down.
5.Let set up for a few hours.
6.Use the cookie cutter to cut out as many bunny shapes as your can and set aside.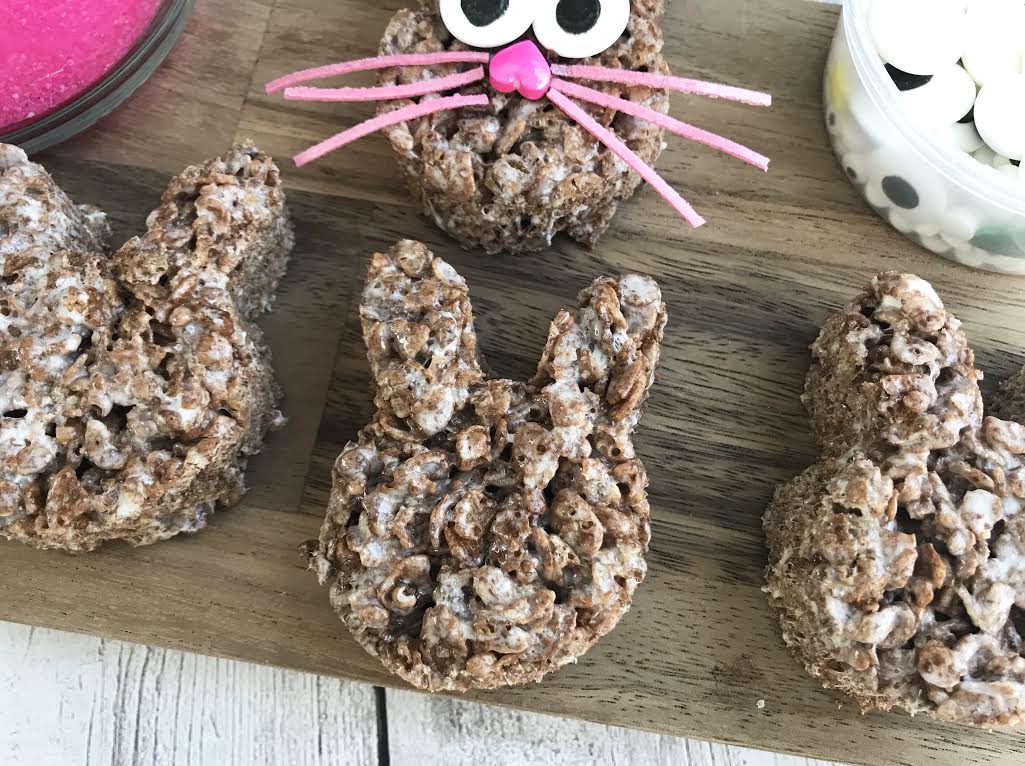 7.Attach the round frosting tip to the piping bag and fill with chocolate frosting.
8.Give each bunny 2 large candy eyes by squeezing a small dab of chocolate frosting on the back and pressing them onto the bunny.
9.Take 2 small marshmallow halves and dip the sticky side into the pink sugar crystals. Squeeze a small dab of frosting on the back of the marshmallow half and place on the bunny's ears so it's stays in place.
10.Squeeze a small dab of chocolate frosting on the back of the small heart candy for the bunny's nose.
11.Lastly, use the kitchen scissor to cut whiskers from the pink Easter grass – about 1″ long. Dab a small amount of frosting on the ends and place on the bunny's face.
12.Repeat with all the bunny's.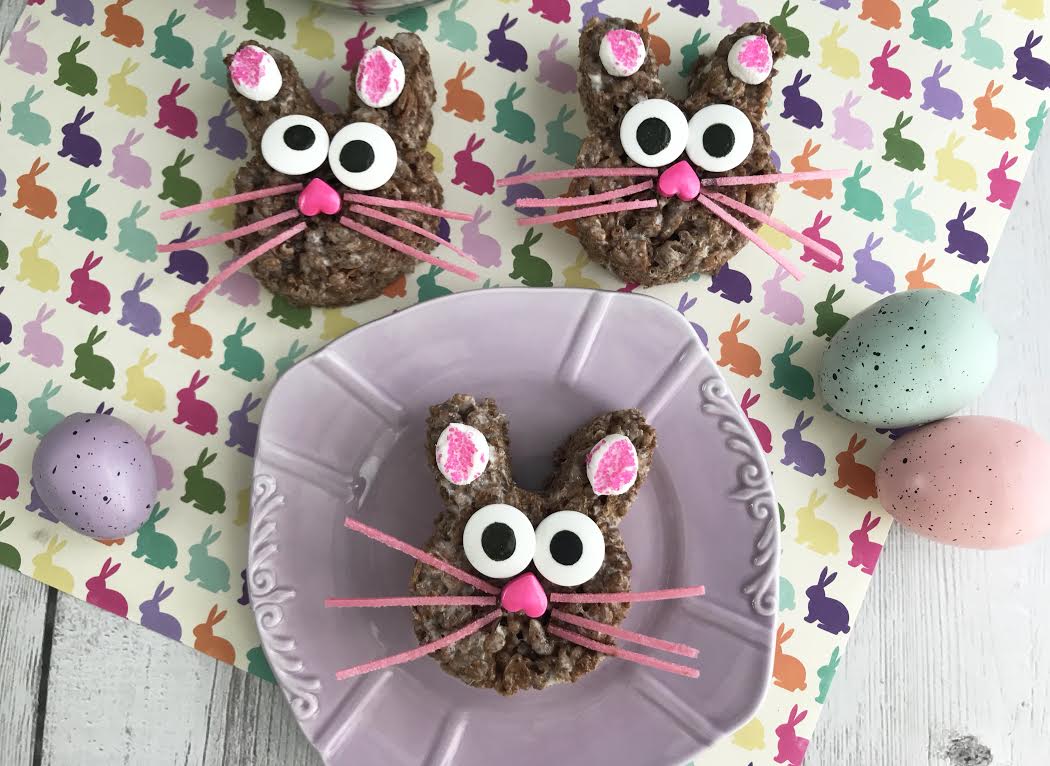 I hope you enjoy the Chocolate Bunny Recipe!