I love to travel and experience new experiences. We recently visited the Loews Boston for a press stay and the opinions below are my own for a Staycation at the Loews Boston.
In December we were invited to do a Staycation at the Loews Boston for our 12th wedding anniversary. Living in Boston for 10 years and visiting the hotel on a prior visit, I knew this is one hotel I wanted to visit to celebrate this momentous occasion. If you are not familiar with the Loews Boston, the hotel is located on Berkeley Street in the heart of Boston. This location is ideal for those wanted to experience Boston since it is situated around some of the main attractions in Boston such as Newbury Street and Copley Square.
Once arriving at this Boston hotel, we were immediately blown away by the grandeur of the hotel. The lobby is simply breathtaking. It has a rustic, but contemporary feel to it. The bellmen and the hotel concierge were so welcoming and were able to assist us in getting to our room and recommending dining establishments.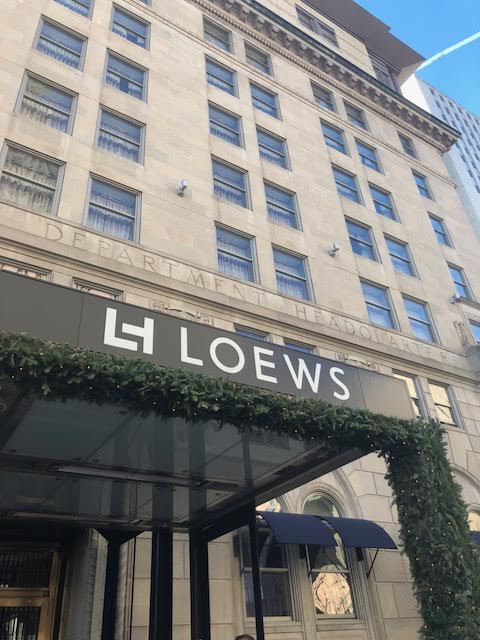 After a day of walking the streets of Cambridge, we checked into the hotel and took the elevator to the room. To my surprise, my husband arranged for a beautiful bouquet to be delivered to our room from a local florist. He worked with the hotel to have this sent and I was so surprised to have walked into seeing these, and the complementary champagne and strawberries, that the hotel offered.
The rooms at the Loews Boston are very grand. At this hotel they have a total of 222 hotel guest rooms, 2 luxury suits, and a presidential suit. Within our hotel room there was a huge king size bed with a separate "living" room area.   In the "living" room area there is a 46-inch LED Smart TVs for your viewing pleasure. You also will be able to connect to complimentary and very fast Wi-Fi. If you have business to do, there is an ergonomic work area with quick and easy connectivity to personal electronic devices such as MP3 players, digital cameras and laptops.
The bathrooms were also very nice. There is a beautiful walk in shower with spa shower heads. It was so nice to take a long hot shower after our day of walking around.  In addition, they have AMAZING amenities at the Loews Boston and the rooms are so contemporary. I loved all the modernization of the rooms and the way the rooms were set up. In another hotel, this room could have been a suite!
During our stay we were recommended to visit Eately Boston which is in the Prudential Center. What I loved about this, is we could walk, which is a huge feature to me. With being in Boston, walking is key to see so many of the landmarks. While we loved Eately, they also have the lovely Precinct restaurant in the Loews Boston, available for breakfast, lunch, brunch on certain day, and dinner. It is also a great place to get a night cap.
Located right in the exclusive Back Bay neighborhood, the Loews Boston is a great choice for a fantastic Boston hotel. It definitely puts you right in the heart of it all.
Whether you are doing a Staycation at the Loews Boston or a Vacation at the Loews Boston, you will have a grand ole' time!